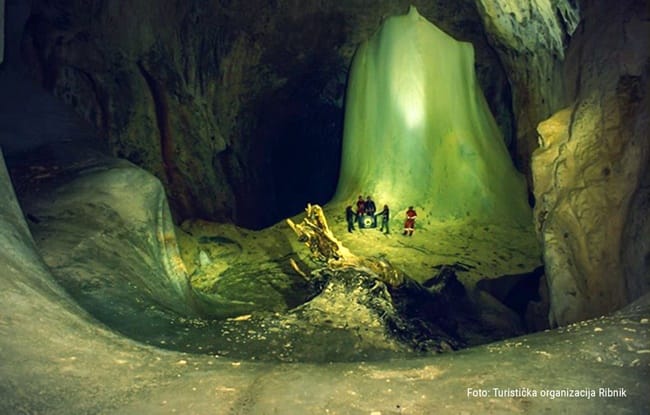 Area
282,600 m2
Manager
Ribnik Municipality
Location
Ribnik
Protected since 2012
Category
Nature monument– III
Specifics
The cave is located in Ledana valley in "Vučija Poljana" hamlet. The pit cave is filled with massive, attractive ice layers made of ice stalagmites, stalactites, bended stalactites and flowstones. The cave pit is 72 meters deep, while the cave tunnels are 180 meters long. Even though the cave's temperature is above the freezing point, it still has ice in it. Ice has been melting away over the past years.
Current State
The cave pit can only be approached with speleological equipment and methods, such as single-rope technique.
Allowed
Scientific research, agricultural production in individual households, raising native deciduous species along with the preservation of native vegetation, road maintenance, keeping the existing road infrastructure and possibly paving only those roads that might lead to a planned parking lot that could connect the settlement and the current special purpose location in accordance with a planning ordinance or some other official document, street lighting in urban areas which can have exclusively landscape character.
Prohibited
Industrial extraction of mineral and non-mineral raw materials over the whole area; every type of ice extraction; primary processing and pre-concentration of raw materials depositing of primary gangue and secondary tailings, as well as communal, industrial and other rubbish or the leftover soil from excavation; the construction of industrial, hydrotechnical, infrastructural and other facilities which might degrade the quality of the soil, waters, air, plant and living species environment, and the landscape's beauty, cultural heritage and its surroundings; to change the area's land use designation, except for changes specified in the Manager's program documents, land clearing and forest destruction, ploughing of fields and grazing land; planting; it is further prohibited to intentionally transplant or plant wild plants that are not native to the area's wildlife, except in the case of erosion and landslide prevention.
Related documents
ZAKON O ZAŠTITI PRIRODE REPUBLIKE SRPSKE
ODLUKА O ZAŠTITI SPOMENIKA PRIRODE JAMA LEDANA