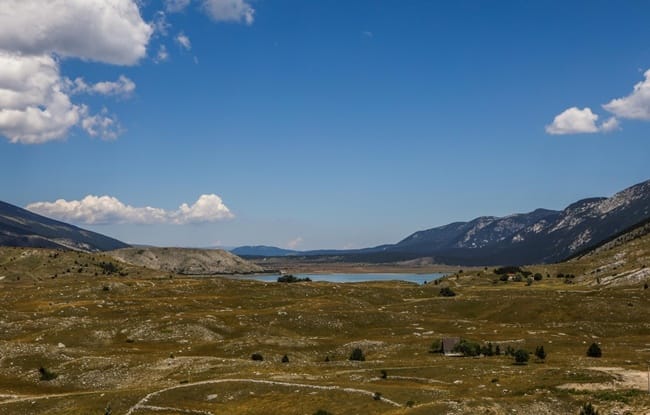 Area
358,000,000 m2
Manager
Public Enterprise "Nature Park Blidinje"
Location
Herzegovina-Neretva Canton, West Herzegovina Canton and Canton 10
Protected since 1995
Category
Protected Landscape – V
Specifics
The Park's area is demarcated with the Rama river canyon and the Rama lake, the Neretva river canyon and catchments of the Diva Grabovica, the Doljanka and the Drežanka rivers. It is set between the Mountain masses of Čvrsnica andi Vran at 1,184 meters above sea level. The Blidinje lake, the central point of the Nature Park is in "Dugo polje".
Currently, around 1,500 plant species have been identified, including numerous ilirian, dinaric, balkan and Balkan and Apennine Peninsulas' endemic species.
Collecting data and scientific research about the park's animal species in the area of the current Nature Park have not been systematic and these records show individual groups or species that have been one-time researched. Researchers focused mostly on birds as well as some groups of butterflies and reptiles. There are 91 species of butterflies and 127 bird species from 39 families. These numbers don't show the full picture of fauna considering the lack of systematic research. Since 2007, Blidinje Nature Park has been included on UNESCO tentative list.
Current State
Good access road with clear signposts. Illegal construction of vacation homes is present.
Allowed
Conduct maintenance and rehabilitation activities or create natural values important for the maintenance of nature, area's oversight, scientific research and maintenance; mowing, grazing, traditional forms of agriculture, logging, fishing and other activities and works that do not significantly alter the values and the role of protected areas.
Prohibited
No campfire, waste disposal, hunting, fishing, construction of a series of buildings and any misuse of natural resources.
Recent documents
ZAKON O ZAŠTITI PRIRODE FEDERACIJE BOSNE I HERCEGOVINE
PLAN UPRAVLJANJA BLIDINJE