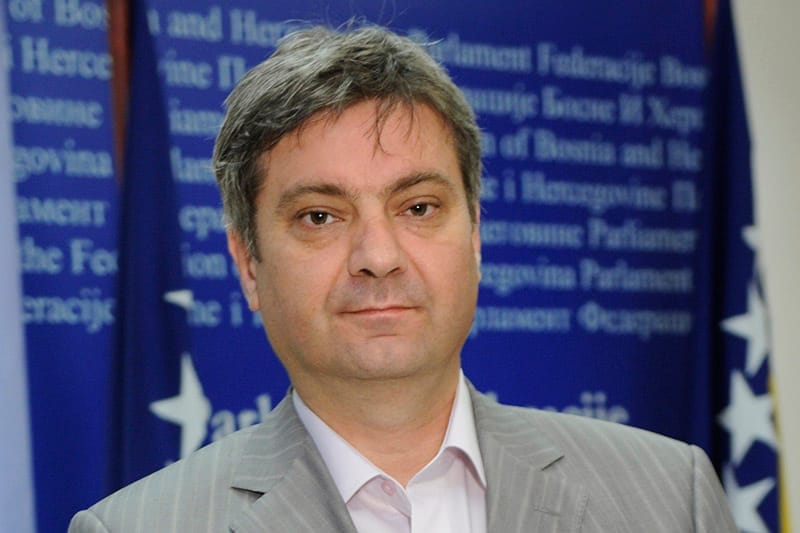 Candidates for ministers and their deputies in the Council of Ministers of Bosnia And Herzegovina (BIH) are required to disclose their property holdings, vehicles and firms and any and all sources of income with the State Investigation and Protection Agency (SIPA) for background checks. SIPA first compares asset declarations against their records or asks respective government agencies to do the same. Those candidates who do not fill out all the fields, SIPA officers will call by phone to ask for the missing information.
According to the Law on the Council of Ministers in BiH, leaving some of the fields blank would subject candidates to a criminal prosecution punishable by fine or up to a 3-year prison sentence.
These declarations are a part of the unique database about the assets of 180 legislators, ministers and other elected officials in BiH. CIN regularly updates the database which contains records on the political and professional careers, real property, savings, vehicles, shares, loans and court proceedings. Along with the said documents, the database includes biographical information on each politician.
Records show that many politicians have become owners of expensive property holdings and loaded bank accounts only several years into their political career.
Even though politicians' asset declarations should be publicly available and easily accessible, this has not been the case for several years. In 2012, Central Election Commission withdrew politicians' asset cards from its web page because of the Court of BiH's ruling on personal data protection. CIN reporters have accessed the politicians' asset cards, copied the data into forms that contained no personal records, and published them in a database.
CIN has recently published profiles of the chairman of the Council of Ministers Denis Zvizdić; minister of foreign trade and economic relations Mirko Šarović; minister of foreign affairs Igor Crnadak; finance and treasury minister Vjekoslav Bevanda; minister of civilian affairs Adil Osmanović; minister of defense Marina Pendeš and deputy ministers: Mato Franjičević, Mijo Krešić and former deputy Emir Suljagić.
Apart from these, CIN's database now features information about new officeholders.
Minister of Human Rights and Refugees, Semiha Borovac, was a Sarajevo mayor before she became the state Coordinator for the Reform of Public Administration at the Office of the Chairman of Council of Ministers. A member of the Party of Democratic Action (SDA) action since 1992, she had a monthly income of around 3,800 KM.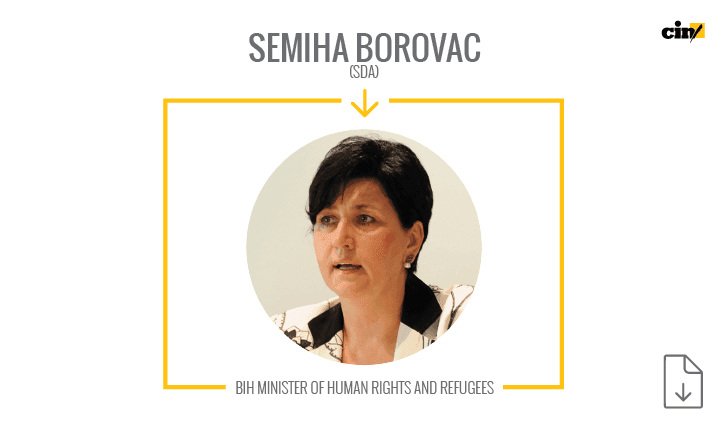 Security Minister Dragan Mektić, is a member of Serb Democratic Party (SDS). He was the deputy BiH minister for security between 2003 and 2006. He was later a director of the state Service for Foreigners' Affairs with monthly income of 4,000 KM.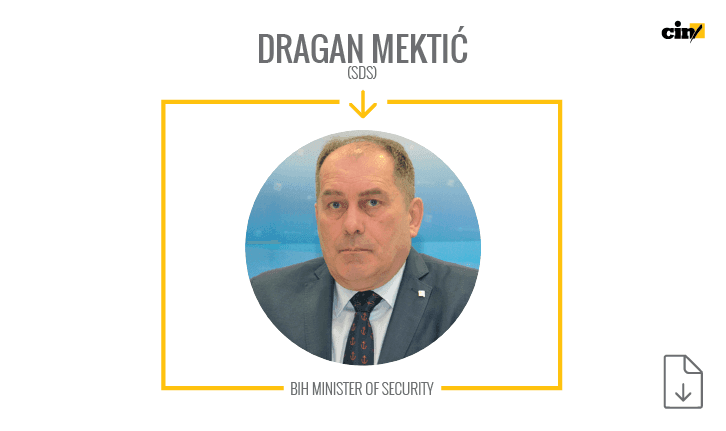 Since 2003, BiH Justice Minister Josip Grubeša has been a professor at the Mostar University's Department of Humanities where he receives 1,150 KM a month. He's a member of Croatian Democratic Union of BiH since 2001.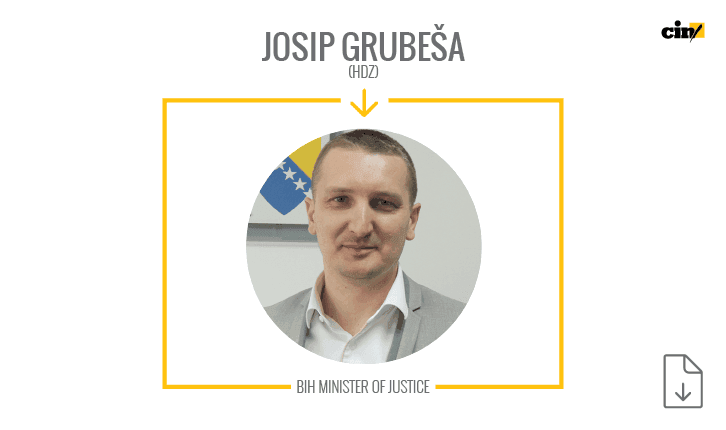 Former BiH Minister of Traffic and Communication, Slavko Matanović, owns a firm My Software LLC in Brčko. Before he was appointed he declared a monthly salary of 500 KM. He is a member of the Democratic Front.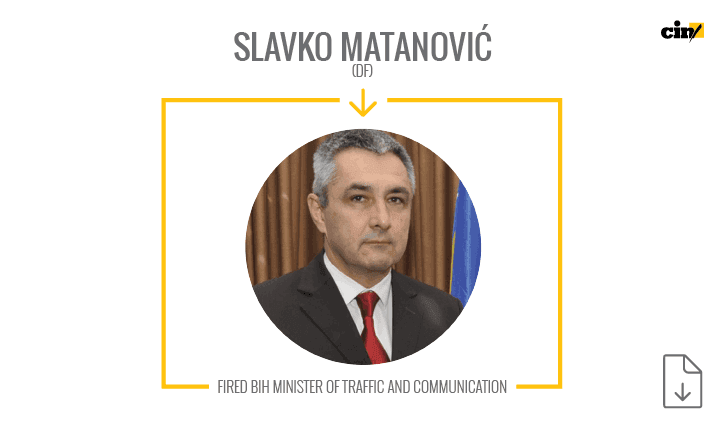 Deputy BiH Minister of Finances and Treasury, Mirsad Žuga, worked as the head of Goražde branch of a Sarajevo-based Moja Banka with an average salary of 1,700 KM. He's an SDA member.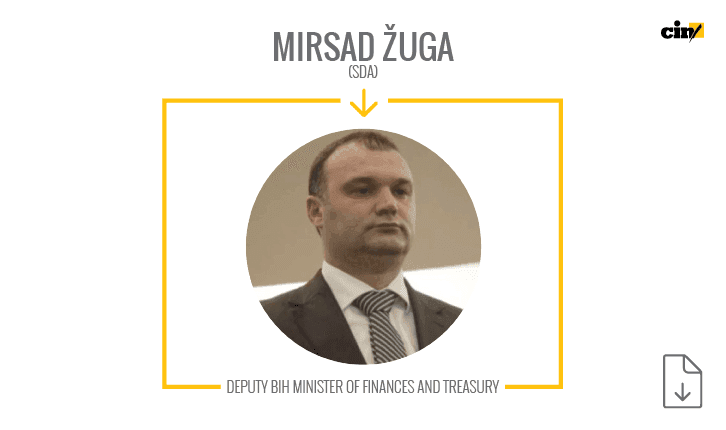 Deputy BiH Minister of Civilian Affairs, Josip Brkić, juggled two jobs that earned him around 6,900 KM prior to his appointment. He was a director of a Sarajevo firm Talgo BH LLC and the head secretary of the Herzegovina University whose majority co-owner is his father Milenko. He's been a member of HDZ BiH since 2003.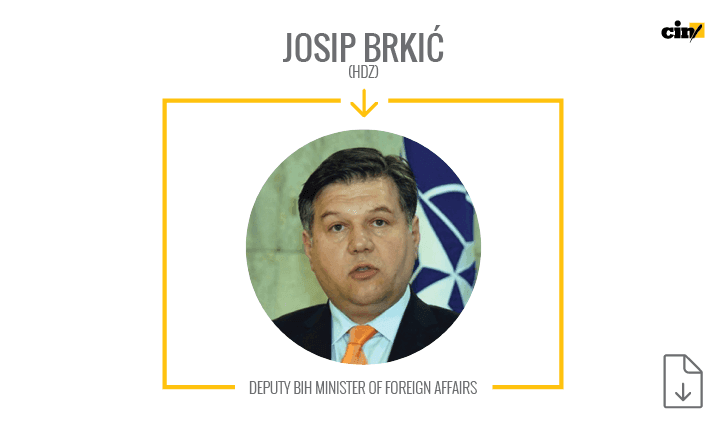 Deputy BiH Minister of Civilian Affairs, Đorđe Milićević, was a finance director of Vitinka from Kozluk, with a salary of 2,300 KM. A member of People's Democratic Movement since 2013, he declared neither property holdings nor vehicles.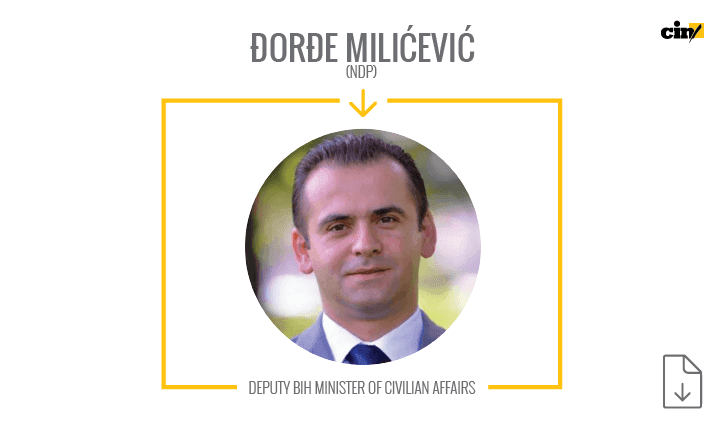 Deputy BiH Minister of Justice, Nezir Pivić, still works at the School of Law in Zenica. He declared 340 KM a month from the FBIH Parliament. He is not a member of any political party.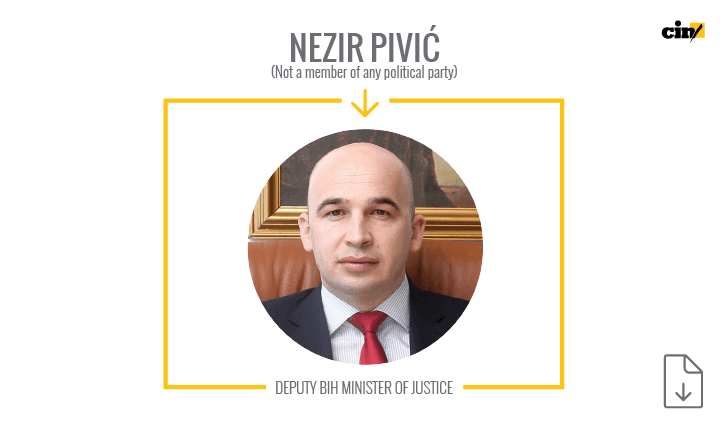 Deputy BiH Minister for Human Rights and Refugees, Predrag Jović, was the head of Department for Industry and Agriculture at Bijeljina Town Hall. His monthly salary was nearly 3,100 KM.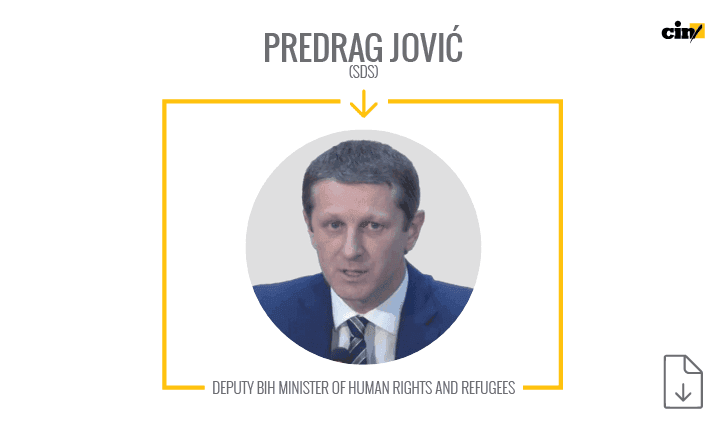 Deputy BiH Minister of Defense, Boris Jerinić, was an MP with the Republika Srpska National Assembly and salary of 2,500 KM. He's been an SDS member since 2004.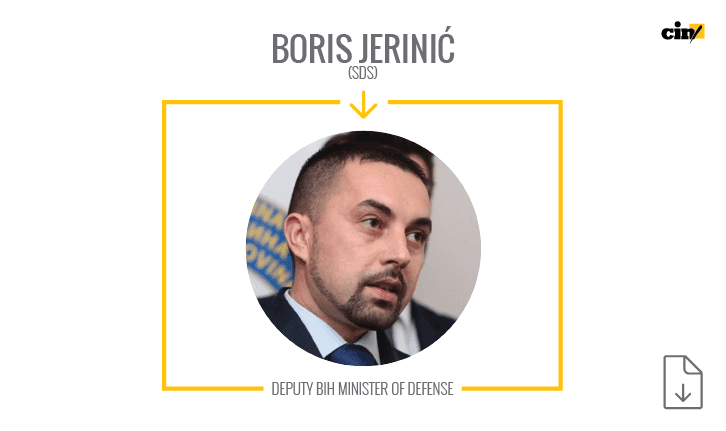 Deputy BiH Minister of Communication and Traffic, Saša Dalipagić, worked as a road inspector with the Herzegovina-Neretva Cantonal Ministry of Communication and Traffic for a monthly salary of around 1,000 KM. He is not a member of any political party.