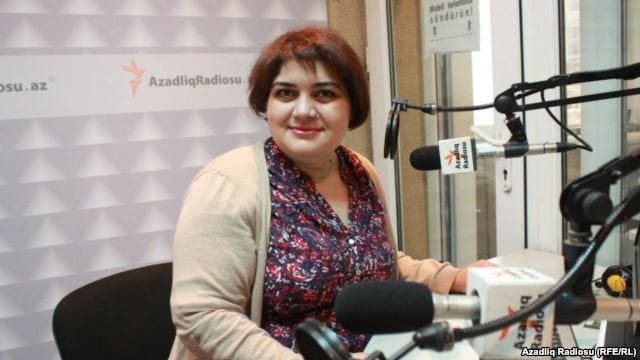 Award-winning Azeri reporter Khadija Ismayilova was sentenced today to 7.5 years in prison for embezzlement, tax evasion, abuse of power and running an illegal business.
Ismayilova, a senior reporter for the Organized Crime and Corruption Reporting Project (OCCRP) and Azadliq Radio (the Azerbaijani branch of Radio Free Europe/Radio Liberty) has been detained since last December. She was acquitted of the original charge brought against her — inciting former colleague Tural Mustafayev to attempt suicide.
On Monday, Ismayilova was allowed to make a closing statement, then was interrupted repeatedly, whenever she mentioned corruption, property and business deals of the President Ilham Alijev and his family.
She declared that all charges against her are false and that the real reason behind her prosecution has been her investigative work, according to Radio Free Europe.
International watchdogs such as Amnesty International and the Helsinki Committee for Human Rights have called hers a politically motivated trial. According to them, at least 80 political prisoners are being held in this oil-and-gas rich country.
Representative of these non-governmental organizations and of foreign embassies were barred from the courtroom while she was tried.
OCCRP continues to work on the investigations inspired by Ismayilova's work before her arrest. It has set up a web page that looks at the assets, deals and connections of the key Azerbaijan government personnel.
In a gesture of support and solidarity, visitors to CIN's page will be presented with a note on a symbolic-black background before being redirected to this site.