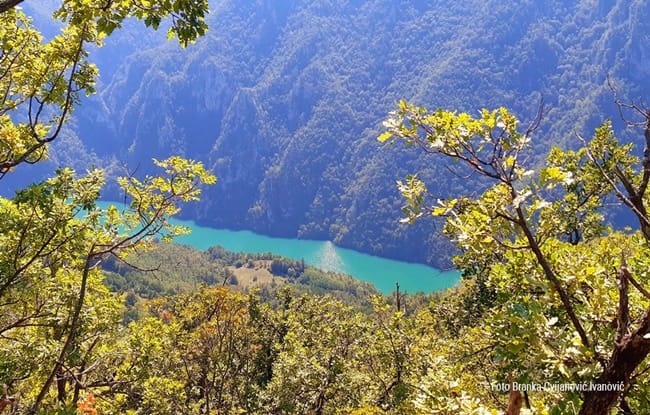 Area
63,153,200 m2
Manager
Governmental Body "National Park Drina"
Location
Srebrenica
Protected since 2017
Category
National Park – II
Specifics
The youngest national park in the state declared as such in 2017. The basic values of the par are habitats of endemic and rare plants, such as Serbian spruce, and the Drina river canyon and its tributaries. Limestone cracks in the Drina river canyon represent habitats for the majority of endemic and rare species. The National park is home to 635 plant species many of whom are protected and on the Red List. The animal life is made up of 85 species, the most important being Serbian stick grasshopper. Many bird species reside in the park and nearly all of them are protected. Among the most important mammals under protection are brown bear, chamois, lynx, wolf, deer, wild boar and badger.
Current State
Illegal construction in the first zone of protection at the banks of the Perućac lake. The park received an approval from the Ministry of Agriculture for nursing and sale of the Serbian spruce's seed. A hiking trail of 15 km is put into operation.
Allowed
Various activities such as oversight, monitoring and managing of plant and animal species populations; scientific research with the approval of relevant institutions; demarcation of boundaries and erection of sign boards and undertaking of activities and measures toward maintenance and improvement of the ecological system's current state; taking care of agricultural areas and maintenance of access roads to those areas in order to conduct agricultural activities as well as to prepare room and infrastructure for tourism and recreational activities that won't negatively impact natural values and the species' habitat; reconstruction and maintenance of forest road network by conducting ,analyzing and aggregating records about the state of nature, recreational and traditional use of space by local resident (whether as farming, planting, fruit and other activities) and sustainable use, development and advancing o village households.
Prohibited
To cut or destroy trees, shrubs and other vegetation, except for carrying out clearcutting; to hunt wild animals, except for the sanitary and rearing cull; to destroy individual plants and mushrooms and their life forms by picking, collecting, cutting or digging and pulling out roots in all stages of the biological cycle and threaten or to destroy their habitats; to import allochthonous species of plants, animals and fungi, which live free in nature; and hunt wild animals, except for the sanitary and rearing cull in the zones defined by the special regulations; to construct structures, or perform other operations that contaminate the soil and air, deteriorate water quality; waste disposal; It is prohibited to use plant protection products except in the case of quarantine or suppression of regulated non-quarantine harmful organisms or other harmful organisms, in accordance with the regulation; the construction of roads; excavation of raw minerals; change in land use rights and change in water regime; campfire.
Related documents
ZAKON O ZAŠTITI PRIRODE REPUBLIKE SRPSKE
ZAKON O NACIONALNOM PARKU DRINA