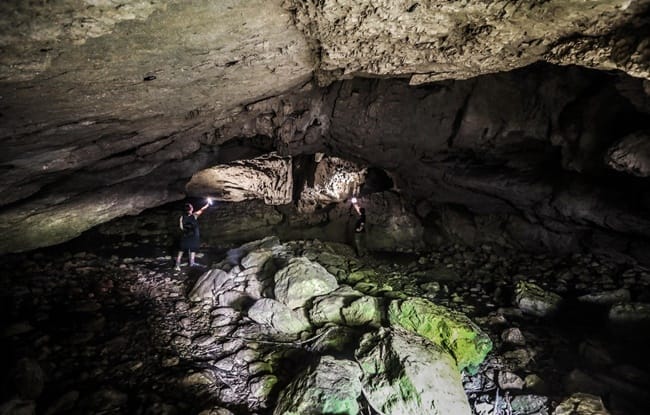 Area
8,209,200 m2
Manager
Bileća Town Hall
Location
Bileća
It was first declared as a protected area at the time of Socialist Republic of Bosnia and Herzegovina in 1958. The government of Republika Srpska confirmed its present status in 2015.
Category
Nature monument- III
Specifics
Large Cave with a total length of 2,800 meters is one of the longest caves. It is located between Bileća and Berkovići. In the same speleological system is "Zvonuša" cave pit. The Cave consists of large spacious tunnels separated by two narrowing. The bigger concentration of cave decorations is found in the biggest and tallest "E Hall" where rimstone dams of bizarre and interesting forms can be seen. The Large Cave is hydrologically active with two lakes which are habitats for cyprinid fish.
Current State
Entrance to the cave has been overgrown with vegetation and it's hard to spot it. There are no sign boards denoting a protected area.
Allowed
Scientific research, agricultural production in individual household; raising native deciduous species along with the preservation of native vegetation; construction of new facilities and conducting work with the aim to conserve and protect the natural heritage which are aimed to represent and conserve the protected natural heritage; keeping the current traffic routes with a possibility of paving roads to lead to a planned parking lot; street lighting in urban areas which can have exclusively landscape character.
Prohibited
Commercial exploitation of mineral and non-mineral raw materials, primary processing and reconcentration of raw materials except in cases of strategic interest that call for redefining environmental protection concerns , depositing of primary gangue and secondary tailings, as well as communal, industrial and other rubbish or the leftover soil from excavation; the construction of industrial, hydrotechnical, infrastructural and other facilities which might degrade the quality of the soil, waters, air, plant and living species environment, and the landscape's beauty, cultural heritage and its surroundings; to change the area's land use designation, except for changes specified in the Manager's program documents, the construction of agricultural homesteads' facilities outside existing construction plots, to collect fossil samples from geological profiles, destruction of forest complexes or divvying them up , ploughing of natural fields and pastures, planting, it is further prohibited to intentionally transplant or plant wild plants that are not native to the area's wildlife, except in the case of erosion or landslide prevention; collecting, use and destruction of all types of wild plants and animal species.
Related documents
ZAKON O ZAŠTITI PRIRODE REPUBLIKE SRPSKE
ODLUKA O ZAŠTITI SPOMENIKA PRIRODE VELIKA PEĆINA