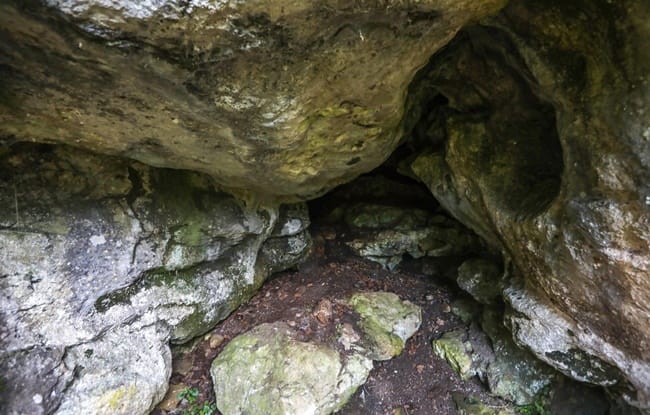 Area
61,000 m2
Manager
Sokolac Municipality
Location
Sokolac
Protected since 2015
Category
Nature monument- III
Specifics
"Under the Linden Tree" Cave is located near "Kadića HIll" village and represents an important archeological site. Etchings from paleolithic at the cave's entrance represent the oldest such example found in Bosnia and Herzegovina. It is a treasure trove of archeological artifacts – paleolithic stone tools and other objects. Researchers found the traces of early human presence in the area and this paleolithic site is of first-class importance not only for Bosnia but also for South-East Europe. Remains of a cave bear were also found in front of the entrance.
Current State
Dirt road. Entrance to the cave is difficult to find. A sign board has not been erected. Etchings are visibly damaged.
Allowed
Scientific research, agricultural production in individual households, raising native deciduous species along with the preservation of native vegetation, construction of new facilities and conducting work with the aim to conserve and protect the natural heritage of towns which are aimed to represent and conserve the protected natural heritage, keeping the current traffic routes with a possibility of paving routes to lead to a planned parking lot to connect the settlement and the existing special purpose locations, street lighting in urban areas which can have exclusively landscape character.
Prohibited
Extraction of mineral and non-mineral raw materials, primary processing and reconcentration of raw materials except in cases of strategic interest that call for redefining environmental protection concerns , depositing of primary gangue and secondary tailings, as well as communal, industrial and other rubbish or the leftover soil from excavation at the protected area; to change the area's land use designation, except for changes specified in the Manager's program documents, the construction of agricultural homesteads' facilities outside existing construction plots until necessary documents are passed, to collect fossil samples from geological profiles, destruction of forest complexes or divvying them up, ploughing of natural fields and pastures, planting, it is further prohibited to intentionally transplant or plant wild plants that are not native to the area's wildlife, except in the case of erosion or landslide prevention; collecting, use and destruction of all types of wild plants and animal species.
Related documents
ZAKON O ZAŠTITI PRIRODE REPUBLIKE SRPSKE
ODLUKA O ZAŠTITI SPOMENIKA PRIRODE PEĆINA POD LIPOM