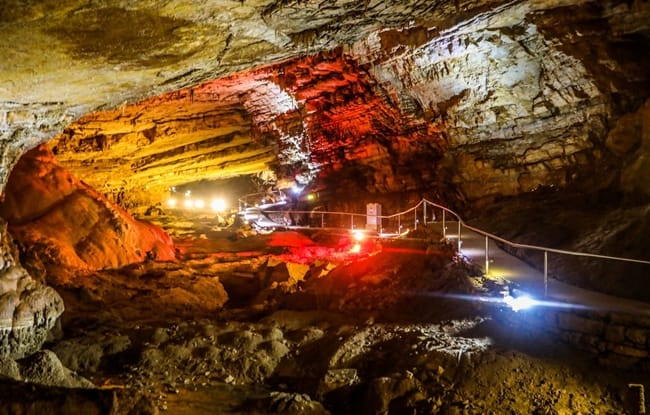 Area
47,586,300 m2
Manager
Public Enterprise Vjetrenica
Location
Ravno
Protected since 1952
Category
Nature monument- III
Specifics
Vjetrenica cave was created by water flows of various directions and all other processes which affect the development of cavities, including disintegration, erosion and collapse. Vjetrenica is set apart by the strong "wind" at the entrance, which actually represents air flow that attempts to balance the permanent inside temperature with the changeable outside air temperature. The cave is rich in animal species, nearly 200 of them. The latest research dug out a piece of ceramics and a bone needle. Vjetrenica represents a natural habitat of an endemic species of a newt.
Current State
Access road with good signposts. The Cave is open for tourist visits and it is on the tentative list of UNESCO's World Natural Heritage.
Allowed
Oversight of the area; monitoring of the situation; scientific research; guided visits; preparation of the cave; laying down trails; construction and setting up of benches and preparing the viewpoints; erecting educational and interpretational sign boards; individual and group visits exclusively with expert guidance. In the II zone it is allowed to impact the environment in case of traditional agriculture, ecological tourism and recreational activities that are not in conflict with the area's designated purpose and sustainable development of the protected landscape. In the III protection zone, mowing, sanitary logging, watercourse maintenance, agricultural production and other interventions with the goal of improvement of the system of visits and tourist offer are permitted, as well as with the goal of raising the utility standards.
Prohibited
According to the Vjetrenica management plan, the goal is to prohibit all activities that will have negative impact on the protected zone – bringing in all food and drinks, or living organisms in the cave; all activities within the strict protection zone that might affect hydrological conditions of the habitat and the quality of surface and groundwater; any activities in a Čvaljina tunnel that might degrade the optimal conditions for survival of an important colony of bats; opening of new extraction fields within the Vjeterenica reserve.
Related documents
ZAKON O ZAŠTITI PRIRODE FEDERACIJE BOSNE I HERCEGOVINE
PLAN UPRAVLJANJA ZA ZP VJETRENICA