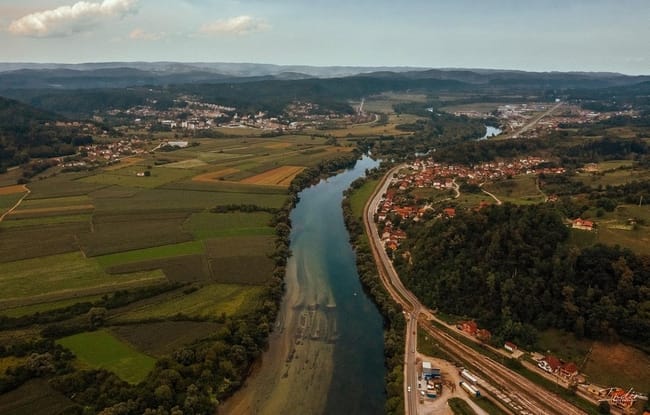 Area
27,726,000 m2
Manager
Novi Grad Town Hall
Location
Krupa na Uni, Novi Grad, Kostajnica and Kozarska Dubica
Protected area since 2019
Category
Protected Landscape – V
Specifics
Protected area encompasses the lower flow of the Una river. The main characteristics o the landscape's area are the clear, emerald green river Una and a number of hydrological, geomorphological and other features, including many types of tufa, rapids, river islands and river lakes, as well as the coastal vegetation that is attached to the river from source to mouth. The Una river's tufa sediment formation is a natural phenomenon that especially becomes prominent at the time when river flow levels are very low and they became "a port of call" for a variety of birds.
Allowed
Forest management and husbandry in line with forest and economic grounds, hunting of game in line with hunting laws; presentation and popularization of natural values, denoting protected good, reconstruction, maintenance and construction of roads in line with master and spatial plans; scientific research, preparation and marking of hiking trails, signposts and rest stop areas; preparation and infrastructural equipping of space for tourism and recreational uses without illegal impact on natural values and species' habitat; foraging of medicinal and aromatic plants, mushroom, nuts and berries according to the laws…
Prohibited
Construction of industrial, hydrotechnical, infrastructural and other facilities which might degrade the quality of the soil, waters, air, plant and living species environment, and the landscape's beauty, cultural heritage and its surroundings; to alter the area's land use designation, destruction and unchecked collecting of wild plants and animals that are singled out as natural rarities; land clearing and other activities in place and in the way that can cause powerful and extensive water erosions and unfavorable landscape changes; waste disposal; unchecked burning of vegetation, handling of toxic chemical, oil derivatives and other dangerous agents that may cause pollution; cutting of healthy and vital trees.
Related documents
ZAKON O ZAŠTITI PRIRODE REPUBLIKE SRPSKE
ODLUKA O PROGLAŠENJU PARKA PRIRODE UNA