Officials from the Croatian Democratic Union of Bosnia and Herzegovina (HZD BiH) at the BiH Council of Ministers and in the Federation of BiH government approved 4,500 KM for a sport festival for the party's youth in Mostar. They used taxpayer money for their own promotion there.
The money came out of budget reserve funds allocated to cover emergency and unanticipated events such as flooding, landslides or wildfires, international arbitration, new institutions and non-profit organizations.
Between 2014 and October 2019, governments at the state, entity, Brčko District and cantonal level spent nearly 184 million KM of budget reserve, according to an investigation by the Center for investigative reporting in Sarajevo (CIN). Members of the BiH Presidency, prime ministers and their deputies, as well as finance ministers used their discretion to dole out 6.8 million KM of the total amount.
Spending has not been transparent or done according to the rules. Reserve funds were used to pay for party and party-related associations' activities; promotion of singers; the Miss BiH contest; food and alcohol as well as for a competition in grilling lambs on a spit.
Party Members in Citizen Associations
Deputy chairman of the BiH Council of Ministers, Vjekoslav Bevanda (HDZ BIH), has discretion to spend 60,000 KM a year from the budget reserve. There is no official call for applications, but individuals, associations, institutions or firms write applications anyway.
During 2017 and 2018, Bevanda's office received 117 applications. Fifty were approved. CIN reporters found that one-third of institutions and organizations he gave money to were run by HDZ members.
Among those are "Matica hrvatska" from Stolac whose president Mladen Bošković is a legislator in the FBiH Parliament; Croatian Sport Club Zrinjski whose president is the FBIH minister of traffic and communication, Denis Lasić; and the Brotnjo Athletics Club, headed by former FBiH lawmaker Marin Barbarić.
They say that membership in HDZ BiH did not help them get money, yet they avoided speaking about their connections with the party and Bevanda. "Why are you so stuck on him? Why are you now sniping at Bevanda?" said Barbarić.
Bevanda refused to speak to CIN reporters.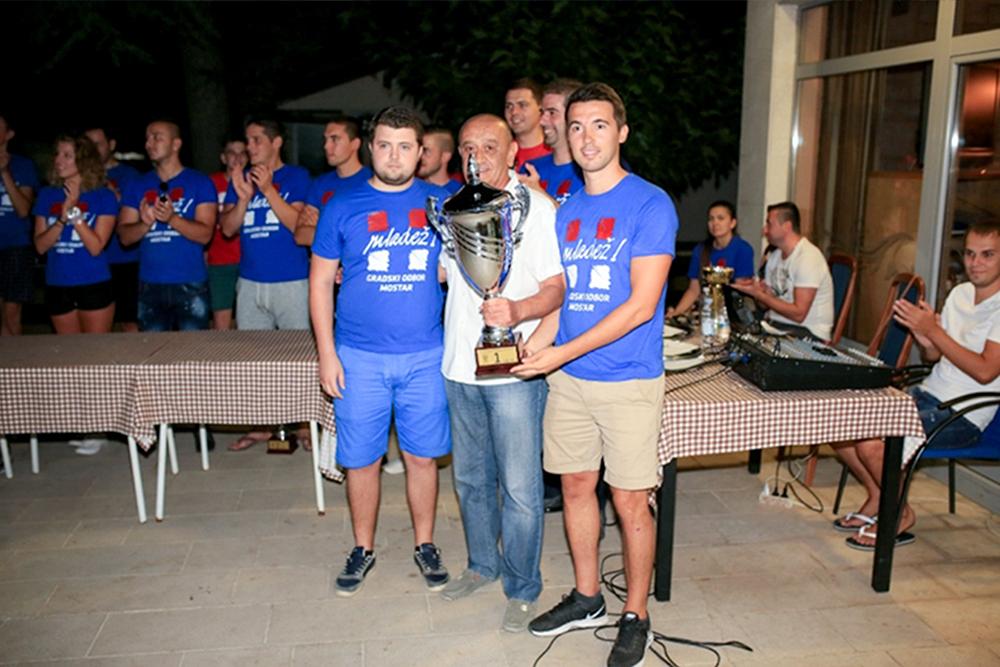 In July 2017, he approved 2,500 KM after receiving an application from the associations Our Radobolja and Zora Alborada. The money covered sport activities of Mostar youth with the aim of promoting healthy lifestyle.
However, organization of the event was taken over by HDZ BiH which invited the party's younger members, sympathizers, and their friends. Bevanda and his party peer Jelka Miličević, who also gave 2,000 KKM for this event from the budget reserve, then handed out the awards to the winning teams.
The president of Our Radobolja, Danijela Cvitković, said that her party colleague and the president of the City Board of HDZ BiH Youth as well as the head of Zora Alborada association, Marko Zovko organized the event. Zovko did not respond to CIN reporters' calls and messages. Cvitković explained that Zovko's association was being established at the time and she helped him by co-signing the application in which she stated that she agreed that money was to be wired through her association's bank account.
"I came that day, signed 10, 15, 20 such applications, as much as was needed, and off I went," said Cvitković.
She said that the event was not reserved only for members of her party. "I have a female friend who is a Muslim and two male friends who are Muslims and they also took part in it."
With money from Bevanda they bought drinks, including 750 liters of beer. Asked by CIN reporters what beer has to do with the promotion of healthy lifestyle, Cvitković said: "Mostar cannot live without beer."
The socializing was repeated in 2018. This time the government of Herzegovina-Neretva Canton (HNK) and HDZ member Nevenko Herceg sponsored it. Herceg and other party functionaries visited the event, while their president Dragan Čović gave a political speech, asking the youth to unite in the run-up to elections in which he sought another term as the Croat member of the BiH Presidency.
The HNK government also sponsored a two-day interdisciplinary conference titled "Croats of Bosnia and Herzegovina – Holders of European Values" with 65,000 KM. In the spring of 2017, a number of HDZ members and functionaries from BiH and Croatia congregated in Neum. The conference was marketed as an event under the auspices of the BiH member of Presidency, Čović. The money was wired to the conference's co-organizer, the (Croatian) University of Mostar.
Similar conferences were organized over the next two years also in Neum. The University received 135,000 KM from the state budget reserves and the Posavina Canton budget whose officials also attended the events. The money was mainly spent on hotels, food and conference costs.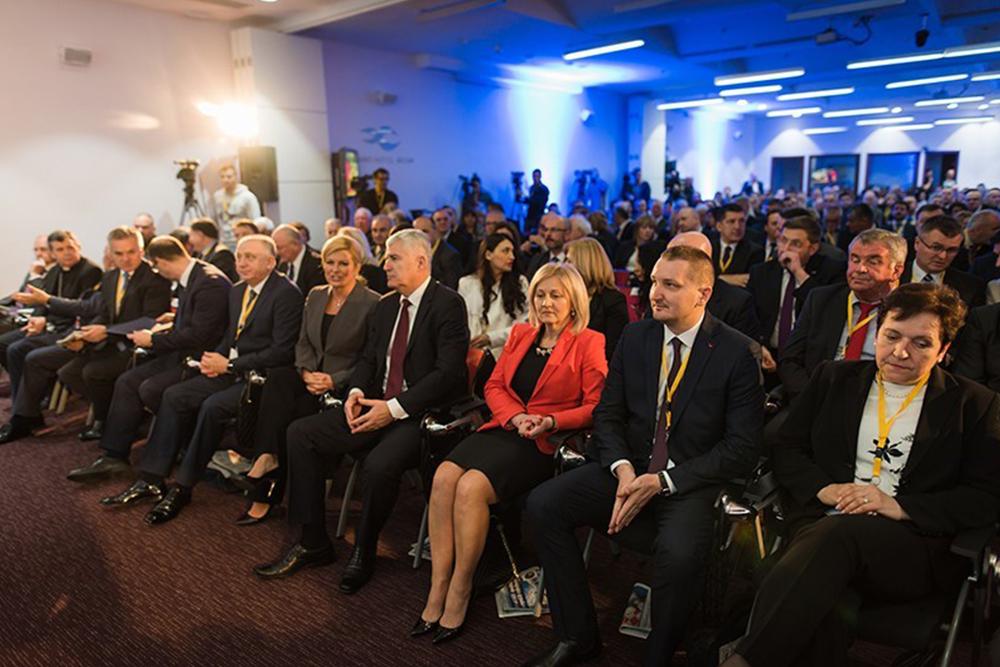 Who Likes Whom?
Bevanda is not the only one on the BiH Council of Ministers to give money to party connected events. Mirko Šarović, another vice chair, doled out 3,000 KM last May for Jagnjijada, a competition in grilling lambs on a spit.
Šarović's party colleague Dragiša Radonja, who runs Crepoljsko Folklore Ensemble, organized the event. He explained that a commission ranked teams that grilled lambs based on "How good the lamb is; how well the teams socialized, what the atmosphere was like on the team," says Radonja. "And in the end it's about the quality."
Šarović came for a visit in the company of his party colleagues – the RS National Assembly lawmaker Sonja Karadžić, Bijeljina mayor Mićo Mićić and the head of East Stari Grad municipality, Bojo Gašanović.
At the same time when he was deciding to give money for lamb competition, Šarović refused help to the Petrovo municipality where numerous buildings were damaged after a storm.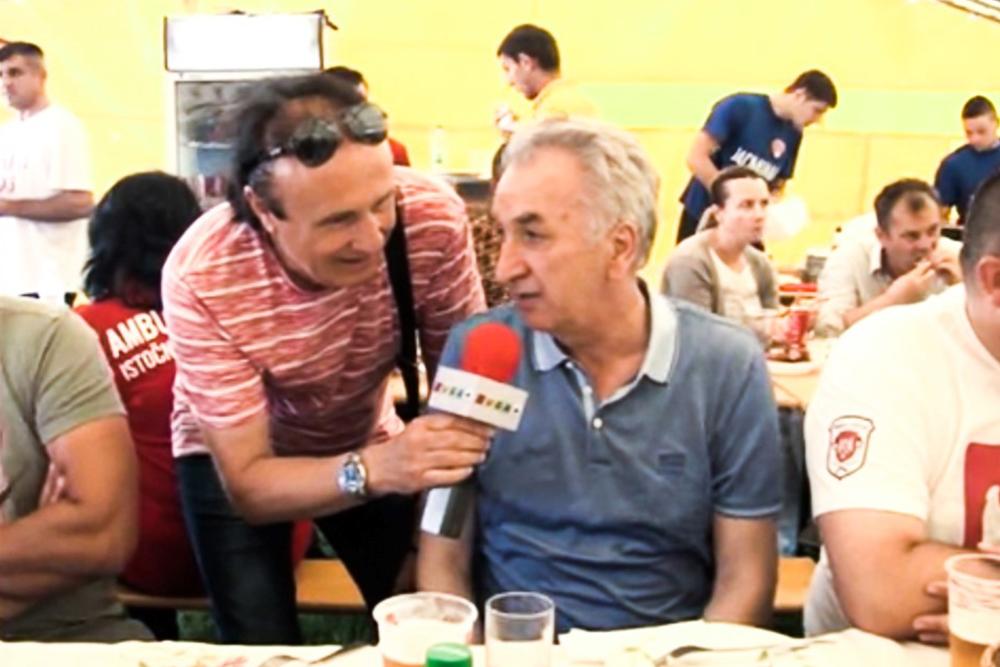 The municipality's spokeswoman Slađana Lazarević said that she did not know why they did not get any help. "Is there any criteria at all, or is it simply the will of those who decide – I like you, I don't like you," said Lazarević. "I really don't know."
Šarović refused to be interviewed for this story.
Chairman of the BiH Council of Ministers, Denis Zvizdić, gave 5,000 KM to the employers' association Business Center from Tešanj to cover the costs of organizing an international business fair. The association's president is Zvizdić's colleague from the Party of Democratic Action (SDA), Edin Jabandžić. In May 2017, Zvizdić opened the fair and several months later he approved the payment.
He also helped out with the money from the budget reserves for the Balkan Studies Center headed by his party colleague Admir Mulaosmanović. The Center received 2,000 KM for a research project. Mulaosmanović says that party connections did not help him in this.
"If I were to get some 200,000 -300,000 than that would make some sense," said Mulaosmanović.
He did not file report on the spending even though he was obliged to do it. "Don't get me wrong, but it is ridiculous to discuss spending of 2,000 KM in one analysis," said Mulaosmanović.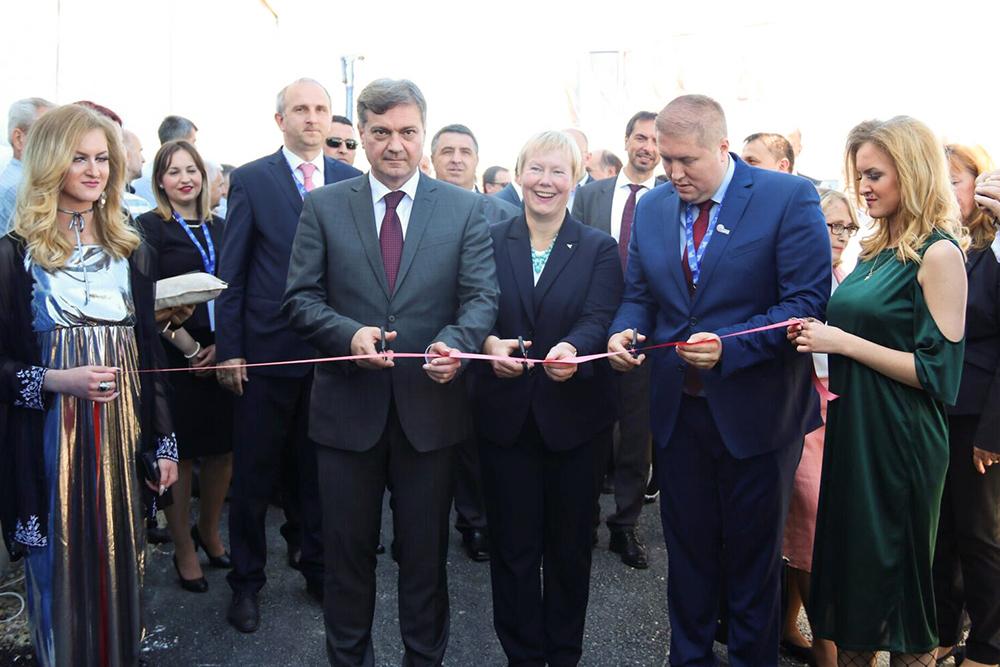 Reserves Without Checks and Balances
No one can be sanctioned for these kind of expenditures because the institutions have never clearly set down who may seek money and for what purposes from the budget reserve. In some cases, no contracts are signed and those who get money are not obliged to report back on how they had spent it.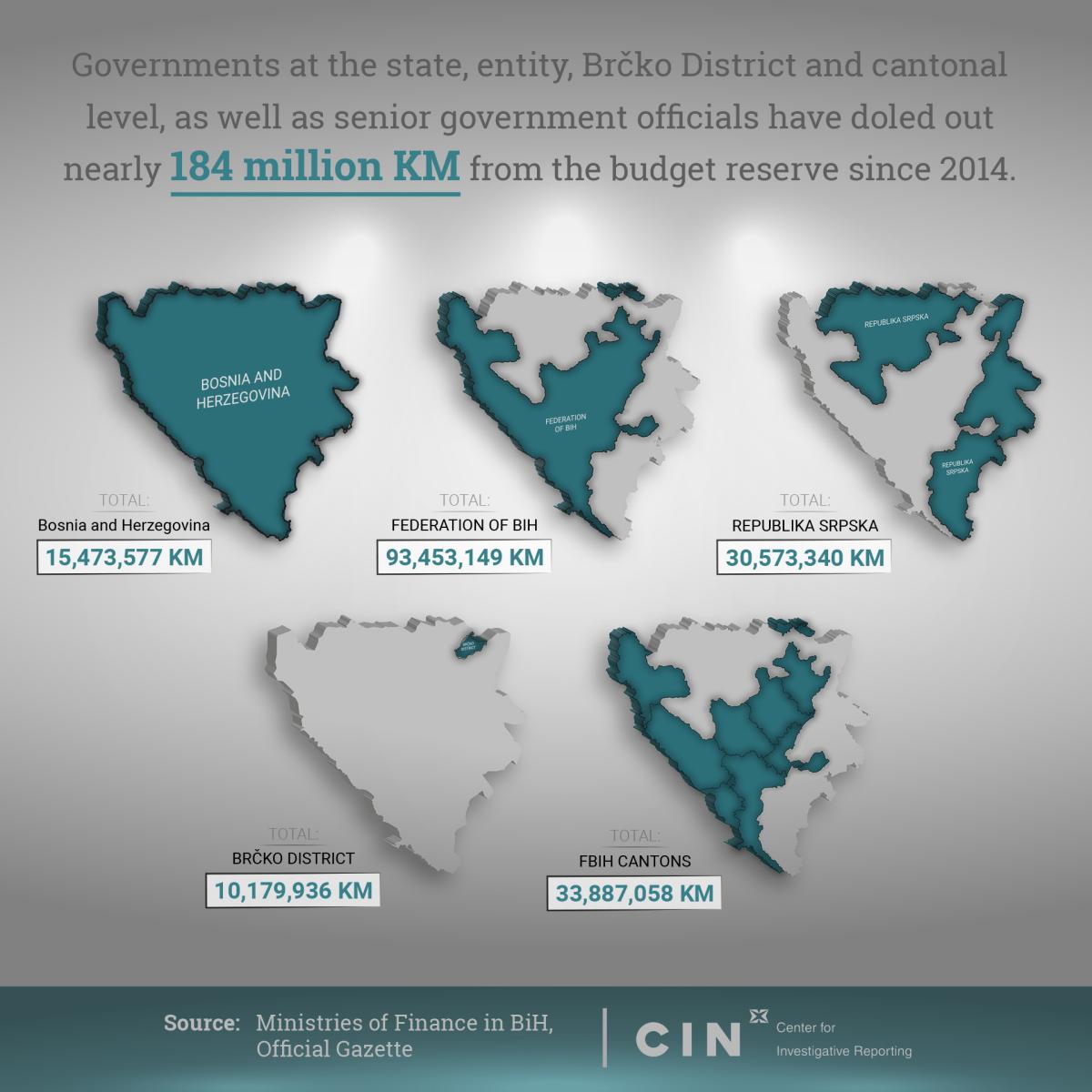 All officials doling out money from the reserve do not have the same amount at their disposal. Republika Srpska Prime Minister Radovan Višković has the biggest pool of money to give away – 1 million KM, while the prime minister of Bosnia-Podrinje Canton (BPK) Aida Obuća may dole out up to 5,000 KM a year. She's the rare official who doesn't take advantage of this discretion.
"For reasons of transparency and the open spending of the budget reserve, I think that it is better to leave decisions to give money from the budget reserve to the BPK government", Obuća told CIN.
The former SBK Minister of Finances, Zoran Marković, had at his disposal around 100,000 KM of budget reserve a year. He said that he helped almost anyone who reached out to him.
Asked how he decided whom to give 100 KM and whom to give 1,000 KM, he said: "That's luck.". "On average, based on how much they asked for I estimate how much they should get."
Thus, he estimated that he should give 1,000 KM for printing the book of former member of BiH Presidency, Ivo Miro Jović. Jović asked for the money in his capacity as president of the Croatian Cultural Society "Napredak" from Kiseljak. "So, if 1,000 KM is a problem, then go ahead," Jović told CIN. "If I were a Bosniak and if I probably got 1 million, that would not be a problem. But I am a Croat. So it goes. Hit me as much as you can."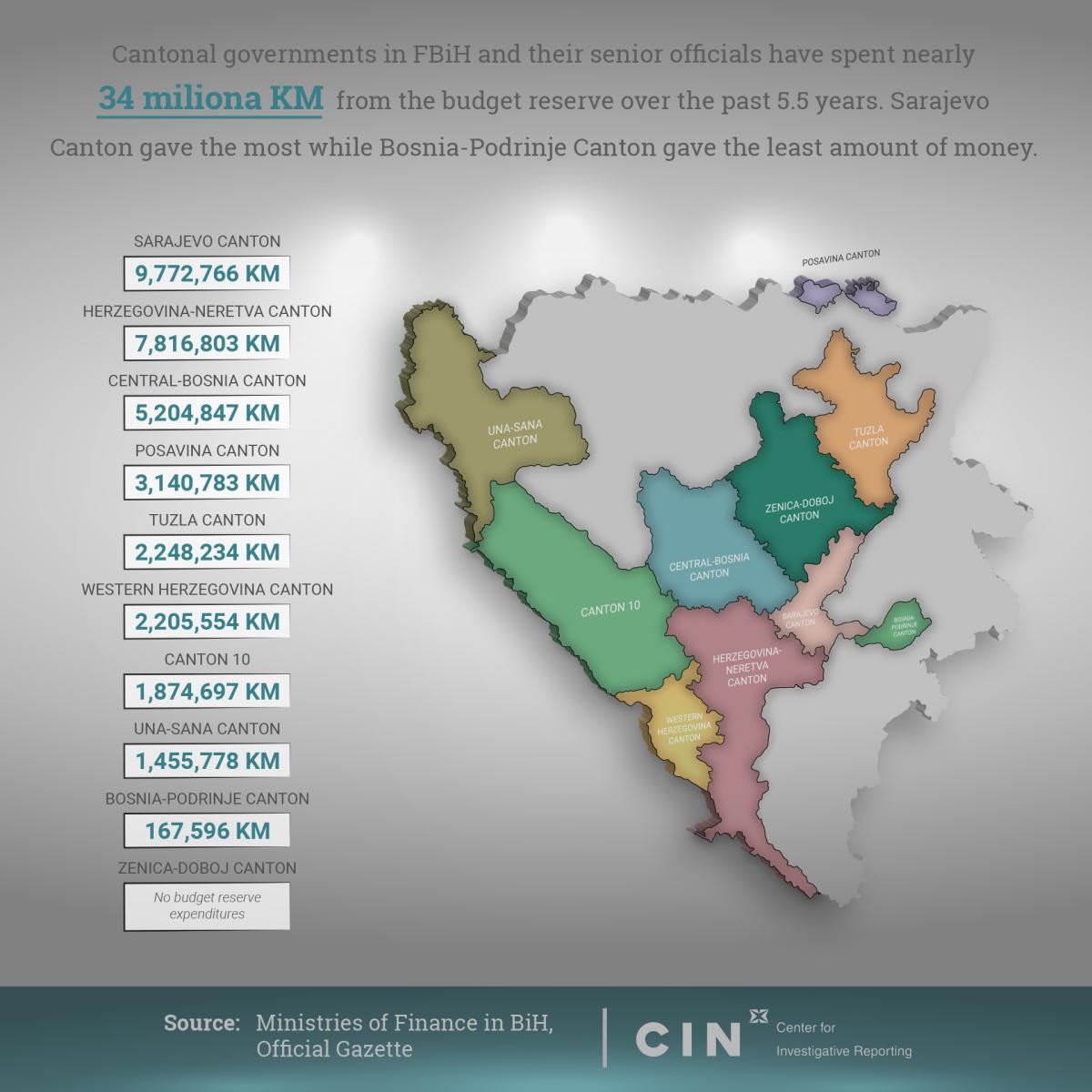 Auditors have warned for years that money is doled out without criteria, public calls for applications or checks and balances. They recommended that governments and institutions rules clearly spelling out who is entitled to this money and how it can be obtained. They have said that even where criteria are used, they are not clear.
Mirsada Janjoš, head of the Financial Audit Sector in FBiH said that budget reserve should only be used for truly unanticipated events.
Due to unclear regulations, government and officials use this money to finance various events and festivities. SBK Prime Minister Tahir Lendo paid for the competition for Miss BiH, while the BPK government gave money to female competitors who went to TV show programs such as "You Can Be The Star" and "The Grand's Stars".
In many cases, those who get money don't file evidence of how they spent it and some institutions don't ask for reports. Those who have not justified money cannot be sanctioned because there is no punishment. Benefits that taxpayers got from the expenditures have not been measured.