Pensioner Fikreta Gavrankapetanović and her cousin Vahida Bukvić started a private business in which they invested millions of KM to buy real properties and a joint firm, and to buy out their business partners.
Fikreta is the mother of Faris Gavrankapetanović, former director of the Clinical Center of Sarajevo University (KCUS), while Vahida is the mother of Amer Bukvić, CEO of BOSNA BANK INTERNATIONAL (BBI).
In mid-2013, the two together with businessmen from Sarajevo and United Arab Emirates started a hospitality company Termes. Fikreta Gavrankapetanović entered the business in personal capacity, while Bukvić used her private firm.
They capitalized the fledging firm with a dilapidated Villa Dalmatia which three years earlier they bought with partners for 1.23 million KM. On the villa's foundation they later built a boutique Hotel Krone.
Several years later, the mothers seemingly had tired of business. Gavrankapetanović sold her share to Vahida who turned her business over to her son Amer Bukvić.
Over three years, apart from the hotel business, Gavrankapetanović bought three condos, a storage room and five garages in Sarajevo for a combined 758,000 KM. According to Federation of Bosnia and Herzegovina (FBiH) tax authorities, she had no reported income during this period which supported her investment.
Soon after the purchase, she gave them away to her older son Faris. Meanwhile, he's been suspected of abuse of office.
Neither Bukvić, nor Gavrankapetanović wanted to explain where their mothers got money for such investments.
"You know it all. There's nothing especially new, so there's no need," Gavrankapetanović told a CIN reporter.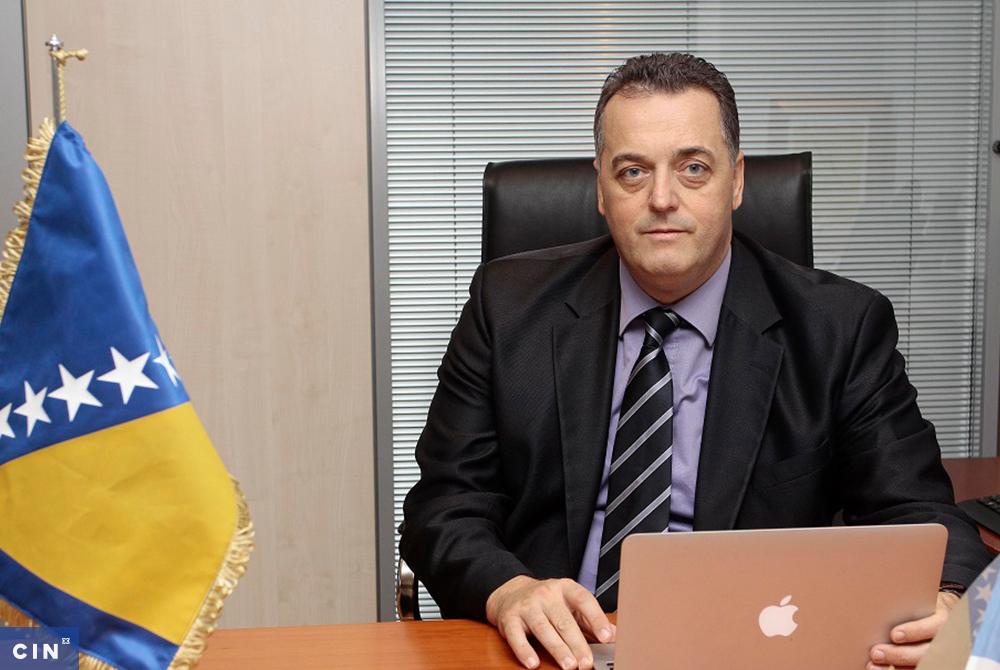 Villa for half the price
Villa Dalmatia was a beautiful Austro-Hungarian building in Ilidža at the beginning of an alley that leads in the direction of the source of the Bosna River, one of the most iconic Sarajevo landmarks. It was built in the beginning of the last century and idyllically fits in with the oasis of green parks, some 10 kilometers from the BiH capital's downtown.
During the 1990's war it was all but destroyed.
Until 2006, the Railways of the Federation of FBiH owned the villa. Nowadays Bukvić owns it, that is, his firm MDC. Previously, the building changed several hands including among members of Bukvić's family, as well as his friends and colleagues from BBI.
The FBiH Agency for Privatization tried in vain to sell villa for nearly 1.28 million KM in 2004 and 2005. It was appraised to this amount by an expert witness.
"No one was interested in this starting price because it was too expensive," said then president of the Commission for Implementation of Direct Agreements at the FBiH Privatization Agency, Senad Rahimić. "It's an over-inflated price".
The third time was a charm when the Supervisory Board of the FBiH Railways made a decision to sell the villa for half a price in 2006. Hadžići-based DE ROTCH GROUP, incorporated a month earlier, took up the opportunity and paid 627,500 KM for an Ilidža symbol.
CIN reporters tried to track the firm at the address of incorporation, but there was no trace of it. It was registered at the private house of the Bajraktarević family. For most of the year, the house is empty.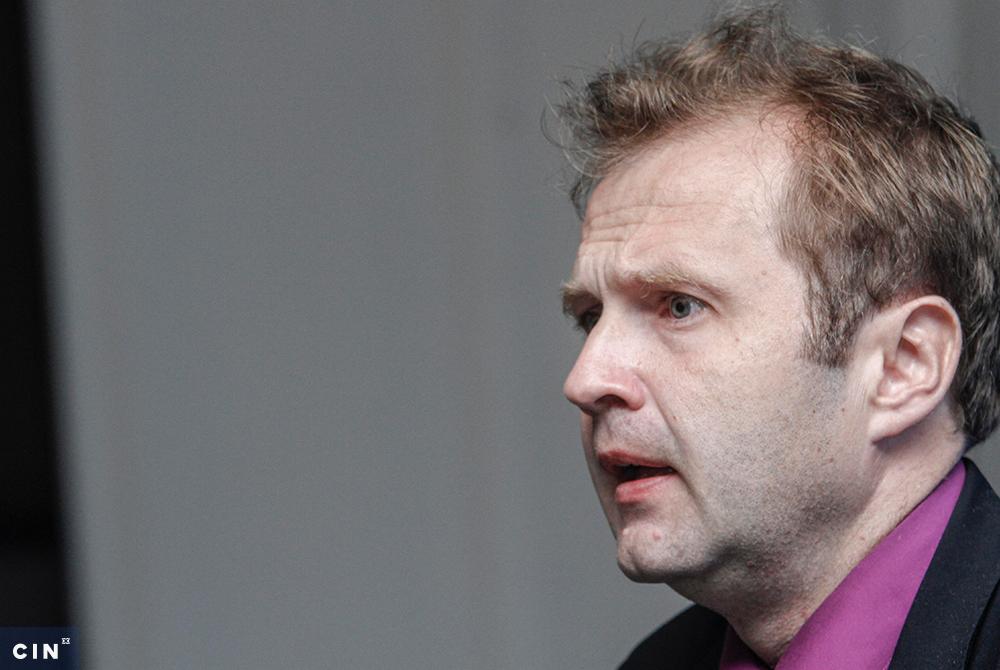 Private businesses of BBI colleagues
In the spring of 2006, two other companies were incorporated in Sarajevo – "Emirates Investments" and "MDC". What connects them is Bukvić's BBI and his friend and a former bank colleague Edin Sefo.
Sefo set up MDC, and two years later transferred the majority share of the company to Bukvić's mother Vahida. He did this when he became an officer in the partnership firm Emirates Investments, whose owner was Abdulaziz Ahmed Rahma Mohamed Al Muhairi from the United Arab Emirates. Al Muhairi is on the Board of Directors of Dubai Islamic Bank which owns one-third of Sarajevo BBI. Nowadays, he's the president of the Bank's supervisory board.
Over 13 years of existence, Emirates Investments has had two important business activities: it bought Villa Dalmatia from the DE ROTCH GROUP and incorporated Termes. Both were done in partnership with MDC and mothers of Faris Gavrankapetanović and Amer Bukvić.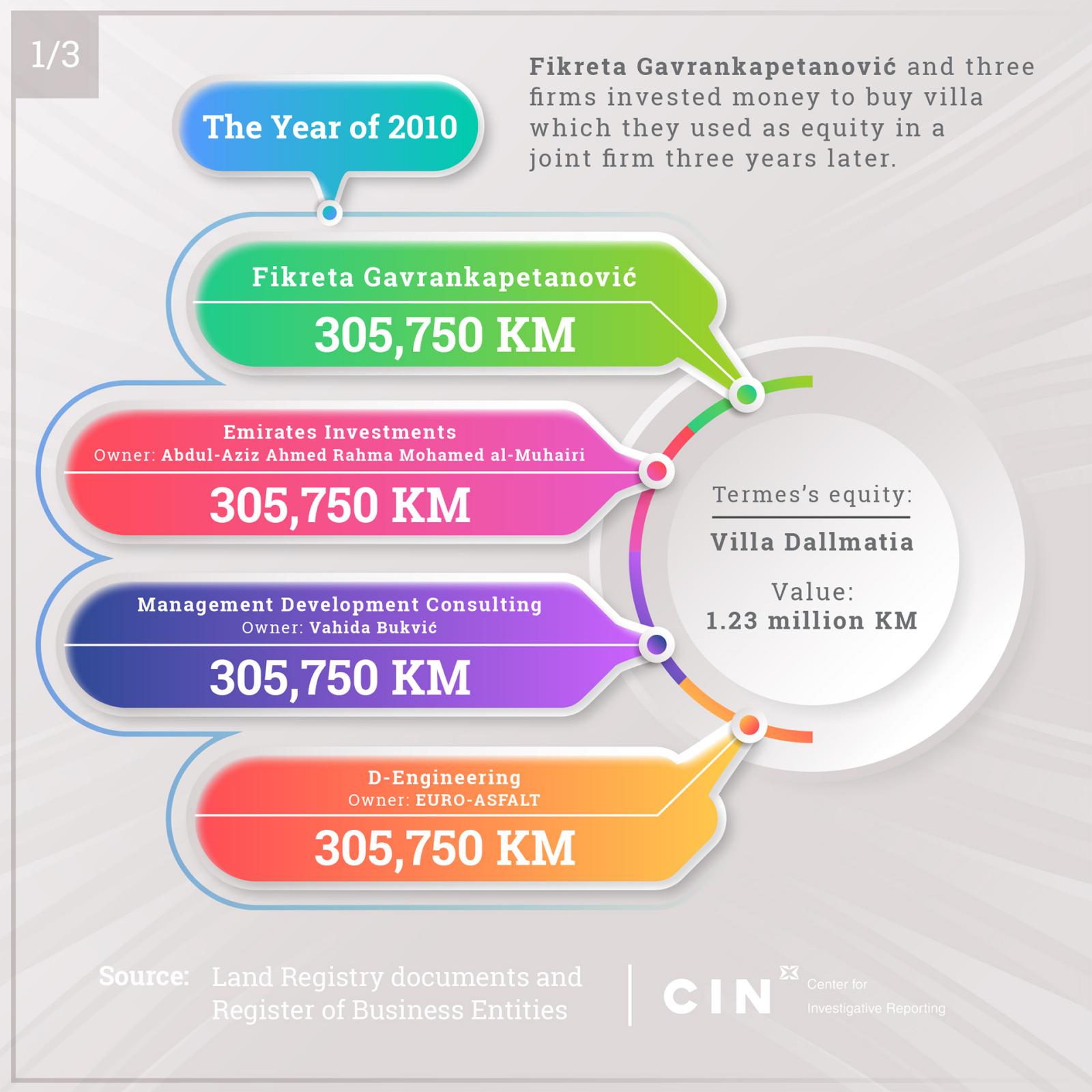 For that business, all the steps were laid down in detail.
The first step – the purchase of Villa Dalmatia – required another partner so Bukvić asked a friend Hamed Ramić to join the business. Ramić owns a well-known Sarajevo construction company EURO-ASFALT. For this deal, he set up a subsidiary D-Engineering in 2009.
Finally, in November 2010, the three firms and Fikreta Gavrankapetanović each invested 305,750 KM to buy Villa Dalmatia.
Ramić was the only one willing to talk with CIN reporters. He said that Bukvić suggested the business and that they planned to open a retirement home in the villa.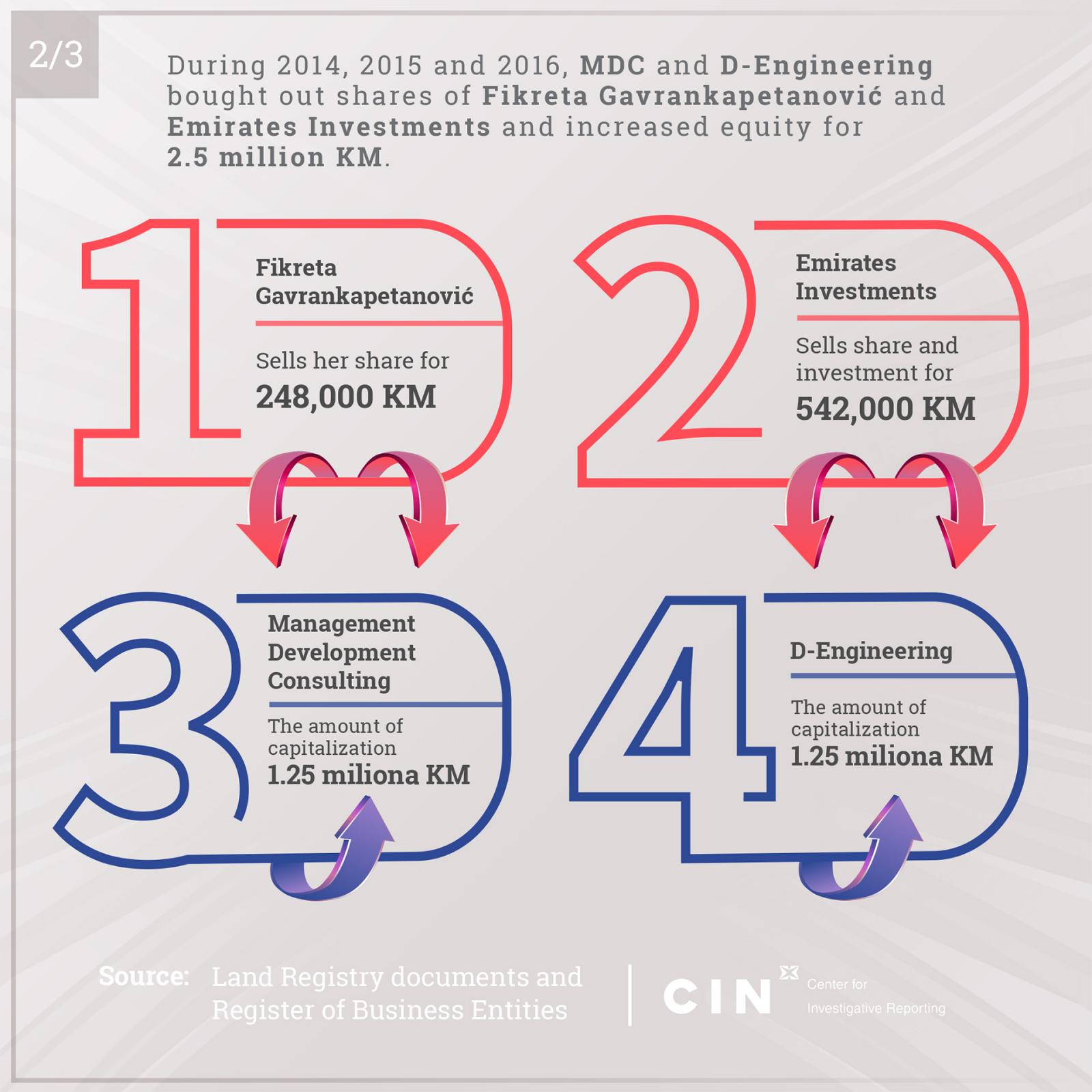 "I know that man, Muhairi…I knew him and Amer told me that Faris's mom had joined in too," recalls Ramić. "After some time, I said 'OK, I'll join as well".
Three years later, they incorporated Termes through which they started the reconstruction of the villa. Ramić's EURO-ASFALT was contracted to do the construction.
He said that renovation went "in fits and starts" because Muhairi did not pay for the work timely.
Ramić said that in the wake of some misunderstandings Bukvić proposed him to buyout Emirates. "He would buyout Faris's mom," said Ramić, "so that the two of us could see through the project".
Muhairi liked the proposal too, so at the end of Oct 2014, Ramić's firm bought out his share in Termes for 542,000 KM. This amount had also covered what Muhairi invested in the renovation of the villa so far.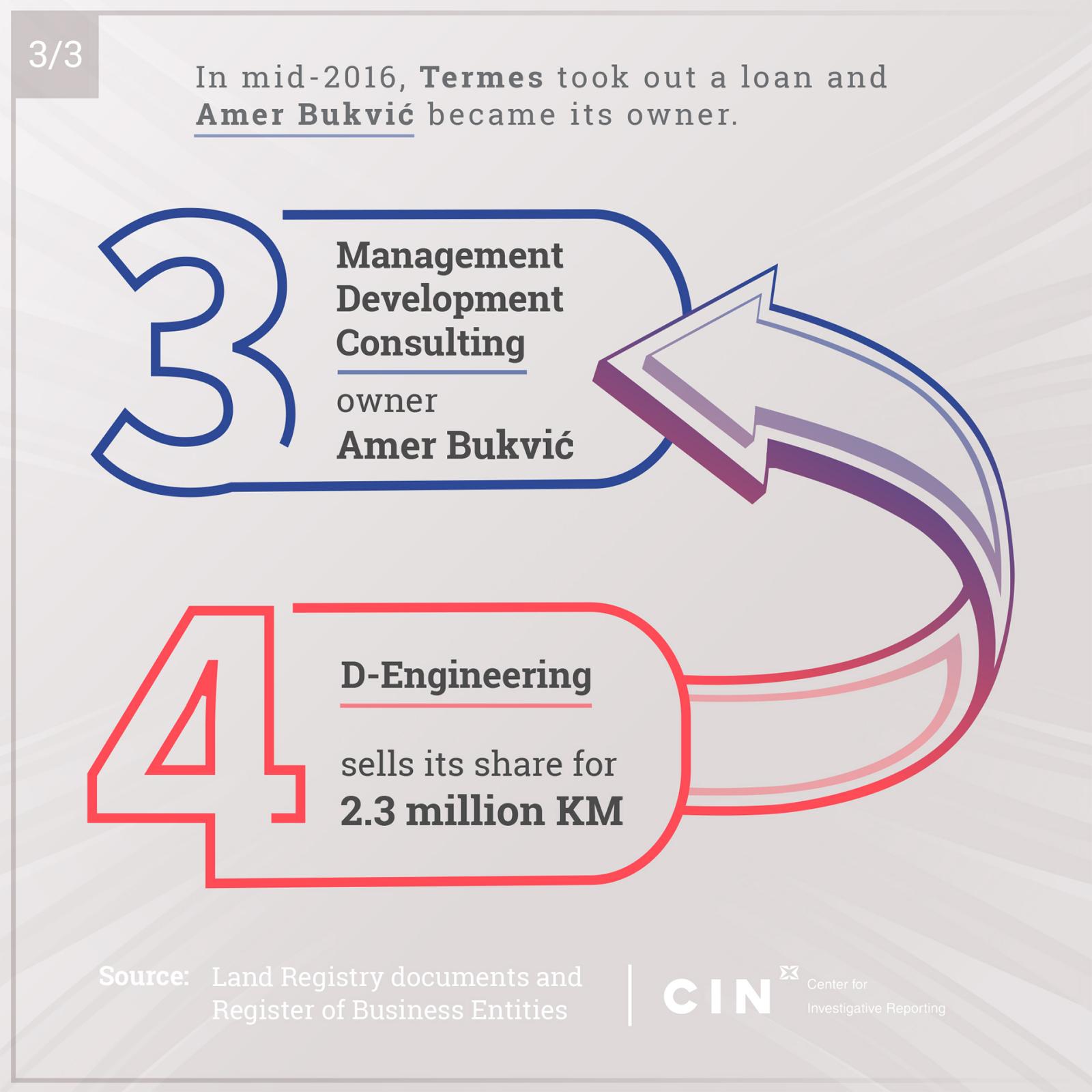 Two months later, MDC buys out Fikreta Gavrankapetanović's share as agreed, for nearly 60,000 KM less than she had paid. The contract on the transfer of shares specified that she would receive the money by 2019 when Gavrankapetanović will be 83.
Thus, Termes remained in the hands of MDC and D – Engineering which each capitalized the firm with another 1.25 million KM between 2015 and March 2016.
Twenty days after they paid the last tranche, they agreed that MDC would buy out Ramić's share in Termes. Then they took a 3 million KM loan in Ziraat Bank for which they mortgaged Villa Dalmatia.
The bulk of the money or 2.3 million KM was paid to Ramić for his share in Termes, while 485,000 KM went to suppliers.
A month later, Amer Bukvić wired 150,000 KM to MDC which until then formally belonged to his mother Vahida. Thus he became the majority owner of the firm. Along with two of them, Sefo also remained in the firm.
Bukvić who was MDC's majority owner also became the owner of Termes, the profitable company that owns Hotel Krone. Via these firms Bukvić co-owns well-known Sarajevo restaurants Cordoba, Sevilla, Marbella, Food Market, Kimono.
According to the paperwork, two pensioners were in this business only pro-forma. Even though officially his business partner in Hotel was Vahida Bukvić, Ramić told CIN that he talked business with her son.
All along, Fikreta Gavrankapetanović had a similar role in the family business with real property. With her pension she bought three condos, five garages and parking places and a storage room over three years. She spent on this 758,000 KM. She gave them away to her son Faris, which CIN reported in 2014. Fikreta Gavrankapetanović has been retired since the end of the war and during the investment period did not have any other registered income. Five years ago she told reporters she had earned money working as a microbiologist in a military hospital in Tripoli, Libya during the 1990s. She said she bought properties to leave to her children. Asked why she gave them to Faris alone, she replied: "I've finished this with the lawyer. They will divide that when I die."
When he was suspected of abuse of office, Faris Gavrankapetanović transferred most of this property to his wife Alma.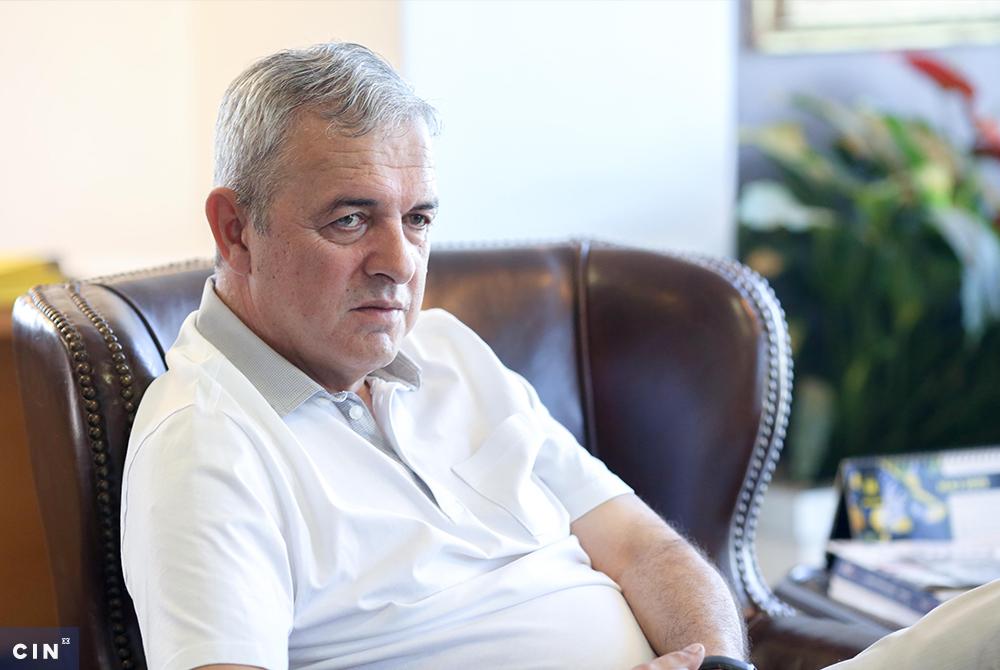 Prosecutor's Office vs Gavrankapetanović
At the end of 2013, the Cantonal Prosecutor's Office in Sarajevo launched an investigation into allegations that Gavrankapetanović abused his post as director of the clinical center. Prosecutors allege that his mismanagement damaged the clinic for 23.5 million KM between 2004 and 2010.
He had allegedly concluded harmful public procurement contracts; he did not follow legal procedures in putting in public bids; he under or overvalued bids in public procurement procedures when buying a neuro-imaging equipment, computer hardware and software, and, in choosing a security agency he did not follow competitive bidding rules.
The Prosecutor's Office also alleges that Gavrankapetanović unlawfully employed 260 people at the clinic, signed management contracts with some employees improperly, and hid losses in the clinic's financial reports. Prosecutors suspect that the director profited personally from these acts.
Nearly six years since its inception, the investigation is still ongoing.