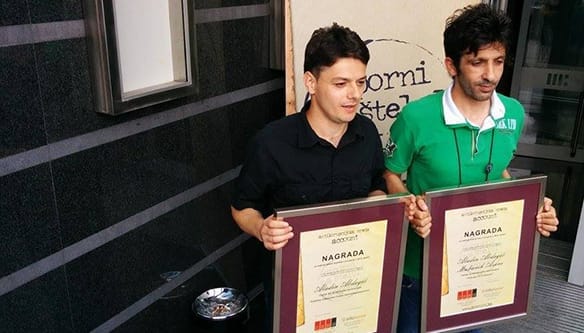 Reporters from the Center for Investigative Reporting in Sarajevo (CIN) Aladin Abdagić and Mubarek Asani won an annual award for investigative reporting given out by the Anti-Corruption Network in BIH – ACCOUNT.
Abdagić received the best corruption report award for his story "The Valuable Property Holdings of Faris Gavrankapetanović." The CIN reporter showed how the former director of the Clinical Center of the University in Sarajevo Faris Gavrankapetanović could not cover the purchase of valuable properties with his legal income. Abdagić found out that Gavrankapetanović and his family acquired property holdings worth 2 million KM over 10 years.
The best video award went to the documentary "Policemen AND/OR Criminals" done by Abdagić and Asani. The story is about the former police commissioner of Una Sana Canton Ramo Brkić who was sentenced to 11 years in prison. Currently an appeal is before the court of BiH.
ACCOUNT's director Eldin Karić said that 28 entries were judged this year, fewer than last. "There is no investigative reporting. It's an expensive work. We need to find funds and pay more attention to it," said Karić.
Štefica Galić said on behalf of the jury that there was not going to be an award for audio reporting on corruption this year because the only work that arrived for the call did not meet the criteria of investigative reporting.
The jury made up of five members rated the originality of a topic, its relevancy and the number of sources, the quality of reporting and the story's impact.
This is the second year that ACCOUNT gave awards. Abdagić also won last year for the story "The Former Head of UIO BiH Owns a Million in Assets" in which he revealed how Kemal Čaušević acquired nine apartments and offices, plus 20,000 square meters of land, in the course of seven years in office. His income during that time did not come close to the cost of the investment. Čaušević was arrested zon abuse of office charges this year. He's detained and waiting for indictment to be filed against him.