SIPA arrested two persons suspected of illegal trade in medical drugs including a customs officer.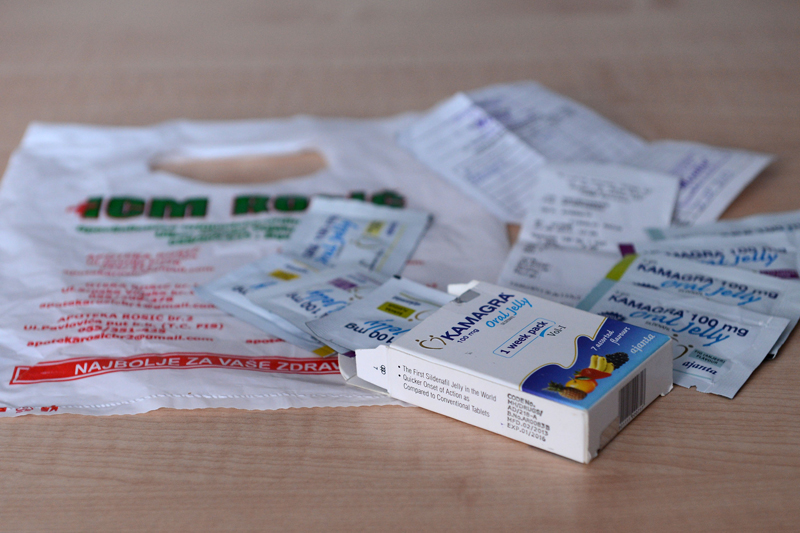 After CIN wrote about Kamagra, the drug was pulled out of sale in some pharmacies. (Photo: CIN)
By the Center for Investigative Reporting
In an operation code-named Kamagra, members of the State Investigation and Protection Agency (SIPA) arrested two persons in Banjaluka on charges of organized crime, illegal trade, dealing in defective medications and abuse of office or authority.
SIPA's spokeswoman Kristina Jozić told the Center for Investigative Reporting (CIN) that one of the suspects is an employee of the Indirect Taxation Authority (UIO) of Bosnia and Herzegovina (BiH).
A several-months long investigation preceded the raid which revealed the illicit trade in pharmaceuticals from India and Serbia in BiH.
As CIN wrote earlier, BiH and Serbian border police agencies occasionally uncovered cases of trafficking in under the counter medications, such is a potency supplement Kamagra. In April 2013, 840 Kamagra packets were confiscated at a Bijeljina border crossing of Pavlovića Bridge.
Kamagra is a medicine for men's potency produced by the Indian pharmaceutical company Ajanta Pharma Limited. It is not registered with the authorities and should not be sold on the markets in BiH and Serbia.
Last Septeber CIN published an investigation in which it revealed that Kamagra can be optained in pharmacies in Bijeljina and Sarajevo, and an outdoor market in Tuzla. After the CIN published its story, the state Agency for Drugs and Medicine Equipment informed the entity inspectorates about the supplement and Kamagra was withdrawn from the market.
The reporters found that Kamagra had reached some pharmacies via a Banja Luka wholesaler Krajinalijek. The Agency's inspectors have inspected Krajina lijek and fined it, they said for CIN.
According to the Law on Prescription Drugs in BiH, the producers and distributors of unlicensed drugs can be fined between 30,000 and 100,000 KM while persons up to 10,000 KM.
Published: March 28, 2014.