Dr. Zoran Petrović apparently wanted more income without more work, and he was willing to gamble with the health of a patient for a 200 KM on top of his usual 1,500 KM a month.
He probably could have achieved that without resorting to extortion. Instead, the doctor told Miralem Čolaković that his hospitalized wife would not receive an inoculation she needed if he did not bring money. This was too much for Čolaković, so he reported the doctor.
Petrović is the only doctor sentenced for soliciting gifts between 2009 and 2013 according to records from 66 cantonal, district and municipal courts in Bosnia and Herzegovina (BiH). According to records the Center for Investigative Reporting in Sarajevo (CIN) collected, two other doctors tried for the same charges were acquitted. Petrović was sentenced, but his punishment was lenient.
Associations fighting corruption say that the lack of punishment is why citizens reluctantly report corruption. This is especially evident in smaller towns where people have only one doctor to return to.
"They are the most vulnerable when they are sick, and then they enter the corruption vortex because the head on the shoulders is the most important," said Anica Ramić, president of the civic association Stop Mobbing in Trebinje. She is a health worker herself.
A survey by the market research agency IPSOS shows that the causes of not reporting might lie in the fact that one in 10 respondents admitted to giving unsolicited cash or gifts to a health worker as a matter of custom or in order to get a better service.
The Čolakovićs themselves would give money to the doctor without the solicitation – to "treat him" for the birth of son – except that the doctor had less subtle methods.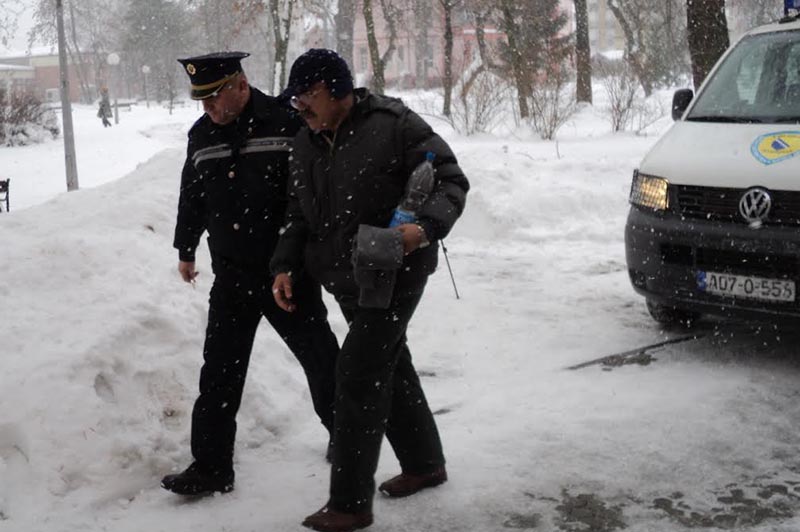 Threats and Insults
In February 2012, Erna Čolaković showed up in the Brčko General Hospital where Petrović did a caesarian and she gave birth to a son. Even though her medical insurance covered all the hospital expenses, the doctor asked her husband Miralem for 200 km for a job well-done.
Čolaković did not have money at the moment so he said he would bring it the following day. The following day the doctor called him asking for the money right away and said that otherwise his wife would not get a protective inoculation RhoGam. This medicine is given to mothers with an RH negative blood group when the father is an RH positive to prevent antibodies in the mother from harming future children she might bear. A patient should be inoculated within 72 hours after giving birth for the first time.
Čolaković told CIN that he was supposed to buy the vaccine himself but he needed the doctor's prescription first. "Simply, the man was extorting me," he said. "I told him 'You cannot behave like that.' He retorted, 'Say what you will, I've got the prescription. If you don't give me the money, she will not be inoculated.'"
After the conversation, the father went to Petrović's apartment. The doctor met him in front holding a piece of paper with the name of the vaccine and a stamp. He said that he managed to get hold of the paper with an explanation that he would bring him the money on his payday.
"Then he started shouting: 'You dog, you should be ashamed of yourself, you trash!' He told me all sort of things. He tells me: 'If you did not bring the money, there's going to be trouble!'" recalled Čolaković who after this went to the police and reported the doctor.
Police officers gave him marked banknotes and wired him so they could tape his conversation with the doctor and tag him when the money changed hands. Several days later Čolaković met with the doctor and after he gave the doctor the marked banknotes Petrović was arrested.
According to the records collected by CIN, the prosecutor's office filed an indictment against Petrović two months later and the doctor was suspended. During the prosecution he continued to receive 80 percent of salary. The doctor pleaded guilty and was sentenced to three months in prison in September 2012.
According to the Brčko District Penal Code, this crime carries a prison sentence between six months and five years. The Court considered three months enough considering the severity of the crime.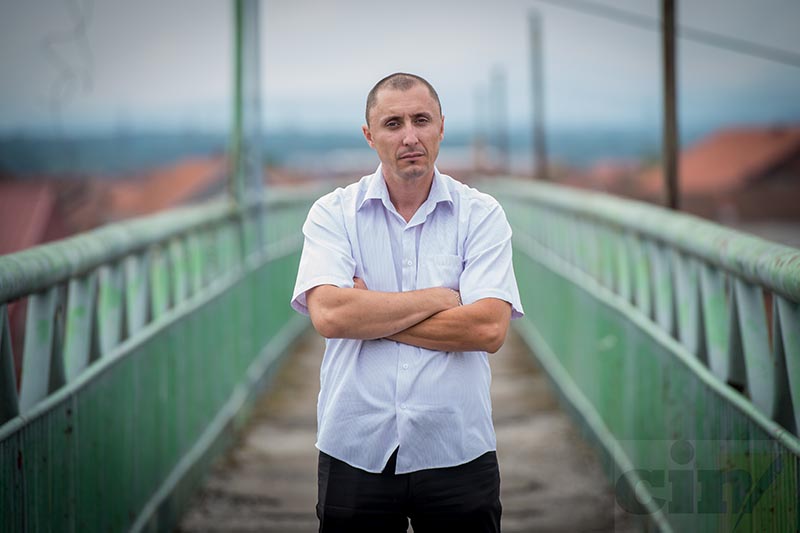 Return to Work
However, Petrović has never gone to prison. A day after the verdict, he submitted a motion to the court to commute his sentence into a fine. Even though according to court documents his salary was the only source of income for Petrović's four-member family, the doctor coughed up 9,000 KM in exchange for serving his three months.
And this was his only punishment.
At the time when he committed the offence, Petrović was an employee of the Brčko District government, because the hospital where he worked was the part of the Department of Health and Other Services. The Ethical Codex of the Government and Public Officials of the Brčko District stipulate that the employees are not allowed to accept money or other gifts for services rendered.
According to the Law on Government Service in the Brčko District Public Institutions, violation of these regulations is considered a grave violation of official duty which carries sanctions such as a fine or sacking. However, the law does not define the rules for starting disciplinary proceedings.
The president of the Disciplinary Commission of the Brčko District Government Ehlimana Begović, told CIN that there were no disciplinary proceedings against Petrović. She said that some of Petrović's superiors could start the disciplinary proceedings, but had not. His then superior Admir Čandić, the head of Department of Health, was unavailable for comment.
The Law on Civil Service stipulates that an official sentenced to up to six months is obliged to return to work having served his time. After the verdict, Petrović submitted a request to be returned to work and was granted that. CIN reporters found that he was returned to work because "the reasons for his removal from service ceased to exist."
Nowadays, the Brčko hospital is under the auspices of the Public Institution of Brčko Health Center because the institution parted with the government of Brčko District in July 2013 and became an independent institution. Health service officials told the reporters that they have inherited all the employees from the old institutions and that they had no objections to Petrović's work.
"The trial is over, he was sentenced and returned to work. Accordingly, this is not some trespass that would lead to his dismissal. Meanwhile, there were no issues," Hospital Director and Deputy Director of the Health Center Dušan Stokić told CIN.
Stokić explained that they could not dismiss Petrović now because he had paid his fine.
"If someone like him, with such a file, asked for a job this might have had an effect, but it did not. He's a man soon to be retired who has little time before finishing," said Stokić.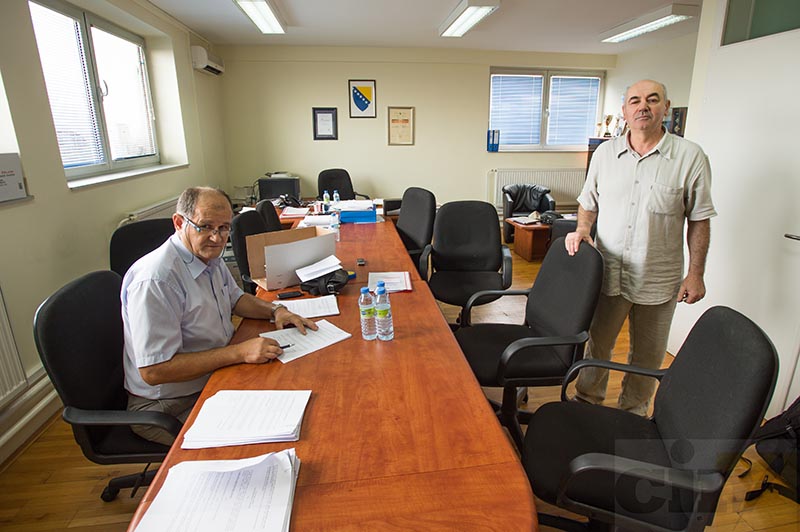 Petrović refused to talk with CIN reporters.
His former patient Erna Čolaković plans to have more children, but she's afraid of going to this hospital. Her husband Miralem said that there was an option of visiting another doctor, so they hoped that there would be no issues. Still, he wondered, how it was possible for such a doctor to return to work. "In the end, it was all for nothing – it only cost him 9,000 KM," he said.
From Flowers to Tablets
Over the past five years two other doctors were tried for the same crime by the Cantonal Court in Goražde and the Basic Court in Bijeljina.
The Goražde court acquitted Dr. Abdulrahman Baker on charges of extorting money from a patient for a circumcision, while the court in Bijeljina acquitted Dragan Begović, a doctor and an expert witness, of the charge that he had taken money in order to help a patient obtain pension.
According to a survey conducted by the market research agency IPSOS on CIN'S behalf in March 2014, one in 10 in a 1,000-person survey gave money or a gift to a health worker. Of this number, 79 percent said that they chose to make a gift or were under impression that this was a custom, while 10 percent said that they were solicited for an offering. Most of the citizens gave money for a better treatment and around 500 KM was the usual sum.
The survey was conducted across BiH on medically insured citizens who had visited a doctor at least once in the past year.
Čolaković was one of the rare patients to report a doctor. He told CIN reporters that if there had been no threats and extortion he would have given the doctor money himself for the services rendered.
"He was great during the pregnancy. My wife would come home saying that he was a nice doctor. She said: "Let's give him a 100 KM. People give, so we'll too," said Čolaković.
Ramić from Stop Mobbing said that people worry that if they do not "treat" a doctor that they will not end up healed. The troubles of others who have not paid for medical services make them offer money. "Stories that the doctors do not ask for money, and that the people give on their own are not true. No one gives money just like that. It's an example of conditioning," said Ramić.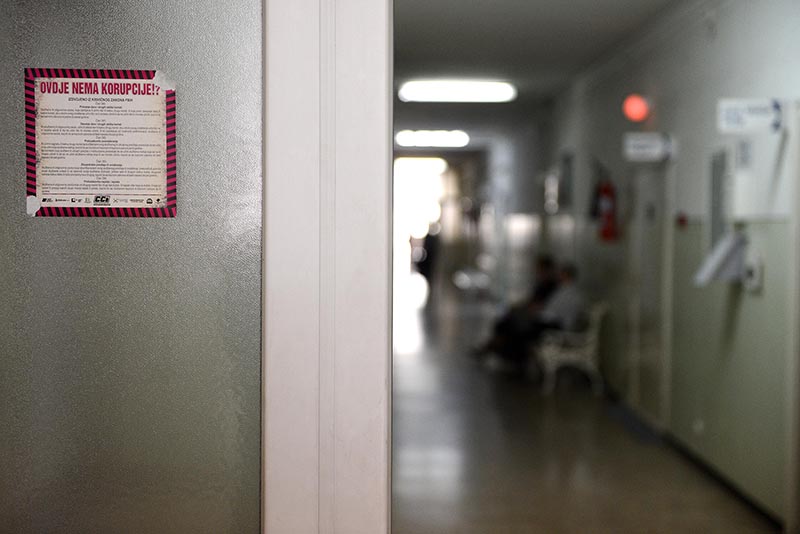 Apart from the medical institutions where most of the costs are covered by medical insurance, giving money or gifts to doctors has become so entrenched "a custom" that people also do it in private clinics. Five private clinics CIN got in touch with said that patients routinely bring presents to doctors after treatment. They said that these are mostly flowers or boxes of chocolate, but sometimes also expensive drinks, watches, perfumes even tablets.
"One patient brought a lamb in front of the clinic as a token of gratitude, said Dr. Džemil Hujdurović, owner of a Blue Hospital in Tuzla. He said he saw nothing wrong with a patient bringing gifts if he or she was happy with the service. Almir Azabegić from a Tuzla-based Salus clinic agrees.
"If a patient is pleased with the service, than it's fine. In a private practice this is always the case, because a person who paid for the service will not give a gift unless he's really pleased," he said.
The private clinic owners CIN talked to all said they did not accept money and expensive gifts, only the token present. While some see nothing wrong with the practice, others are categorically against it.
"I think that the practice of bringing gifts after or before a certain medicine procedure is wrong, primitive, and derogatory to the status and doctor's calling," said Dr. Emir Talirević, director of My Clinic. He said that financial compensation for the doctor should be provided by his employer, while the only reward from the patient should be a smile and the contentment of doing a good job.
Dr. Amela Karabeg, director of Karabeg Clinic agrees. She said that she's very much against such patients' habits. "We work as anyone else, and I don't understand why one would give gifts when each one of us receives a salary for the work they do," she said.