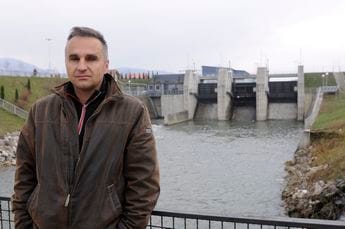 Five small hydro dams which are connected to the grid of the Power Authority of the Croatian Union of Herceg-Bosna has produced around four Giga Watts (GWh) of popwer in the first half of this year for which they got around half million KM.
According to a resolution from the Government of the Federation of Bosnia and Herzegovina (FBiH) from June 2010, the incentives for the production of power from renewables are financed by taxpayers. The bills that citizens receive from the Power Authority have calculated an extra item – the incentive for production of renewables from water, wind and sun.
There are four small hydro power stations in the Power Authority's grid: "Vitez 1" from Vitez; Buk from Široki Brije and Zagradačka, Crima and "Dušica" from Prozor-Rama. Power stations from Rama, which were the last ones to connect to the grid, are currently producing the biggest amount of energy. The oldest power station is "Vitez 1" which got a concession license in 2007. The licenses are given out by the Regulatory Commission for Electrical Energy in FBiH (FERK), based on a concession contract signed with a canton or the entity, depending on location and the installed power.
Mirko Šakić, the owner of "Vitez 1" signed a concession contract at the end of 2004. He said that he invested around 5 million KM. He paid the installments with the money he's been receiving from the Power Authority. His hydro power station collects around half million KM in revenue every year depending on the amount of water available. "The state gave me the concession. I hope for water from the God. The idea is mine," Šakić told the Center for Investigative Reporting.
According to the records from the power authority, it has paid 2,969,123 KM, between 2008 and 2011 for the electricity produced by the small power plants. By mid-2010 though, there were only two power stations connected to the grid: "Vitez 1" and Buk. The purchase price for the renewable energy was around 0.12 KM per a kW.
The FBiH auditors did a performance audit on the concession management in the entity last February and warned that the current system of concession certification has not attracted more significant investors. Since 2002 when the concession laws were adopted, not a single concession license at the entity level has been issued. At the cantonal level around 300 have been signed, most of which for the construction of hydro power stations.