Hundreds of fir and beech trees on Bjelašnica mountain were unlawfully cut down to clear the land where the construction of a business and sport center was planned. Trnovo Municipality's new project will irrevocably harm the beauty of this Olympic mountain.
Nearly one thousand cubic meters of wood has been cleared, mostly without the approval of the Sarajevo Cantonal authorities and without paying the required fees, uncovered reporters from the Center for Investigative Reporting (CIN) in Sarajevo.
The relevant ministries denied the Municipality's request to clear the land because the Municipality failed to provide the mandatory environmental impact assessment. The assessment would have shown the amount of wood that is allowed to be cut and whether the construction might pollute water sources that supply Sarajevo and its citizens.
Trnovo Mayor Ibro Berilo said that the Cantonal authorities tried to obstruct the project.
"We have found a way to get the job done", said Berilo.
Eventually, the Cantonal inspectors fined the municipality and Berilo with 7,000 KM on account of illegal logging and unlawful sale of timber. But Berilo and his office simply paid the fine and continued business as usual. They sold a portion of the wood, while nearly half of it they gave away to a businessman who had cut the forest down. However, it is not possible to establish where all felled trees from Bjelašnica ended up, because the municipality did not properly mark the trees to be cut down, as required by law.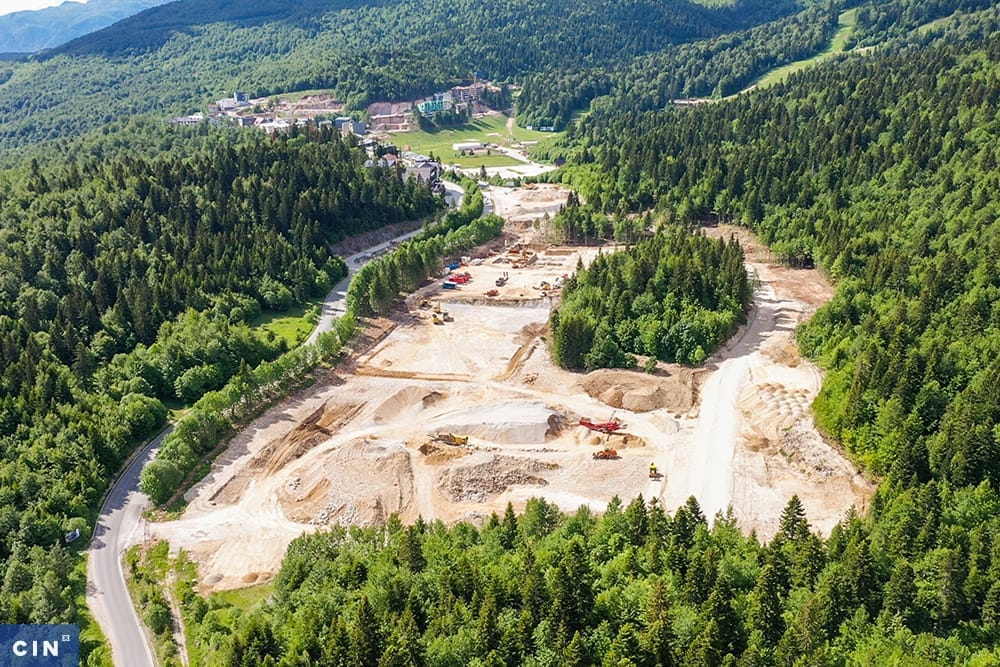 In the spring of 2020, after the land was unlawfully cleared, the construction of the sport courts, a hotel and apartments began.
Sport Center and/or New Apartment Complex
Trnovo Business and Sports Center is planned to span over 11.4 hectares at the very entrance to Babin Do — the Olympic Ski Recreation Center on Mt. Bjelašnica.
In summer 2018, Trnovo municipality declared the right of eminent domain over the land and paid 185,000 KM. Most of the land was covered by forests of fir and beech trees and was under the stewardship of the Cantonal Public Forest Management Company "Sarajevo šume".
For land clearing of more than five hectares, the Municipality had to obtain an environmental license issued by the Sarajevo Cantonal Ministry of Spatial Planning, Construction and Environmental Protection, as well as a license by the Sarajevo Cantonal Ministry of Industry for conversion of forest into construction land.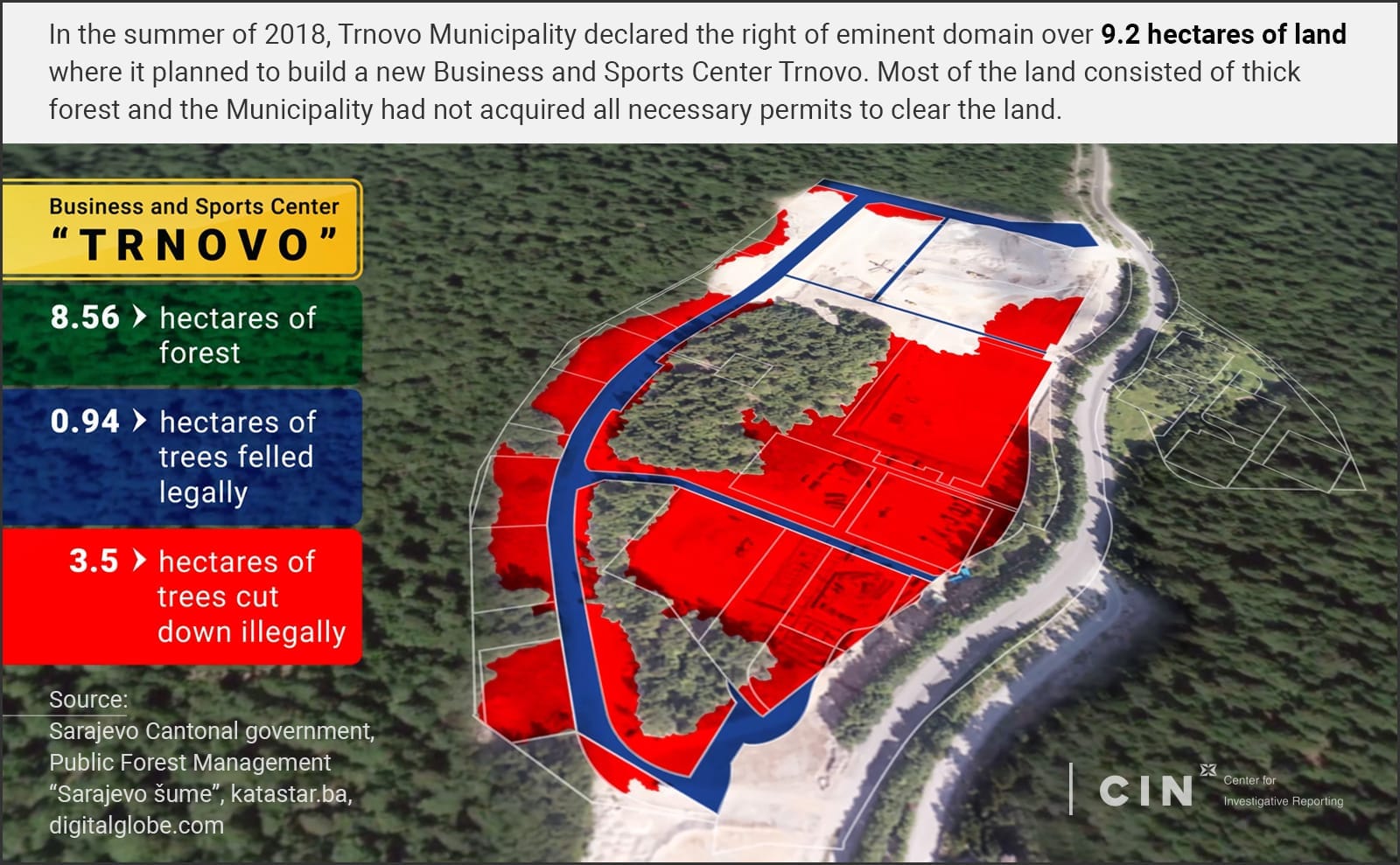 Instead of applying for licenses that would cover the whole area, the Mayor found a loophole by divvying up the plot. In August 2018, he asked for a land clearing license only for the part where the access road was planned. As this only concerned 1.6 hectares, he didn't need to apply for an environmental license. The Sarajevo Cantonal Ministry of Industry issued a land clearing decision after the Municipality paid 35,000 KM in fees.
Officials at the Ministry of Spatial Planning became suspicious when they soon after received a new request for an environmental license signed by Mayor Berilo – this time for a plot of 4.7 hectares in size.
"We realized that this was the same location and consisted of an illegal divvying up of land to avoid the obligation to apply for an environmental license," the Ministry's internal report stated.
When they realized that they had been fooled, the Ministry officials informed Trnovo municipality that it had to obtain the environmental permit for the entire plot of land on which it planned to construct the Center and that it could only be granted the license after the Ministry had reviewed the environmental impact assessment. Cantonal Minister of Spatial Planning, Construction and Environmental Protection, Faruk Kapidžić, said that the Municipality submitted an assessment, but his ministry rejected it. "It was totally incomplete, millions of items were missing on it," said Kapidžić.
This didn't stop Berilo. He said that the municipality found a way to move past that. In March 2019, Berilo put out a tender to award contracts for cutting of wood and construction. Three months later, the municipality signed a contract worth 3.15 million KM with a consortium consisting of Zenica-based "Almy Transport" and Sokolac-based "Dolovi". Meanwhile, Trnovo municipality approved the construction of certain infrastructure and a football court, while informing the Ministry that it was withdrawing its request for the environmental permit.
"Dolovi" started cutting wood also on the parts for which they had no permit. The Cantonal Forestry Inspection duly informed the Ministry, but did nothing more.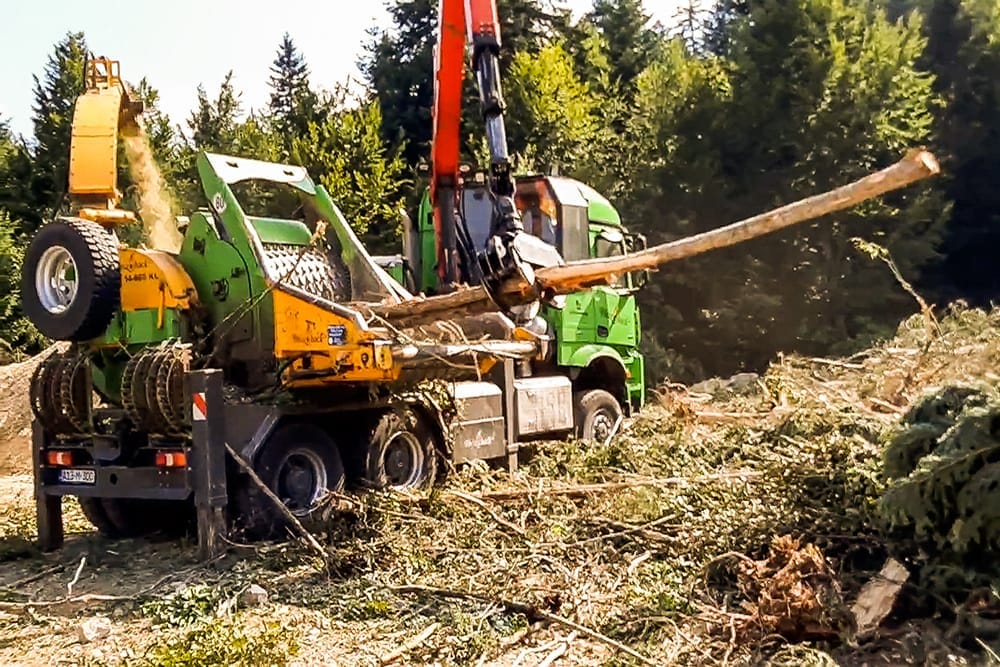 As the Municipality didn't have all the necessary permits, the cantonal forest authorities declared that they lacked jurisdiction to mark the trees, so the Municipality hired a private firm "Šuma Plan" to mark and measure the trees before and after cutting. However, this work has also not been done according to the law.
Forest Disappears in Wood Chipper
Last August, workers from the Public Forest Management Company "Sarajevo šume" recorded that machines belonging to "Dolovi" were chipping unmarked timber.
A month later, Sarajevo Cantonal Forest Inspection established that the forest was illegally cut down and sold without being registered, and it fined the Trnovo Municipality and Mayor Berilo a total of 7,000 KM. "Šuma Plan" and its director Duško Topić were also fined with the same amount because they didn't have an approval from the Cantonal Ministry of Industry for marking wood.
Topić said that his firm did not mark trees. "Most probably, they cut it down without registering them," Topić told CIN. Despite that, he paid the fine. "Yes, we did. We paid the fine so that it wouldn't go further, or be talked about more. Just move on," said Topić.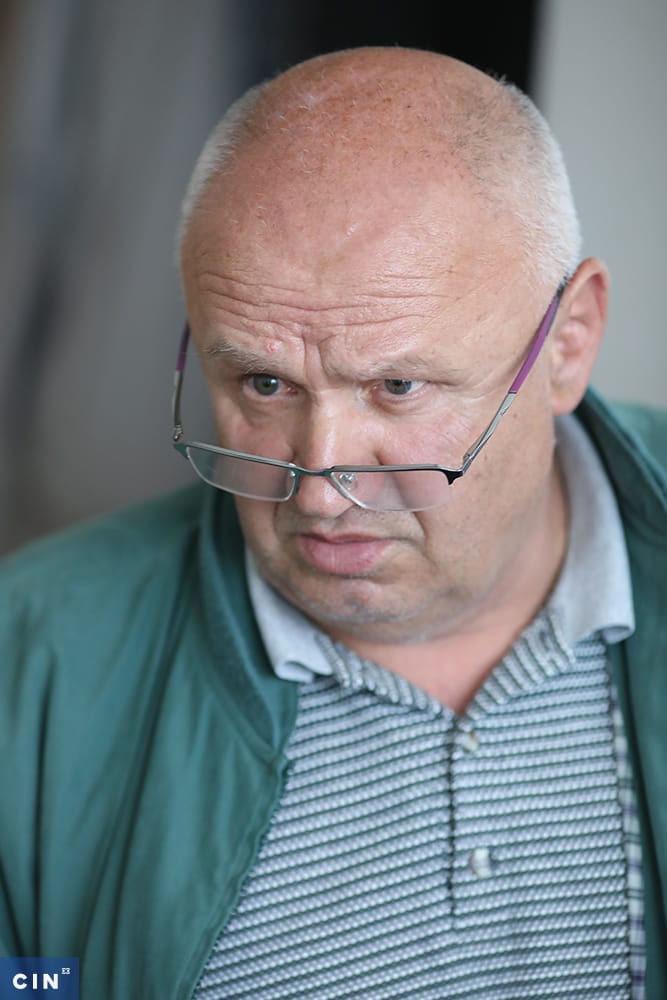 At the end of 2019, Sarajevo Cantonal Forestry Department filed a misdemeanor complaint against "Dolovi" with the Municipal Court in Sarajevo on account of improper marking of felled timber which was not registered before being placed on the market.
Between April and June this year, CIN reporters visited the construction site on several occasions. Large forested areas in the midst of the Center had already been cleared, while excavators continued to harvest trees on the area which was planned for construction of apartments. The municipality doesn't have a license to clear this, nor other land already cleared. Where was once thick forest, now stood piles of felled timber.
"Dolovi" manager Bojo Borovina told CIN that they cut down wood in 2019 only on the parts where the access road was planned. He couldn't explain what happened to the other trees on the land. Even though CIN footage from this April shows that a "Dolovi" excavator was picking up whole trees from the roots, Borovina claims that his firm did no land clearing: "These were some stumps, which we hauled onto trucks from there, that's right."
Until this June, apart from the road that covered around 0,94 hectares, another 3.5 hectares of forested land was cleared for which the Municipality didn't have a permit and paid no fees for. The Head of the Forestry Bureau, Edib Hamzić, and Cantonal Forest Inspector, Dominko Bešlić, are well aware of what is happening on Mt. Bjelašnica.
"I see it, I'm not blind, I see that every day," said Bešlić. "I'm going there every other day".
Despite that, their institutions have not paid an official visit to the site since last October. They also did not want to take a copy of video footage from CIN's reporter and other evidence of illegal wood cutting.
"Those from on high (Sarajevo Cantonal government) see everything that's happening and no one complains — and they pass the buck to an inspector," said Bešlić. "If I lose my salary, I have nothing to live on, I have to kill myself then. It's not easy".
Bešlić issued fines to the Municipality and Mayor Berilo in September 2018.
"When you fine somebody, you make an enemy for the rest of your life," said Bešlić.
Wood for Free
Berilo didn't want to visit the construction site in Babin Do with reporters, because in his words, he was not a land surveyor, a forester, or an expert. "Everyone knows who is in charge of forest protection and who should take care of the forest," says Berilo.
He said he shouldn't be held accountable for illegal logging.
Astronomical Profits on the Sale of Land for Apartments
Trnovo Municipality introduced its Bjelašnica project as a sport and recreation center, although in reality a significant part of it has been reserved for the construction of apartments. Some of the land the municipality acquired through eminent domain by paying 2.44 KM per square meter. Mayor Ibro Berilo announced the resale of land to companies ready to build apartments.
Last year, in a nearby location, the Municipality sold a square meter of land for at least 110 KM, while on top of that buyers had to pay additional fees for conversion into construction land and construction rent worth 206 KM per square meter.
Even though he told reporters that they can get all information about the construction of the Trnovo Business and Sports Center from the municipality, his departments have never responded to CIN's requests about the amount of cut trees and their buyers.
Until this June, there was at least one thousand cubic meters of wood of various quality piled across 4.4 hectares of land, most of which has been illegally cleared. According to available information, in September 2019, the municipality sold 173 cubic meters of timber to "Farang TSC" from Trnovo for 14,000 KM at a public auction. It also gave away 400 cubic meters to "Dolovi", a Sokolac firm it had earlier hired to cut down trees. Due to the Municipality's silence, it is difficult to track down where over 420 cubic meters of wood have disappeared.
The contract with "Farang TSC" states that the timbers originates from the plot which was cleared to build an access road. However, the Municipality delivered to the firm 50 cubic meters of wood above it paid to be cut down in that area. The firm's manager, Armin Smječanin, said that last year they bought timber from the Municipality that was properly marked. Also, "Dolovi" sold another 400 square meters of wood chips shredded into pellets to "Farang TSC".
"Where was that cut down, frankly, it's none of my business," said Smječanin.
"Dolovi" manager Borovina explains branches were shredded into waste.
"We shredded branches and sold them. These are our branches," says Borovina. "You pick them up and transport them to a land waste".
However, the executive manager of "Sarajevo šume", Rizo Tabaković, said that the footage doesn't show the shredding of timber waste.
"Here, we can see a variety or larger pieces of wood, which can surely fetch a bigger economic value, a bigger market price," said Tabaković. "It seems to me that here we're talking about valuable timber".
The Minister Kapidžić said that in this case the Municipality behaved as individuals involved in illegal construction.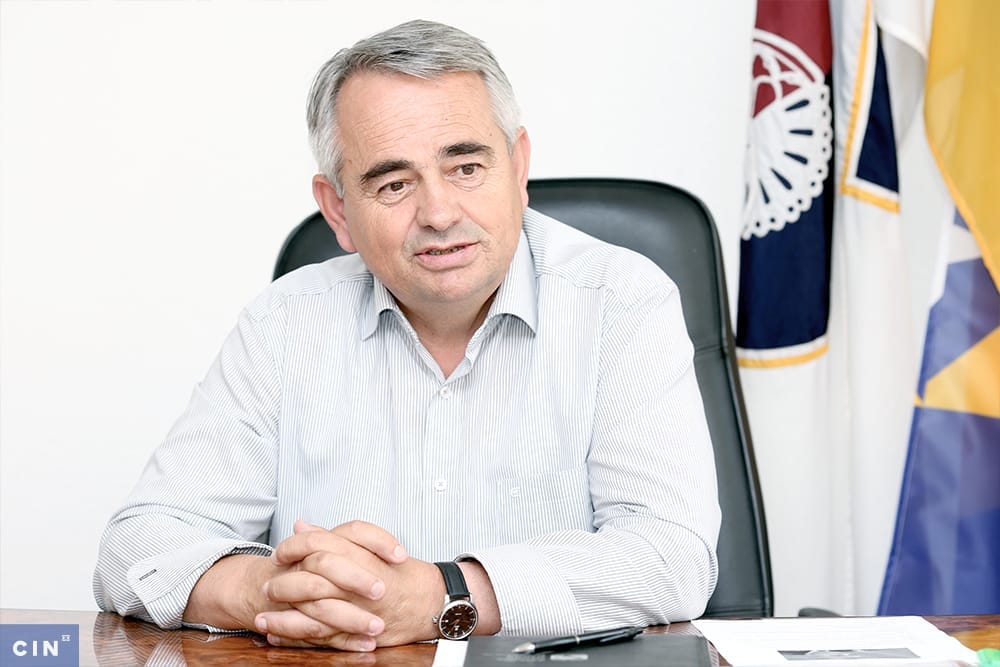 "That is now the operating principle of Trnovo municipality, its municipal council and the mayor. This is my land: I will build first and then legalize," said Kapidžić. "This is a principle that many people, including the mayor, cannot get — that if you're building without a permit and outside of the master plan, that is just like going out and robbing a bank. It's a crime."