In 2016, it seemed as if Sarajevo lawyer Esad Hrvačić had found a formula for success in litigation that brought him significant income. For years, he has been winning cases, thus making his clients the owners of valuable property.
But it turned out that the real owners of these properties knew nothing about these proceedings. Faced with the indictment, lawyer Hrvačić admitted that he had committed a criminal offense, and was convicted and sentenced to prison, plus a fine.
He is one of nine lawyers who have been convicted in Bosnia and Herzegovina in the last five years for abusing their position, i.e., abusing the trust of their clients or document forging.
Courts or Bar Associations banned six of them from practicing law for a certain period, while in the case of another three, the disciplinary proceedings were either not completed or were not initiated at all.
Also, the majority of 16 lawyers who were accused of similar offenses are still practicing law.  Some of them were under temporary suspension, but no institution was required to notify their clients about the pending indictments.
There may be more accused and convicted lawyers, but the courts cannot inform the public about them because they do not keep such records. Besides, CIN received many judgments with obscured identification information, so that the public would not know who that was.
The President of the Sarajevo Regional Bar Association, Vasvija Vidović, believes that the figure established by CIN is also worrying.
"People who represent the interests of other people must be worthy of respect and profession they perform," she says.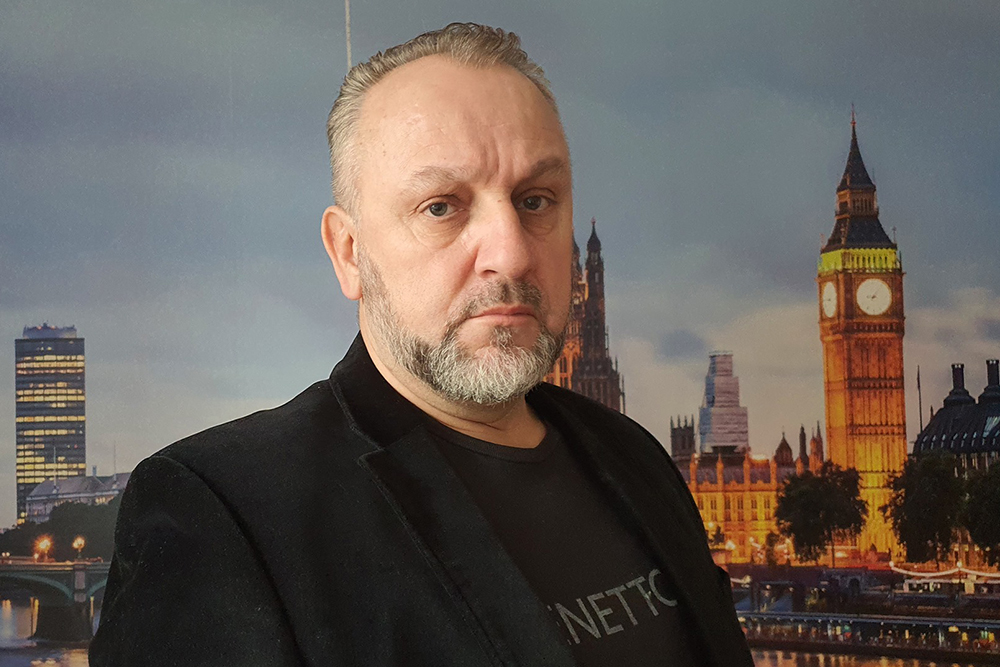 The Architect Of His Own Demise
In May 2017, legal representative Esad Hrvačić was accused of filing lawsuits against real estate owners in the Municipal Court in Sarajevo so that the ownership title would be transferred to his clients based on usucaption – acquisition of the title by long-term possession of the property.
To ensure that this happens, he committed a crime. In the lawsuits, he stated fictitious addresses, and in agreement with court couriers, he made sure that these lawsuits landed at the address of Hrvačić's law office instead of at the address of the respondents. There, his associates, interns, and other people would receive them, forging the signatures of property owners. Since the respondents and their heirs knew nothing about it – and some of them are not even alive – no one replied to the lawsuits.
This was enough for the court to rule in favor of Hrvačić's clients.
The lawyer applied the same recipe 18 times, and his clients acquired titles over houses, yards, apartments, and land worth a total of BAM 1.1 million.
Hrvačić charged a lawyer's fee of BAM 47,520 for this work.
The ploy did not work with the four lawsuits targeting real estate worth BAM 192 thousand.
According to the indictment, Hrvačić was not alone in this. Ten more people were accused, including court officials, lawyers, and a judge, who did this work in an organized fashion from 2012 to 2016.
Prosecutor of the Sarajevo Canton Prosecutor's Office Željka Radovanović Sokić expects that the other defendants will soon stand trial as well.
According to her, some clients were eligible to sue property owners in order to transfer the title to them, but these procedures were not carried out lawfully.
The proceedings known to the public under the code name "The Courier" is being conducted before the Cantonal Court in Sarajevo, but Hrvačić's case was set aside because he pleaded guilty. In August 2017, he was sentenced to one year in prison and a fine of BAM 10,000, plus his proceeds of crime – the lawyer's fees – were confiscated.
In addition, the Court banned him from practicing as a lawyer for 18 months and notified thereon the Regional Bar Association in Sarajevo, which deleted him from the list of lawyers, without specifying the duration of the ban.  Referring to the FBiH Legal Profession Act, with this ban he was practically deprived of the right to work as a lawyer –  the legal punishment envisaged for lawyers sentenced to a prison term.
President of the association, Vasvija Vidović, explained that the Bar Association does not have to confine to the court's sentence and can punish the lawyer even more severely.
"We assess the seriousness of the offense against the code of lawyer ethics and the Legal Profession Act.  For us, a crime with features related to the direct exercise of the lawyer's function is sometimes far more severe, for example using forged documents, or retaining a client's money, as such crimes directly affect the legal profession and undermine the trust of citizens. For us, these offenses are very serious."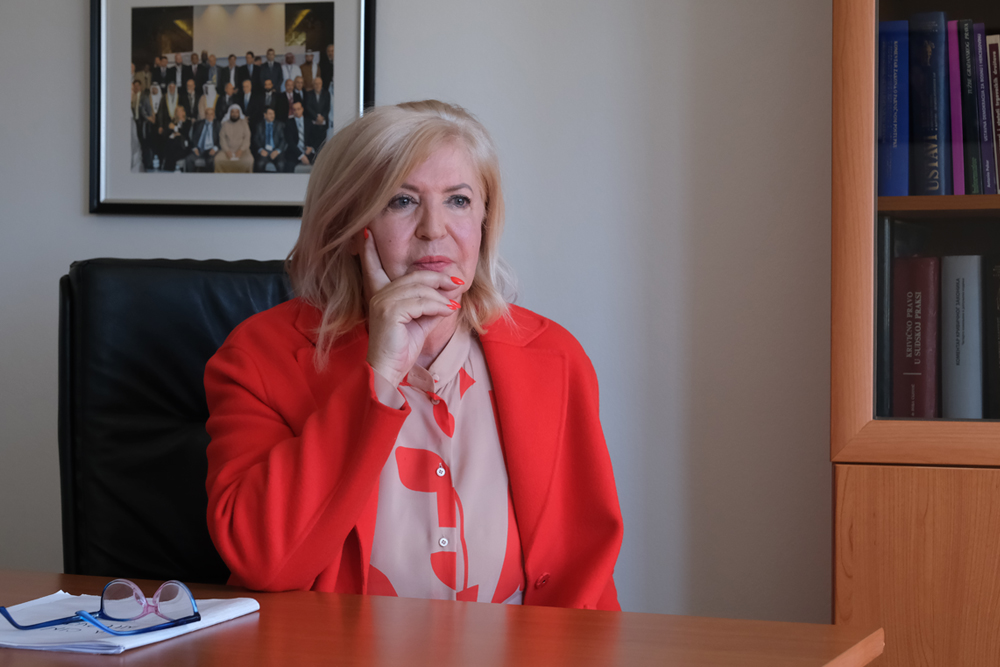 Hrvačić did not come to terms with the Bar's decision. He appealed several times, requesting that his name be restored in the Directory of lawyers because he did not go to prison, but instead, he converted his prison sentence to a fine of BAM 27,000. He also indicated that the 18-month ban on practicing has elapsed and in the meantime, he obtained his Ph.D.
The Bar replied that he committed an offense out of self-interest and he was thus unworthy of the legal profession. The Bar Association particularly resented him for ordering interns to falsify documents, discrediting them at the beginning of their careers, while he should have taught them to respect the law and ethics.
"The Bar Association must take into account dignity in order to protect the legal profession. It is such examples that influence the creation of better conditions and citizens' respect for advocacy as a profession," says the president of the Bar Association, Vasvija Vidović.
In the meantime, Hrvačić unsuccessfully tried to register on the list of lawyers in the Republika Srpska. He briefly commented on his situation: "I was the architect of my own demise"
He didn't want to talk about the case, "I just want to put it behind me, and do not want any publicity about it. Those things brought me a lot of stress and embarrassment and I do not want to go back to it again", said Hrvačić.
He is counting on the FBiH Legal Profession Act, which says that, in addition to other conditions, a lawyer sentenced to a prison term can be restored on the List of lawyers five years after the sentence has been served. Since he commuted his prison sentence immediately after the verdict, Hrvačić will have the opportunity in October 2022 to request a new entry in the Directory.
Currently, he says, he is not without work. He is working at a collection agency called Restitucija in Sarajevo.
The lenient court verdict, but severe disciplinary punishment
In addition to Hrvačić, in the past five years, the following lawyers were also temporarily deleted from the list of lawyers due to criminal offenses they committed in the service: Predrag Mišić from Široki Brijeg, Borislav Pisarević from Brčko, Danilo Savić from Teslić and Azem Mehonić and Mak Radičić from Sarajevo. They used dead people's powers of attorney, withheld money that should have been paid to clients, or falsified official documents.
Lawyer Radičić was supposed to file lawsuits and criminal charges on behalf of the client, but instead of that he claimed to have completed all the work, and to convince the client, he wrote the orders for interrogating the suspects and the indictment, signed it on behalf of the prosecutor, then he forwarded it all to the client together with the invoice for his work.
In 2020, the Basic Court in Foča convicted him of falsifying documents and fraud. He had to pay a fine of BAM 9,000 and return 4,000 dollars to the client.
Radičić admitted his guilt and paid what he had to, but he did not expect that the Sarajevo Regional Bar Association would punish him by removing him from the Directory of lawyers for five years.
Namely, the Disciplinary Court of the Bar Association held that Radičić damaged the reputation of the profession and committed a serious breach of duty, even though he expressed remorse. He was punished with the maximum penalty – a five-year ban from practicing as a lawyer.
Radičić unsuccessfully appealed, stating that it has not been proven in the disciplinary proceedings that he damaged the reputation of the Bar Association and that the fact that the court and the prosecutor in the criminal proceedings did not ask that he be banned from practicing law speaks about the degree of his guilt.
Radičić did not want to talk to CIN reporters. He said that this punishment was too stringent because the legal profession is his source of livelihood and that it would have been more appropriate if he received a fine, as the court sentenced him.
However, disciplinary prosecutor Jasmina Cero did not agree with him. She says she asked for the maximum penalty i.e., a five-year ban from practicing law because the crime was committed with intent.
"The lawyer knows very well what he/she is doing", she believes.

Connection with the court
According to Entity laws, the court or other "authorities" conducting criminal or misdemeanor proceedings against a lawyer are obliged to notify the Bar Associations if the lawyer has been convicted, accused, or suspected. In practice, the Bar Associations receive notification of searches of the lawyer's office, detention or ban on practicing law, and final judgment, and based on that, they conduct disciplinary proceedings and decide on punishment for lawyers. However, there is no clear procedure as to who should notify them about everything and how.
"Many prosecutors and judges do not at all notify the Bar Association about these cases," says Vidović, while disciplinary counsel Cero felt they sometimes forget about it because of other work.
It is precisely due to the failure to notify the Bar Association that lawyer Muhamed Lišić, unlike other convicted colleagues, escaped the disciplinary actions.
The Court of Appeal of Brčko District convicted him for evasion and fraud in 2018, sentencing him to a suspended five-month prison sentence, which was not enforced because he did not re-offend in the following two years.  The Bar Association of Republika Srpska says they were not notified of this, while the Brčko District Prosecutor's Office claims that there is no procedure in place that obliges the prosecutor to notify the Bar Association thereon, but they reminded that the indictment was publicly available on their website.
Lišić claims the court sentence also affected his work: "No need for any disciplinary measure, let alone ban on practicing the law. A bad reputation is the worst possible measure."
He represented Husein Muratović to whom the Brčko District was supposed to pay compensation, from which the lawyer fee to Lišić would also be paid.
In 2010 Brčko District paid a little over BAM 436 thousand to the lawyer's accounts, but Lišić only forwarded BAM 200 thousand to his client. At the trial, it was established that he kept for himself BAM 103 thousand more than agreed.
Muratović testified that Lišić only informed him by fax that "the money has been deposited", but he did not know how much nor did he ever receive a judgment on compensation. He found out these details by accident a few years later when the family was dealing with the issue of inheritance, which included the paid compensation.
Ramiza Saidović, Muratović's sister, says that he did not want to talk to journalists, explaining that Lišić returned the money he withheld: "My brother is a very calm person, God bless him. As he would say, 'we settle the accounts".
Muhamed Lišić has a law office in Brčko and represents clients in BiH courts, but he claims to live in Croatia now.  He refused to discuss the case because, as he says, he is bound by an attorney-client privilege.
"I'm bound by a lawyer code that I must not violate," said Lišić.
Pending proceedings
At least 16 lawyers are currently being prosecuted in the courts of BiH for crimes committed in connection with their work. Some of them were previously suspended because they were remanded in custody or banned from practicing law, while three are still practicing.  According to the Entity Legal Profession Acts, these measures were enforced by the Bar Associations.
Lawyer Samina Skopak was under a two-year suspension because she was accused of participating in organized mock trials in the cases "Pravda" [Justice] and "Kurir" [The Courier].
As a result of the ban from practicing law Skopak now has financial problems, but she did not want to talk about the details: "I can't afford to pay my contributions. I'm dreading that the tax office will come after me."
In the case "Kurir" she was represented by Lejla Mirela Eminović, a lawyer who was accused of similar crimes in a case code-named "Pravda".
Prosecutor Željka Radovanović Sokić says she has no problem with that.
"Everyone is innocent until proven guilty"
Bar Associations keep records of registration and deletion from the Directory of lawyers, as well as records of disciplinary and court punishments. According to data from Entity Bar Associations, 1,964 lawyers in Bosnia and Herzegovina currently have a license to represent parties before the court. To obtain a license, one needs to have a law school diploma, a passed bar exam, and two years of work experience in legal affairs.  They must not be sentenced to a prison term, but if they were, at least five years must pass since the sentence was served, pardoned, or expired for them to be able to resume their practice.
"Anyone who has passed a bar exam but does not have a job registers in the Directory of lawyers because it is cheaper. It's easier to register as a lawyer than to open a small grocery store", says disciplinary counsel Jasmina Cero.