Some representatives objected that Old Town didn't fully meet any of the 10 criteria used for picking sites, but Mostar officials played on the powerful imagery of their 14th Century stone bridge blown apart in the ethnic warring of the mid 1990s and restored in a $15.4 million project under the auspices of the U.N. Educational, Scientific, and Cultural Organization (UNESCO) in 2004.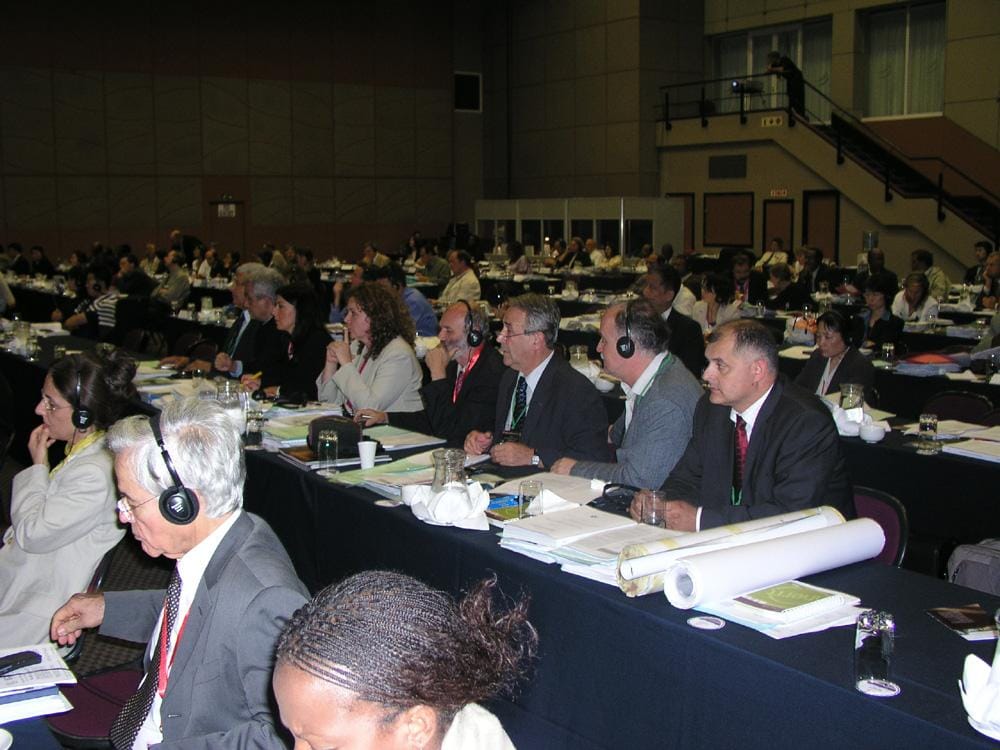 Their application said: 'If tearing down of the Old Bridge is a symbol of the destruction of Bosnia and Herzegovina, then its rebuilding will symbolize the restoration of this country and the reconciliation of its people…We wish the Old Bridge to become a symbol of the restoration of the multi-ethnic society of Bosnia and Herzegovina.'
BiH officials promised that if Mostar were added to the list, the city's streets would be cleaned up, the riverbed and banks restored, illegal structures taken down, and Old Town would be put under the jurisdiction of a new agency to ensure it was fairly managed.
But four months after that South African meeting, Mostar officials acknowledge that none of the promises made have been kept and that fractional hatred threatens the city's conscious self- image as a reunified model of diversity.
Mostar, in short, could lose its place on the prestigious list and the chance for a thriving tourist industry, jobs and new revenue.
What international officials do not know, but many fear they will find out, is that war between Bosniak East and Croat West Mostar has continued without bullets in ongoing battles over control of property, especially the restaurants and shops of Old Town which have been controlled by Bosniaks since the war.
The city is months behind in creating the new city agency which is to sort out the clashing interests of the city's ethnic conclaves.
That void has given an advantage to an group of former political leaders and supporters who have acted as de facto leaders of the Old Town area.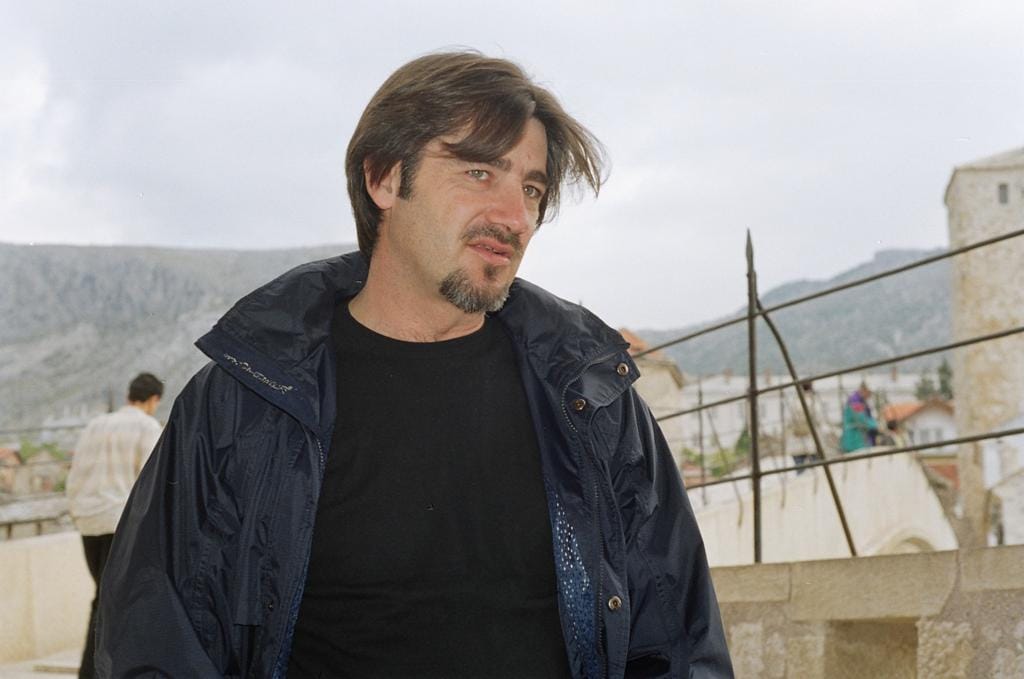 Those leaders include Safet Oručević, mayor for nine years before and during the war; and Semir Drljević Lovac, former president of the Old Town Borough and now a member of the tourism association's executive board as well as the head of the divers who thrill tourists by leaping regularly off the old bridge into the Neretva.
Lovac denied any special power in Old Town, noting with a laugh, 'I live on loans, that's how powerful I am.' Oručević said, it was 'silly and insolent' to ask who controls Old Town, but he acknowledged, 'I am aware that I have influence.' He said he had good connections and could call anyone he had to to get things done. He calls Lovac more than a friend. But he dismisses the idea that they are doing anything improper or that there is real danger international authorities will remove Mostar from the heritage list.
There is a powerful motivation for them to continue to support the listing, he said.
'Mostar actually does not fulfill the criteria that brought other monuments to the list' he said. 'We were fortunate enough to have a political story UNESCO was unable to refute.' The achievement, he said, was assured because the UN agency sponsored the bridge reconstruction financed by donors including the World Bank.
Mostar and Old Town were first suggested for the List in 1989, according to Amir Pašić, a former manager of the Unit for the Organization of Old Town.
Then in 1993 in the midst of war that ripped BiH apart, members of the Croatian Defense Council (HVO) blew up the stunning stone Ottoman-era bridge that had joined the the city's Muslim and Croat halves.
Five years later the demolished Old Bridge was nominated for inclusion on the list as an endangered treasure, but this also failed. Oručević credits his campaign to push the restored Old Bridge as a 'monument of peace' for making the difference.
It was a close call, nevertheless.
'There was uncertainty before the voting' said Rusmir Čišić, director of the Coordinating Unit for Old Bridge in Mostar building efforts (PCU). 'A representative of England was first to take the floor, then followed Santa Lucia, and Lithuania…The discussion whether we should be on the list or not was an hour long.'
In its nomination documents Mostar committed to meeting a number of requirements. They included establishing an agency to manage Old Town, cleaning up garbage, ending widespread illegal construction, restoring Old Town shops to their original appearance, resolving outstanding property ownership issues stemming from the war, protecting the riverbanks and insuring a good political climate.
Little has been done about any of those items, Mostar officials admit, even the easy one of cleaning up.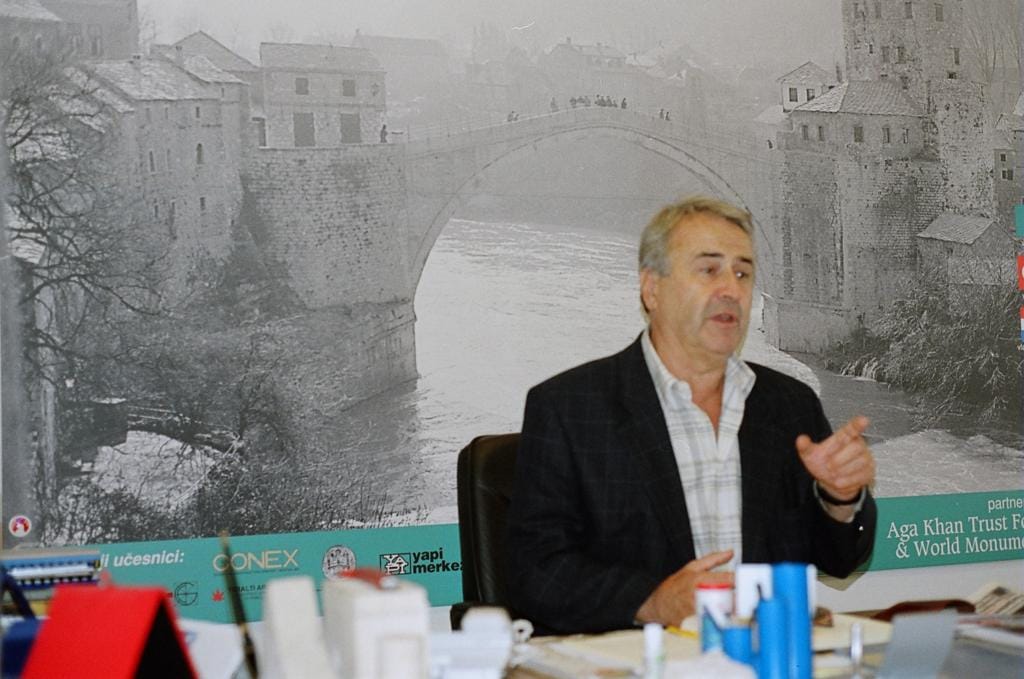 'I'm afraid that we might lose what we have already gained' Čišić said. 'We've worked hard to get Mostar on the list and if we fail to follow up on what's expected of us it might get canceled off the list.'
He admitted he was worried about a progress report due to international authorities next year in Latvia.
But Oručević said he didn't think anyone in Mostar would notice if the city was taken off the list. 'I see some apathy around' said the ex-mayor who blames problems in the city on the current mayor.
Mayor Ljubo Bešlić did not want to comment on influence Oručević and Lovac wield in the city or on blame, but he said, 'I know that the situation is not good and our priority is to tackle the issue of maintaining the property and genuine state of affairs in the core of the Old Town.'
Čišić said that recently 'When a UNESCO delegation paid a visit, the Latvian ambassador (Ina Marchilonite) said that the city is awfully dirty. I felt really embarrassed.'
Mostar had two public garbage companies, both in financial trouble. One has declared bankruptcy. Emir Numankadić, director of the Komos garbage company, said, 'I keep five workers there (in Old Town) every day from 6 a.m. till 6 p.m., and the municipality pays only for one to work for six hours on a work day.'
Sead Avdić, a member of the commission for negotiations with UNESCO, said garbage was not the biggest problem in keeping the listing. 'The show of ethnic intolerance and failure to meet requirements might lead to the questioning of the decision' he said.
Verbal clashes among members of different ethnic groups have become common in Old Town, said Sanel Jogunović, whose shop is near the Old Bridge.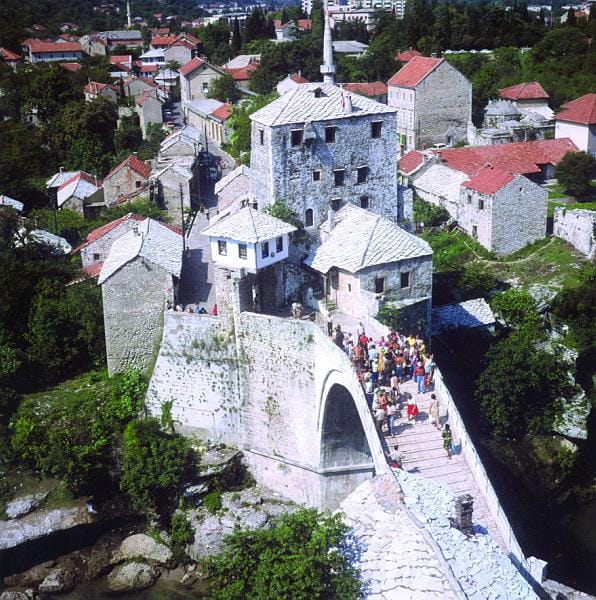 Tourist guides tell tourists in Mostar from Croatia that the bridge was built by Romans and that it fell down on its own. Zoran Perić, president of the Executive Board of SDP Mostar, said guides are adding to ethnic tensions by telling people the BiH Army destroyed the bridge.
Jogunović said he's heard guides tell groups not to buy from Muslims or to eat in their restaurants.
'If I was to go to Rome and was told not to eat somewhere because they would poison me, of course it wouldn't crossed my mind to eat something there' he protested.
Tourists are sometimes made uncomfortable by arguments and obvious tension around the bridge. There is little feeling of gaiety or holiday here.
Less than a month ago Zorica Bošnjak, a Croat, was telling a tour group about the area when Alisa Guzin, a Bosniak began yelling at her. Guzin said she couldn't bear the lies she heard tourists being told.
Bošnjak said she didn't live in Mostar in 1993 and doesn't think the war is something she should be talking about. When asked by reporters how the Old Bridge was destroyed, she said, 'I don't have that information.'
The agency, which has still not been set up, was supposed to decide on who could serve as tourist guides and to write a script for them to follow that would cover information about the bitter war and the shelling of the Old Bridge.
'The agency will start working at the end of the month' Mayor Bešlić vowed in an October interview. It did not. Murat Čorić, president of the City Council, said a director could not be appointed before the end of November.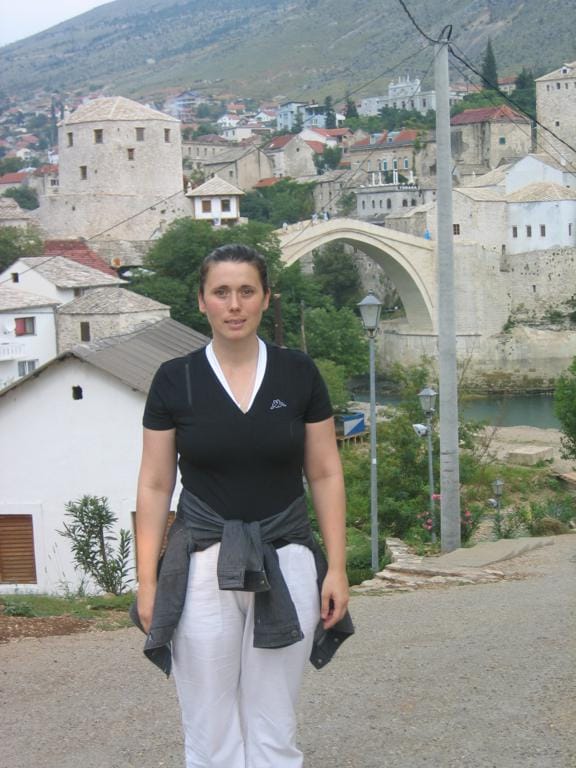 Senada Demirović, a 30-year-old doctoral student of architecture and cultural heritage, was recently made acting head of the phantom agency though she has no office in which to interview would-be hires.
Čišić said that even after the director is appointed, 'it will take a while until the Agency starts operating, and if we fail to live up to our commitments by June 2006, I have no idea what we are going to say in Latvia.'
Bešlić said it has taken a long time to agree on a draft of a law to set up the agency.
'Political parties' Čorić said, 'cannot reach an agreement, not even on what the agency is supposed to do.' Officials talk about numerous work that must be done from figuring out where to park tour buses to professionalizing services and regulating working hours to cleaning up the river and straightening out property ownership issues.
Čorić predicted that the agency will start operating just before a UNESCO delegation arrives for a scheduled inspection in December. 'Everything in BiH is functioning on the principle of ultimatum' he said.
He admits that nothing has been done to ensure the reality of the ethnic coexistence that the bridge symbolizes. That, he says, is a complicated matter.
For years after the war, Mostar was ruled as six municipalities, three on the east side under control of SDA officials and three on the west side under HDZ. It was difficult to get anything done. There is now a single city administration again but policies from that earlier time have not been undone.
Demirović, director of the future agency, promised that it will deal with legal issues related to taking down illegal building and straightening out the troublesome matter of who should hold leases to city-owned property in Old Town
Before the war, Bosniaks, Croats, Serbs and Albanians all held leases, paying rent to the city but caring for the premises and doing renovation as needed. During the war, past and current city officials say, all but Bosniak property owners fled.
Oručević said buildings citywide were bid out to soldiers – East Side shops to members of the BiH Army, and those on the West Side to HVO members.
'The City Council was supposed to issue a decision to cancel all agreements and bring back the proprietors of 1991' said Oručević. To solve the matter now, he said, officials must consider a citywide fix, not just something for Old Town.
Even 12 years after the war, he noted, football clubs from the East cannot play on the West side of the city. Croatian authorities founded their own team in order to counter the claims of the East-side Velež to team's historic home of Bijeli Brijeg stadium, the second largest in BiH.
Miroslav Landeka, a spokesman for the city council, said, however, that 8,000 requests came in after the war for return of property and 95 percent were settled with actual returns. However, a disproportional number of these unsettled requests involve Old Town properties.
As the war was ending, the city government did call in the pre-war users to sort out leases for some 210 Old Town shops. Some businessmen say they were too afraid to go in, others say that registering with the city didn't make any difference. They still didn't get their shops back. The cases of stores built illegally on city property were more complicated.
As one example, 28-year old Mehmed Hindić built the Maliboo coffee-house in Old Town. It is not registered with the city. No zone permit or working permit was ever secured for it, said Ivana Marić, head of the business, craft, trade and tourism unit of the city's Department for Economy, Security and Environment.
The shop is registered with the Tax Administration of Hercegovina-Neretva Canton, in the name of the shop co-owner Ahmed Salčin.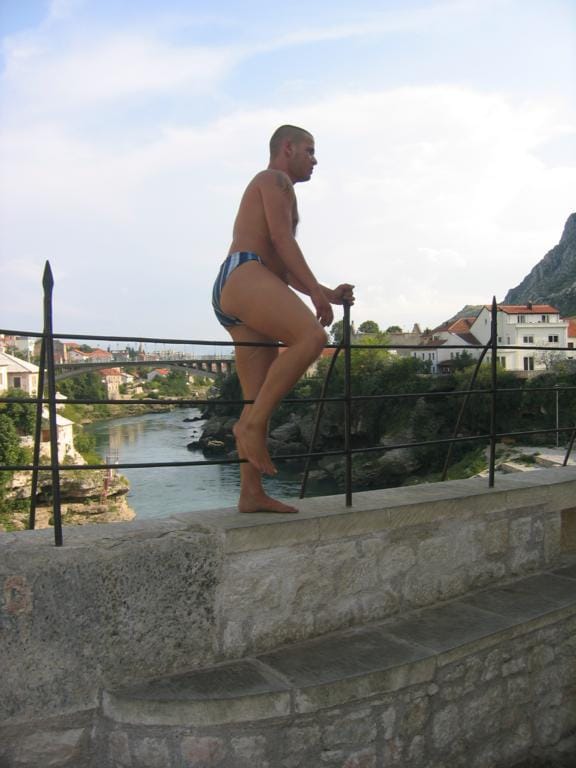 Three months ago, the Ecology chapter of Lovac's divers club (it also has an Arts chapter), which has been seeking funding to do cleanup of the riverbed, took over Hindić's bar. The divers play table tennis and lounge here between leaps off the bridge.
They are talking about charging a fee for tourists who want to go from the bar onto the nearby beach. Lovac, asked about the situation, said simply that the place was not Hindić's. It should be torn down as illegal and will serve as a good tool shed until then.
Hindić complained to the cantonal prosecutor's office, but Nijaz Mehmedbašić, the chief cantonal prosecutor told him it was a civil case and not for his office to handle.
Thirty-three pre-war proprietors who abandoned their facilities during hostilities, have hired a lawyer and begun fighting to get them back.
Post-war proprietors have set up their own association and are saying they have every right to keep shops so long as they follow rules and pay taxes.
Zvonko Vidović, a representative of the prewar proprietors, claims that Oručević and Lovac have helped people they want to get leases and have an interest in keeping the leases as they are now. Both deny this, and Lovac noted that, 'The facilities were handed down in 1996 and I was appointed borough president in 1998.' He could not have been involved in deciding who got stores, he said.
The emotion involved in untangling the leases is apparent in several examples.
Aleksandar Radić, a 59-year-old Bosnian Serb with four children got back his Mostar house in 1997, but not the souvenir shop his father had run and that has been in his family since 1969. "I was told in city administration that Sanel Jogunović has a proper work license," said Radić
'I have nothing against that man' Radić said. 'If it wasn't him it would be someone else.' He added, 'What use I have of the fact that I own it for 30 years when I can't use it.'
Jogunović, in turn, said that he filed a request with the Old Town Borough after the war and was granted a year permit. 'If you're paying your dues, they extend the contract' he said. His has been extended eight times and he continues to pay his lease of 18 KM per square meter to the Mostar municipality on time.
Darko Dodig did recover his eye-glass shop recently after years of struggle. He said he obtained legal ownership several years ago but was unable to evict the temporary owner. During a recent formal eviction proceeding with police present, he was verbally assaulted. Police made a report of the incident.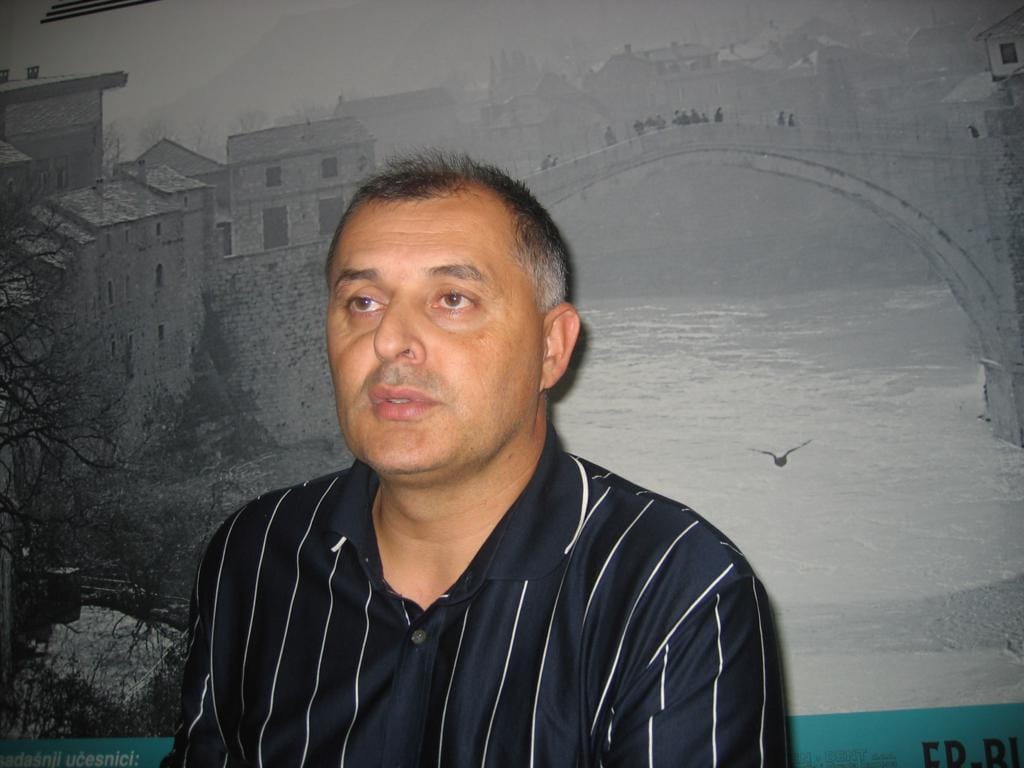 Tihomir Rozić, deputy director of PCU, who ranks getting Old Mostar on the World Heritage list as more significant than getting BiH into the European Union, is among those who believe that such dissension is diverting attention from where it belongs. That is building Mostar as a real tourist draw.
'It has happened to me that I would take some guests to the Old Town and there would be no tufahija or baklava sweets there' he said. 'There's no one here to provide a lunch in half an hour time to a larger group of guests. All visitors want to stay for longer, but it's up to us to provide them with a way.'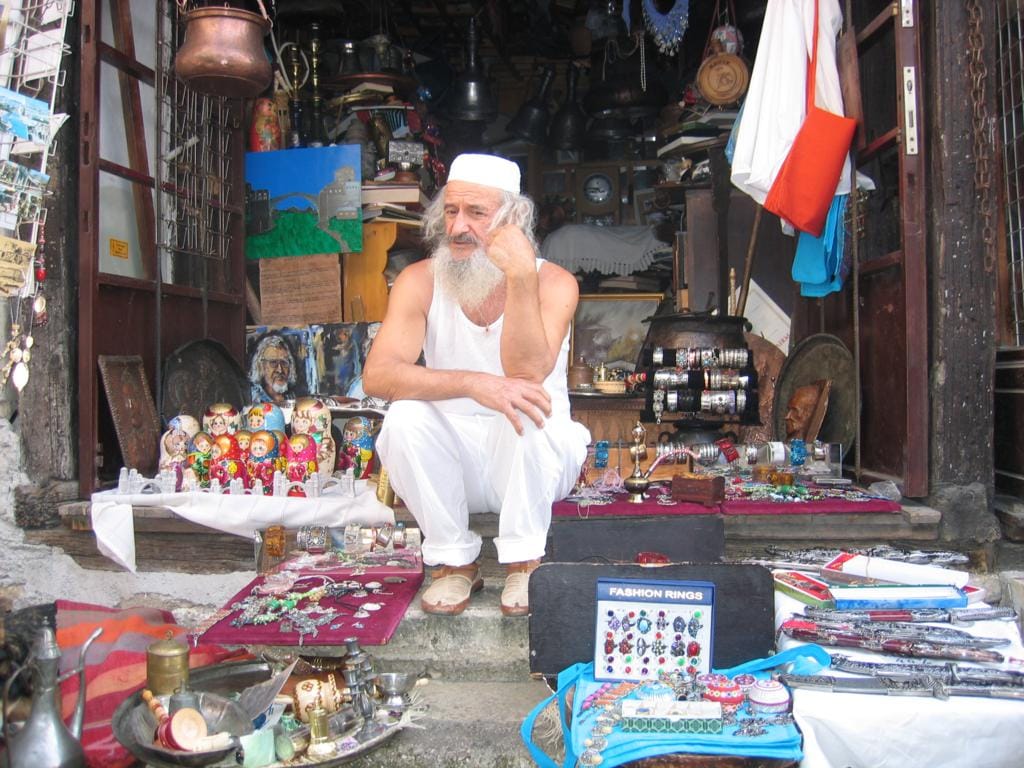 Safet Begović, who has sold his metal artwork for 30 years in a shop near the Old Bridge, sees the truth of this everyday. Flocks of tourists pass by, most on quick excursions to Mostar en route to or from places in Bosnia. They rarely take the time to even come into the shop he rents from the city for 625 KM a month, he said.
They have little time or interest in doing more than glancing at the fine work his puts up outside.