Ten members of the new convocation of the Council of Ministers of Bosnia and Herzegovina (BiH), at the beginning of their terms, declared a total of 16 apartments, 12 garages, eight houses, two business premises, four plots of land, three companies and a tourist complex. They did not state the value of the property, the time, and the way they acquired it because the asset declaration form, which they need to fill in and submit to the CoM before taking the office, does not require such information.
Ministers Nenad Nešić, Sevlid Hurtić, Staša Košarac, and Zoran Tegeltija declared more assets compared to previous terms – a total of nine new properties in BiH and abroad. Nearly half of it is owned by Minister Nešić.
Political and property prosperity
At the beginning of his 2018 term in the state Parliament, minister of security Nenad Nešić declared three apartments in BiH and Montenegro of 64, 52, and 50 square meters and 25,000 square meters of land in BiH. According to his declaration, his wife owns a 98-square-meter apartment in Novi Sad. CIN reporters then revealed that the declared property does not match the property in the land registry. For example, they found that Nešić owns an apartment in Budva the area of which does not match any of the apartments he declared in the assets declaration form, and that he co-owns his wife's apartment in Novi Sad.
Back then he also failed to declare ownership over the trading company N-group, which is run by his wife. The financial statements of this company are not publicly available.
Four years later, when he was appointed Minister of Security, Nešić's property record looks completely different. In the declaration submitted to the BiH Council of Ministers, he declared two apartments and two garages with a total area of 372 square meters in Tivat, Montenegro. Also, he reported a house and land in Sarajevo and Istočno Sarajevo and the ownership of the company N-group. Nešić failed to declare his property in Serbia, and now the reporters found that in addition to an apartment in Novi Sad, he also owns a 177-square-meter house, as reported earlier by CIN.
Although he shares the ownership with his wife Maja, he told reporters that he did not declare the property in Serbia because he was not obliged to. "Nowhere in the form says the marital property, but only property registered in your name," he said. Nešić was reluctant to talk about his assets, and he ended the conversation with reporters before explaining the changes in his assets.
The richest individual in the new convocation is the Minister for Human Rights and Refugees Sevlid Hurtić. He owns Nam publishing house and got into politics in 2016 when he was elected to the Doboj City Assembly. At that time, he declared 14 properties. Four years later, at the beginning of his new term, he declared 19 properties. His assets, including the company, were estimated to be BAM 13.3 million. Today he owns 22 properties. His asset card is richer for an apartment, a garage, and a tourist complex in Stolac.
Even though the company Nam was a successful one before his political engagement, its profit has skyrocketed since he got into politics. By 2021, the profit has quadrupled. Also, the contracts this company got through tenders are growing since 2016. Already in 2018, the contracts Nam won on tenders doubled.
Hurtić claims his political engagement has nothing to do with the augmentation of his property: "I don't work for donor money, I don't work for people to give me money or for someone to work for me because I'm in politics."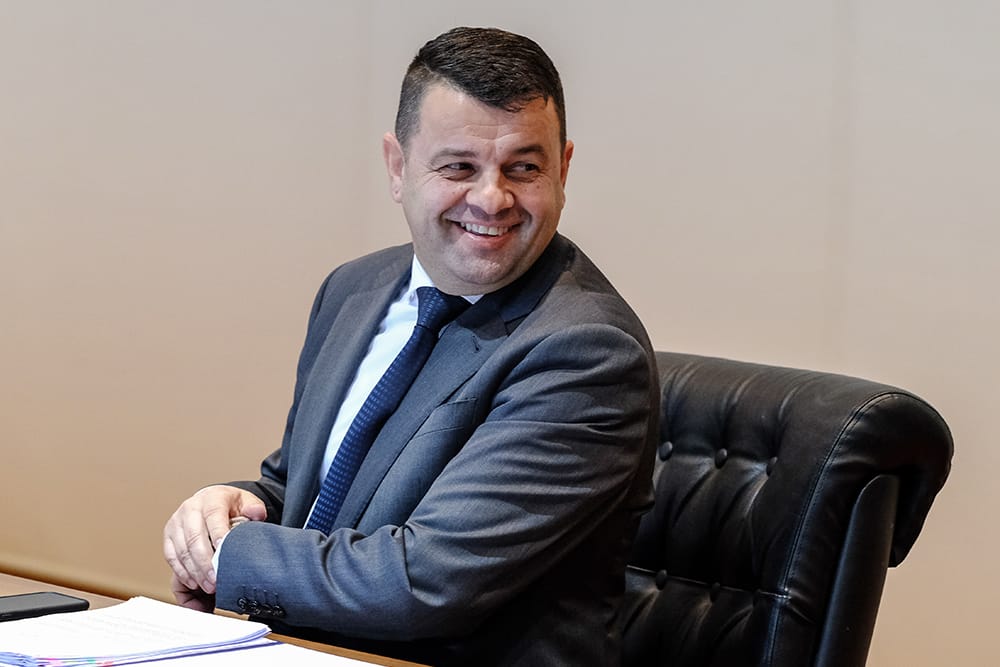 Hurtić made rapid progress in politics, and already in November 2022, he replaced the committee bench with a parliamentary seat in the National Assembly of the Republika Srpska (NSRS). Thanks to quick political decisions, a few months later he was appointed Entity minister of trade and tourism, and then a state minister for human rights and refugees.
Unlike Hurtić, Staša Košarac is the state Minister of Foreign Policy and Economic Relations for the second term in a row.
Before his first term in 2018, he declared an apartment in Istočno Sarajevo worth BAM 75,000, an apartment in Jahorina worth BAM 80,000, and a car worth BAM 71,000. Four years later, his property pool grew by an apartment in Trebinje. He replaced the car with two new ones manufactured in 2020 and 2021 and a Vespa motorcycle. During his first term, he earned at least BAM 131,000 in less than four years. Minister Košarac did not respond to invitations for an interview.
The former chair of the Council of Ministers, Zoran Tegeltija, who is now the state Minister of Finance and Treasury, did not change his employer either. At the beginning of his last term, he declared a house of 80 square meters in Stričići near Banja Luka, and since then his property now includes also an apartment of 116 square meters, co-owned by his wife. They paid BAM 240,000 for the apartment, he said to CIN. As chair, he earned nearly BAM 160,000.
A lucrative business
The new chair of the BiH Council of Ministers, Borjana Krišto, and ministers Elmedin Konaković, Zukan Helez, and Edin Forto this year declared the same assets as before their previous terms.
For years, Krišto has been claiming to have only the family house in Livno and savings. The house is co-owned by her husband Branko, who at one time, as a councilor of the Municipal Council in Livno, declared that it was worth BAM 400 thousand. In the 2014 asset declaration form, Borjana Krišto declared savings of 37 thousand EUR and 75 thousand BAM, while savings of her husband amounted to 50 thousand EUR and 50 thousand BAM. Krišto never stated the value of the house, and in 2018 she decided not to share the information about the saving she and her husband made.
In less than four years of her term in the state parliament she earned about BAM 248,000, but she did not answer the calls from CIN.
The Minister of Defense Zukan Helez in the 2018 asset declaration form declared a house, an apartment, a business office, and a plot of land in Bugojno, which he estimated at BAM 235,000. He earned about BAM 250 thousand in the State Parliament.
In 2018, Minister of Foreign Affairs Elmedin Konaković declared BAM 60,000 in savings and an inherited house, which he valued at BAM 250,000. The same property was declared before he took the ministerial office.
The Minister of Communications and Transport, Edin Forto, owns an apartment of 91 square meters worth BAM 260,000 he inherited, and a plot of land of 2,350 square meters, the value of which he estimated at more than half a million marks. The same property he declared at the beginning of his term as Prime Minister of Sarajevo Canton and before his term in the Council of Ministers.
This is the first term for Civil Affairs Minister Dubravka Bošnjak and Justice Minister Davor Bunoza. Bošnjak declared a 75-square-meter apartment in Sarajevo.  Before her ministerial appointment, she served as a deputy director of the Banking Agency of the Federation of Bosnia and Herzegovina, where her last salary amounted to BAM 9,100 marks.
Bunoza reported an apartment in Mostar and co-ownership in the law firm Paponja-Bunoza. According to him, his last base pay amounted to BAM 1,470.