Bosnia and Herzogovinia's buried treasure of archeological wonders is going unprotected and untapped for the tourist attractions, jobs, revenue and academic riches they could yield. Only foreigners seem to be sending scientists and students to sites in this country.
The reason, according to many experts and most government officials, is an often-heard refrain in postwar BiH: there is no available funding and a lack of state-level regulation makes it impossible to get permission to do anything. As a result, a once-productive archeology profession, which before the war actively discovered and protected the past, has collapsed.
But a continuing inquiry by the Center for Investigative Reporting in Sarajevo (CIN) suggests that the crippled effort to protect BiH's heritage is the result of more than funding and bureaucracy.
BiH does not have the trained experts to lead the uncovering of its treasures. The only undergraduate archeology program in BiH at the University of Mostar has 11 students and only visiting faculty members.
Some who have been trained have left for other countries, including Germany. They have left because of the lack of excavations in BiH despite the great number of prospective sites.
Meanwhile, since January, efforts to authorize a state commission to unscramble conflicting local jurisdictions over heritage preservation have apparently stalled.
While many culture officials blame funding for a lack of BiH projects, the National Museum and other institutions have managed to find international money for projects.
And before the war, archeology did not need foreign support. Local level agencies were all coordinated by a single institute, which was charged with overseeing archeological research and issuing permits for excavations.
The same responsibilities today are managed by two entity institutes and, in the Federation, four cantons out of 10 have their own agencies. All of these are often in conflict with a state-level commission that has no authority to coordinate them.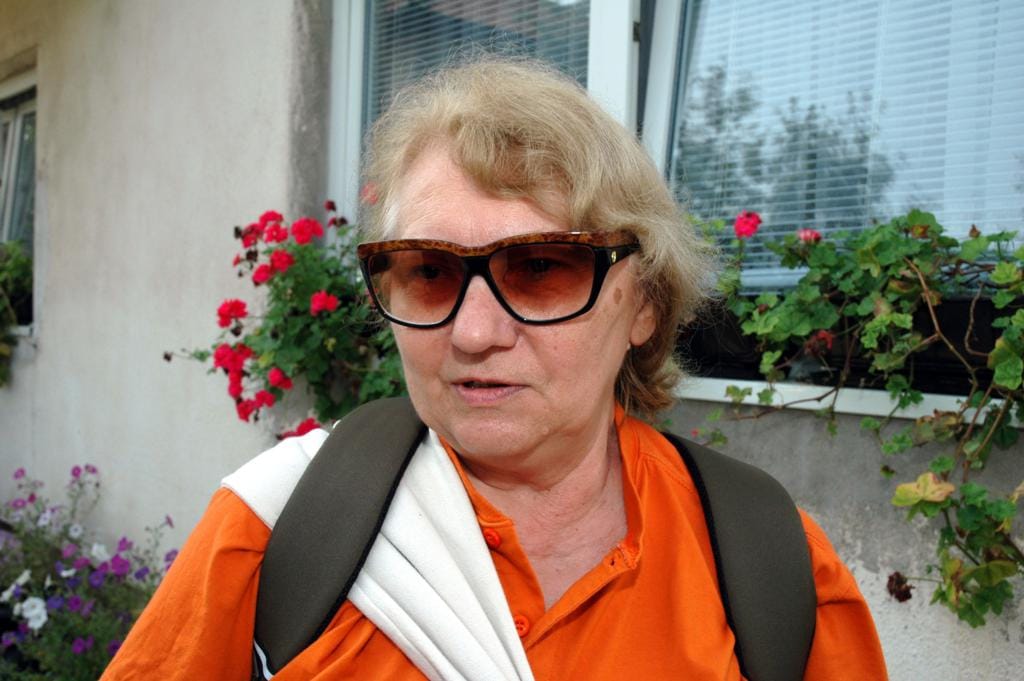 Zilka Kujundžić-Vejzagić, from the National Museum in Sarajevo, who has 40 years of professional experience, remembers the pre-war system.
"There was a strategy how to do work, where to do surveys, who was researching, what was the priority, and everything was financed by the state," she said. "Now there is nothing."
There is no spark of innovative thinking or creative planning even when, as frequently happens in BiH, authorities simply stumble across archeological wonders. Too often such gifts from history are squandered with money used as an excuse.
When Orašje resident Ago Vajzović came across a 6-meter-long wooden dugout boat that may date to the Ottoman Period while bathing in the Sava River last year he contacted the National Museum. Authorities told him they didn't have money to buy it, so he gave the boat to a friend.
Goražde workers digging a sewer system last year came upon a Roman tomb. They notified experts and museums, but again were simply told there was no money. So they poured tarmac over the stone casket.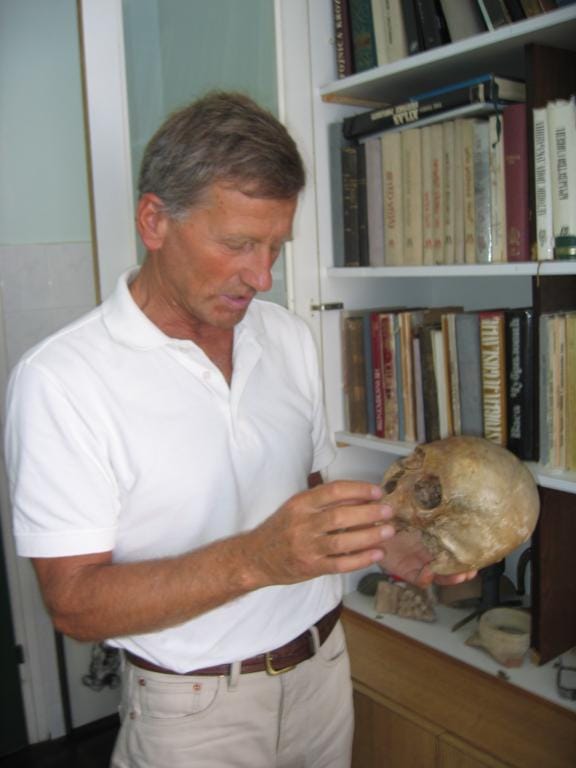 BiH has a long history of preserving its past beginning with archeological surveys as early as 1888, according to Enver Imamović, a professor and archeologist from the University of Sarajevo.
In BiH's early Austro-Hungarian period, world-famous sites were discovered, including the prehistoric settlements of Butmir near Sarajevo, Glasinac near Sokolac, and a fishing settlement on the banks of the Sava.
Now, after some 120 years of archeological tradition, the country spends a pittance on similar sites that remain uncovered.
The RS budget is 10,000 KM for 2005, and the Federation's is 150,000 KM.
But archeologists say that long-term comprehensive work on the average archeological site costs at least 500,000 KM. Nearby Croatia, in contrast, will spend 350,000 KM in 2005, double the combined budget of the BiH entities.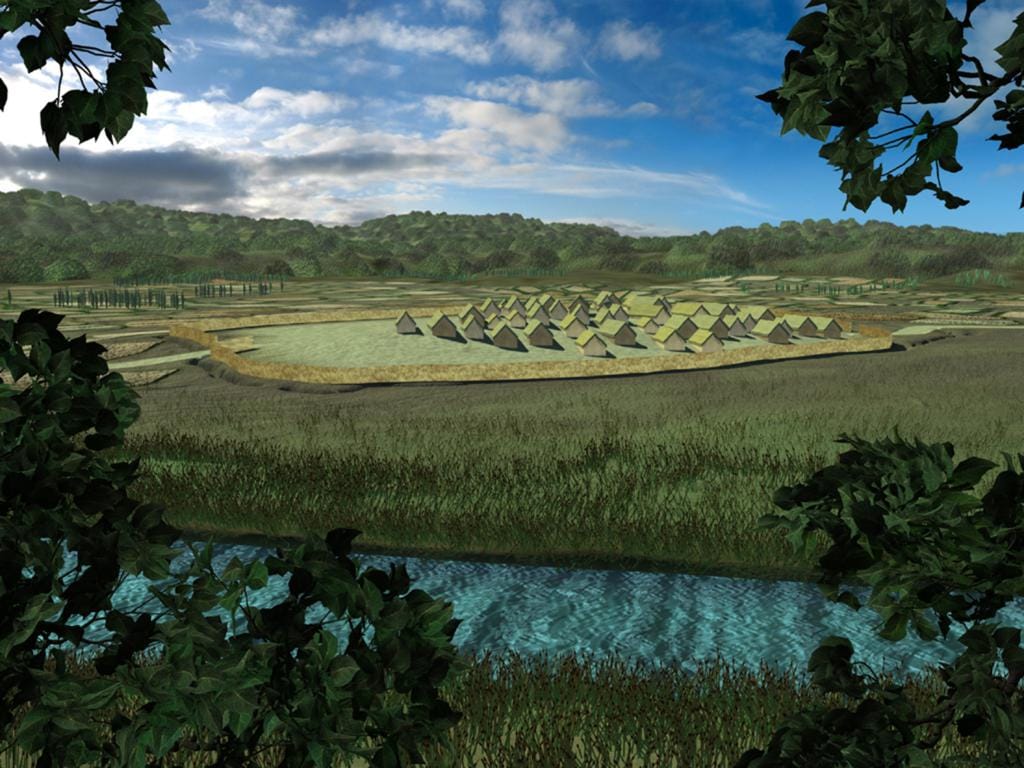 Endangered, say experts, are such treasures as the prehistoric cave of Vjetrenica in the delta of the Neretva River, the Illyrian town of Ošanići near Stolac, the Hellenic settlement of Mošunj near Vitez, the medieval town of Arnautovići near Visoko – once the coronation site of Bosnian kings. Most of these sites are in bad shape and could be lost.
Archeologist Snježana Vasilj from the University of Mostar said Ošanići is "a pitiful site nowadays. Everything has fallen into grass," and the Vjetrenica cave is lost behind heavy brush.
Government authorities, who claim there are more important priorities than such archeological sites, perhaps do not realize, say archeologists, that there are hundreds of archeological sites in 25 historical areas around BiH.
Digging at archeological sites involve costs that are simply beyond the budgets of many cultural institutions whose officials said they can hardly keep their doors open. Enver Mulabdić, director of the museum of Unskosanski Canton, said the the canton cannot afford to even survey the 500 sites within its borders, and the chance of outside funding seems bleak.
'It is widely believed that the internationals are just waiting for us with bags full of money, but it isn't so," said Mulabdić.
The canton museum is not as prestigious as the National Museum and foreign institutes and universities will not be interested in dealing with it, Mulabdić said. He has not attempted to look for outside funding.
Zlatko Zvonić, director of Hercegovina museum, said he has bigger problems than archeology projects. "The first and foremost is survival of the museum. First I need to solve that and then I'll start thinking about (excavations)."
But the National Museum is not the only organization in BiH that has been able to find international funding for archeology projects. Archeologists from the RS, among them a director of the regional museum in Trebinje, Đorđe Odović, has talked with the University of Michigan in the U.S., which is interested in surveying a Stone Age settlement near the red rocks that separate BiH and Montenegro. Also, Marija Marić, an archeologist from the Franciscan museum and the Gorica Gallery in Livno, said that they are continuously submitting grant proposals for new research projects.
The U.S. Embassy has given them two grants totalling 50,000 KM and they have received 30,000 KM from the FBiH Ministry of Culture.
Even with funding, archeology projects can run into other obstacles.
A web of contradictory and inefficient local and cantonal laws on archeology, which try to make up for the lack of a state law, is one the biggest reasons local projects are not pursued, according to many museum officials and archeologists.
The legal morass is a big disincentive for international or local funders to back projects, and it has also pitted museum officials against each other over the Okolište project.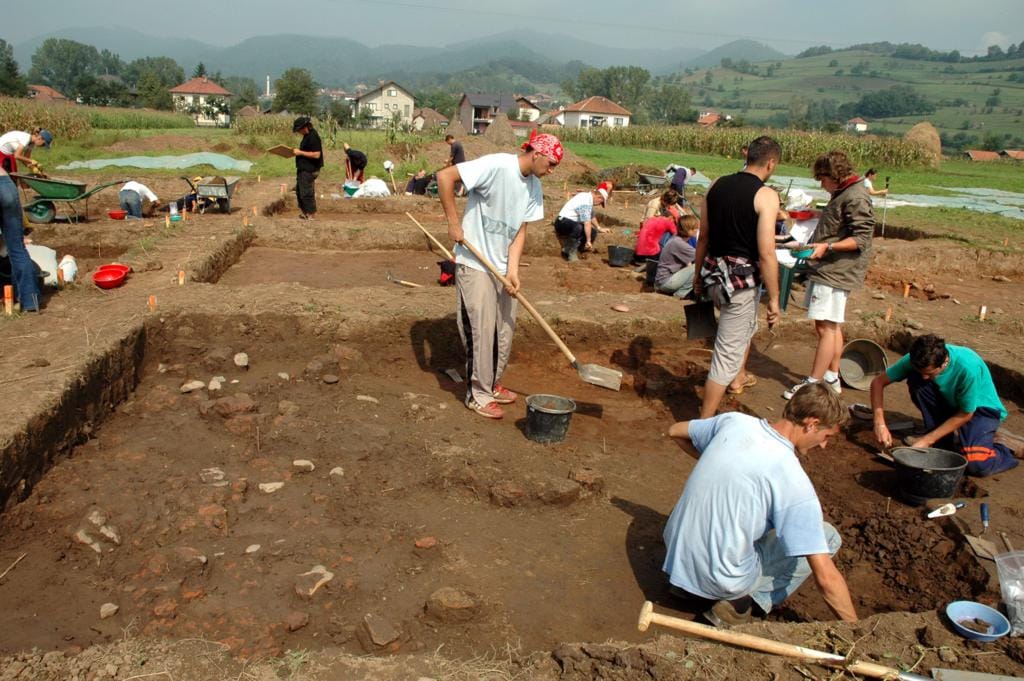 The National Museum officials received permission from the entity-level Cultural Heritage Institute in FBiH to dig near Visoko, site of a massive Stone Age settlement.
But Zenica Doboj Canton has its own preservation law, which says the canton territory near Visoko is under the jurisdiction of the local museum there.
The German archeologists apparently chose the wrong partner when they teamed with the National Museum, according to the museum's director, Sead Hodović. 'They have to respect the Zenica-Doboj Cantonal law," said Hodović. "This area is really under my jurisdiction and we should be their partners."
The State Commission for Heritage Preservation was supposed to end such disputes and bring order to the regulation of cultural sites. But the commission has been locked in a political battle with the entity institutes.
Last January, the state commission drafted legislation that would have given it authority over both entities. A newly empowered state commission would presumably have brought order to the havoc caused by four cantons with their own preservation laws, six without, and the RS with its own laws. Despite having a preservation institute, FBiH still does not have a protection law.
The state commission announced that next month the law is on its way to Parliament.
But the Ministry of Civil Affairs, which is supposed to guide the legislation through Parliament, knows little about it, according to deputy minister Zoran Tešanović, who is angry about the lack of resources his ministry devotes to culture.
In general, Tešanović said "This ministry is doing nothing about the issue of culture. Nothing."