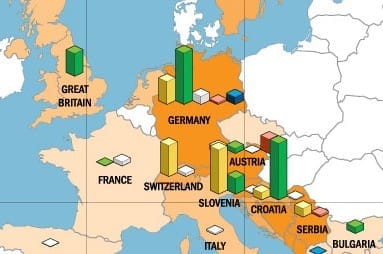 On the morning of November 16 of last year, the phone rang in the room of 27-year-old Damir Zeba in the Swedish city Norrkoping, a town in Central Sweden home to 6,500 Bosnians that settled there during the war. The Sarajevo resident was expecting the call.
On the other end was 26-year-old Goran Ćalov, identified by police as a citizen of the former state of Serbia and Montenegro. He was calling from his home in Malmo, a city in the far south near the Danish border. Ćalov told Zeba to be ready by that afternoon to meet a business associate and gave him instructions for the delivery of a package that had arrived on a midnight bus from Sarajevo.
Just before 3 PM that day, Zeba traveled to a garage in a Norrkoping industrial zone where a bus with broad lettering reading 'Zeba Tours' was parked. The name on the bus was no coincidence — it was owned by Damir's father Sakib and his Sarajevo-based company of the same name.
Outside of the garage, 47-year-old Finnish citizen Jan Gustav Johannes Bexar waited for Damir Zeba in his car. Zeba went to the garage where the bus was parked and retrieved a black bag which he handed over to Bexar. As soon as the Finn put the bag in the trunk of his car, a whirl of motion and shouts broke the afternoon quiet. The garage was surrounded by Swedish police, who immediately arrested Zeba and Bexar.
In the bag was 12 kg of brown heroin with a street value of €1,000,000 or more.
What Zeba did not know was that one hour earlier in Malmo and nearby Norrkoping, police had already arrested Goran Ćalov, 35-year-old Božo Ćalov and 34-year-old Ivan Čolić, also from Serbia and Montenegro. They would later add Sakib Zeba, who would be arrested one month later in Malmo when he traveled to Sweden to see his son, said the Bosnia and Herzegovina (BiH) Ministry of Foreign Affairs.
It was the conclusion of a carefully planned action and police said it broke, at least temporarily, an international ring of drug smugglers who were transporting drugs from BiH and distributing them throughout Scandinavia.
Police believe the shipment of heroin from Sarajevo was to be cut with additives to reduce the strength, repackaged and sent on to Norway. The heroin was transported in a Zeba Tours bus on a regularly scheduled trip from Sarajevo that travels through Malmo to Norrkoping.
Unfortunately, Damir Zeba's case is not uncommon. He is one of at least 280 BiH citizens whom Interpol says are involved in drug smuggling and have either been arrested, wanted or are under investigation for involvement in the drug trade. The networks smuggle drugs into Western Europe for Sarajevo-based drug lords originally from Sandžak and Kosovo. According to Interpol, police forces from 16 European countries have confiscated a ton of heroin and 1.4 tons of marijuana from BiH citizens over the past seven years.
Since police officials claim they capture only about five to 15 percent of the actual drugs being smuggled, BiH citizens may be responsible for smuggling more than 20 tons of heroin and marijuana from 2000 to 2007. BiH citizens also tried to smuggle over 150 kilograms of cocaine, over 86 kilograms of amphetamines and 140,000 ecstasy pills. Their quest to deliver drugs has taken them as far as Brazil, Argentina and Bolivia. The amount understates the problem, because some countries do not report such seizures to Interpol, others don't report all of their seizures and many Bosnian residents have multiple passports and are listed as Serbian or Croatian residents.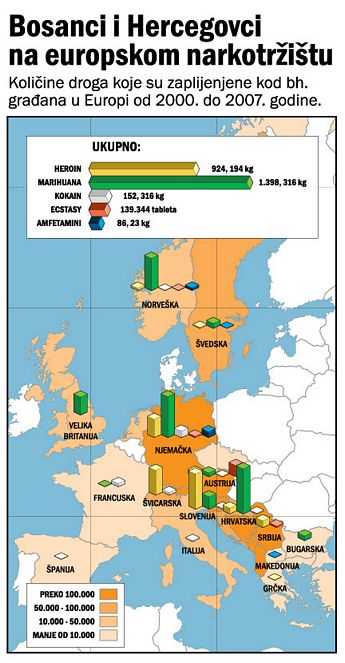 Not the Only One
Police say Bosnians are responsible for smuggling to many locations, although especially to places with large Bosnian communities such as Scandinavia, Austria, Slovenia and Germany.
Head of the Narcotics Department of the Federation of BiH Ministry of Interior (FBiH MUP), Nermin Lagumdžija, said BiH refugees who are facing financial difficulties are recruited for drug transporting.
'First they hire them for minor tasks where they make €200 to €300, and then they offer them €1,500 to €2,000 to move a car' said Lagumdžija. He said it is possible that some people are not aware that there are drugs in the car.
Legumdžija said drug networks have members whose job is to recruit drug transporters called mules. Gang members may test the mules for up to two years with small shipments to prepare them for a single large shipment. Mules often have no knowledge about the wider organized crime group.
'So, even when they get arrested, the police can't even find out who hired them for the job' Lagumdžija says.
Drug smugglers regularly use busses and trucks owned by BiH transport companies. The police think that trucks used to transport clothes, food and other goods from Turkey to BiH bring large quantities of heroin from Istanbul.
Many of the vehicles are customized for the purpose. According to FBiH MUP operational information, a car body shop near Rakovica, on the road from Sarajevo to Kiseljak specializes in adding secret compartments to the body or fuel tanks for the purpose of smuggling drugs or other goods.
Although the border is the first line of defense against the illegal drug trade, BiH border and customs officers don't have the scanners needed to inspect vehicles for these types of modifications. Smugglers are often up-to-date on the latest technology and know the weaknesses of border police.
Besides modified vehicles, regular vehicles are often used.
Four years ago, Kasim Sadiković, owner of SA Tours, which arranges shopping trips from Sarajevo to Istanbul, reported to BiH police that a smuggler was attempting to use his vehicles to transport drugs. Turkish police made an inspection and found 13 kilos of heroin in goods ready to be loaded onto the company's truck. This year, the police in Sarajevo again got a tip that there were drugs in a van belonging to this company but no drugs were found, said Muhamed Hasanović, head of the Narcotics Department of the Canton Sarajevo MUP.
Sadiković said the smuggler is still walking free in Sarajevo.
While police typically focus on busses and trucks that come to BiH from the east, cocaine, ecstasy, amphetamines, and other synthetic drugs also come into the country from Western Europe. Prošić bus company of Germany, which is owned by BiH resident Nihad Prošić, was stopped by Croatian customs officers in January of 2006, according to the Croatian MUP. They discovered 6.2 kilos of amphetamines and 10,000 ecstasy pills in a juice container belonging to a Dutch resident. Željko Petković, inspector for the Narcotics Department of the Croatian MUP, said police think the drugs were coming from the Netherlands through Germany to BiH.
Hasanović said police are aware of eight companies in the goods and passenger transport business that are regularly involved in drug shipments. Police have checked only three companies in the past three years, but they found no drugs, he said.
Court warrants to search busses or trucks are not difficult to get, said Hasanović, but police rarely get the reliable information about drug shipments needed to justify them.
Company owners usually defend themselves by claiming they didn't know that the drugs were in their trucks and busses.
That's what the owners of the company Hari 2 from Travnik claimed three years ago when Bulgarian border guards at the Captain Andreev border crossing near Turkey found nine kilograms of heroin hidden in a company truck, Lagumdžija said. The two truck drivers were convicted and sentenced to 10 years but the owner walked away free.
However, Police say the Zeba Tours case proves that some owners do know that they are shipping drugs in their vehicles. Lagumdžija said they also had information that Zeba Tours was transporting drugs, but they didn't request a search warrant because they didn't have the equipment to gather the necessary evidence.
Transport companies that care about their image check the goods and passengers themselves, said Muhamed Šaćiragić, director of Sarajevo-based Centrotrans-Eurolines, the largest bus line in the country. Šaćiragić said his company works in accordance with ISO standards, which require 150 procedures for checking their busses, including checking luggage, the vehicle's mechanical condition and a regular detailed search of the entire vehicle. They also say they vet personnel.
Still, even with controls, drug dealers find creative ways. Six years ago, a man asked a Centrotrans driver to deliver a video tape to his cousin abroad. However, customs officers on the border opened the video tape case and found drugs inside. Šaćiragić said the driver was duped.
Drugs in Bodies
Police say the most effective way to smuggle drugs is not in a vehicle but in a person. Dealers will pack drugs in a latex condom and the mule will swallow the drugs. The drugs are passed 24 to 36 hours later in their stool. It is impossible for police to detect unless something goes wrong.
Something did go wrong for 68-year old Živko Juričić from Imotski, who was found dead in the Sarajevo hotel Palas in September of 2004. The autopsy showed that Juričić died from an overdose of cocaine which he was carrying in small packets in his stomach. Juričić swallowed 63 packets totaling 732 grams of cocaine. Two packets wrapped in aluminum foil and latex broke and killed him. A pathologist said Juričić likely died a torturous death. Fourteen packets, each five centimeters long and two centimeters wide, were found in his underwear. He excreted them prior to dying. The remaining 49 remained in his stomach and intestines.
Sarajevo police never found out how long Juričić had carried the drugs inside his body or for whom he carried them. Juričić was buried in his hometown of Imotski in Croatia, where he left without a trace 40 years ago and where now almost no one remembers him.