At least seven private firms donated medical equipment to hospitals and then later secured contracts from them for supplies to keep the equipment in use worth millions more.
An investigation by the Center for Investigative Reporting in Sarajevo (CIN) found that gifts were the ticket to securing contracts worth far more than the equipment given away initially. Medical institutions continued to buy from firms that give them freebies first.
Over eight years, the firms donated lab equipment worth 2.2 million to seven hospital – then snagged contracts for chemicals and other supplies worth nearly 14.7 million KM without even having to compete for them.
Officials from the Bosnia and Herzegovina Public Procurement Agency say that bidding procedures based on presents are not in line with the law. Medical organizations, they say, should be searching for the best possible equipment needed. However, the law is vague, and mostly never enforced.
Offers Before the Donation
In August 2016, Bijeljina Medicom donated a machine to analyze blood, hormones, and tissues to Sveti Vračevi, the local hospital. Made by Abbott, a US manufacturer, it was worth 250,000 KM, but it paid off over the next year — Medicom signed three contracts with the hospital to provide chemicals needed to use the machine that were worth nearly 678,000 KM.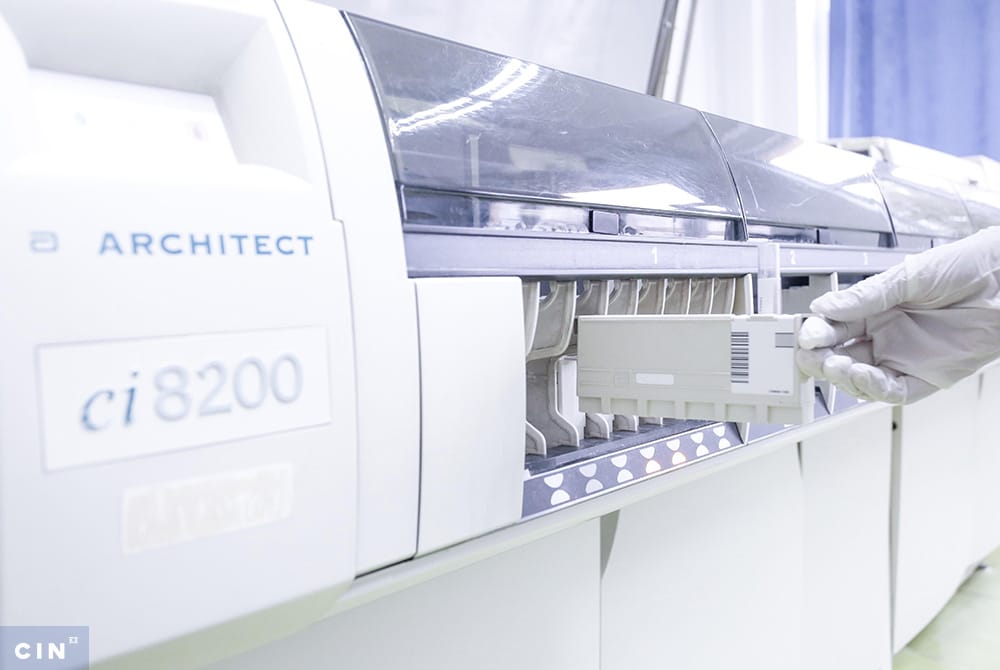 Medicom got its first contract soon after informing the hospital's director about the donation. The director reciprocated the gift by offering to negotiate for procurement of chemicals. The machine was donated and the chemicals paid for.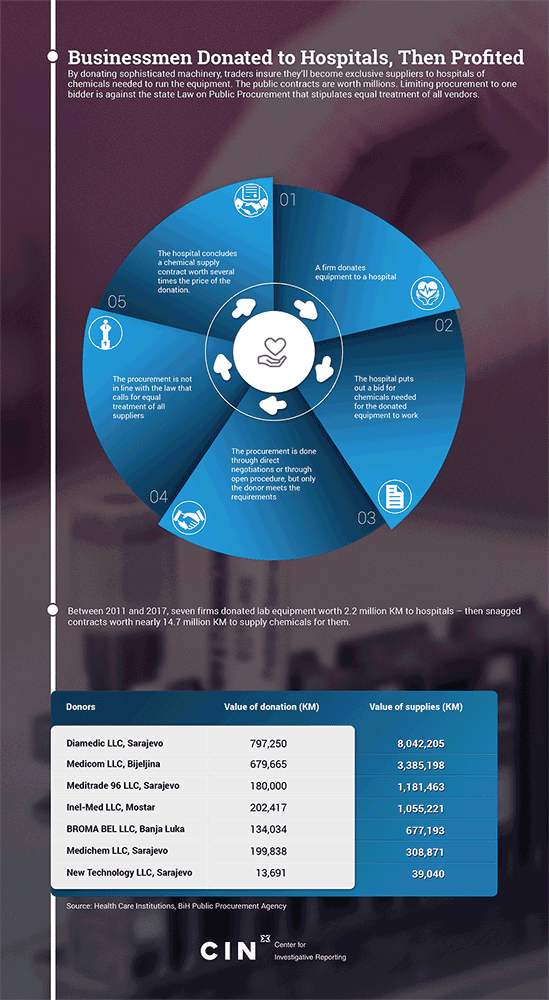 BiH procurement officials says that direct negotiations for medical supplies should happen only when there is no alternative choice. It doesn't count if the hospital is unaware of a choice, it has to be "a situation in which alternative choice truly does not exist."
CIN tracked down several dealerships for Abbott products. They do not compete with one another. The American producer licensed Medicom to represent it in Republika Srpska (RS), and gave the same status to several companies in the Federation of BiH (FBiH).
Miroslav Vidojević from Medicom said only it can donate equipment or conclude sales in the RS.
Elmir Mešinović from Abbott Bosnia said some dealers have to buy an apparatus outright in order to donate it to a hospital as a way to acquire an exclusive arrangement with the hospital later.
He said the price differs among various Abbott dealerships because of this kind of activity. "A dealership creates the difference by probably factoring in that initial investment in the price," said Mešinović. How much a hospital spends overall on chemicals with a dealer can also lower prices it has to pay.
Slavko Marković, deputy director of the Bijeljina hospital, said it was not contractually obliged to buy from Medicom, but did so because the company is Abbott's dealership in the RS. "He did not donate this because he loves us, but because of his profit," said Marković, adding that there is no love in business.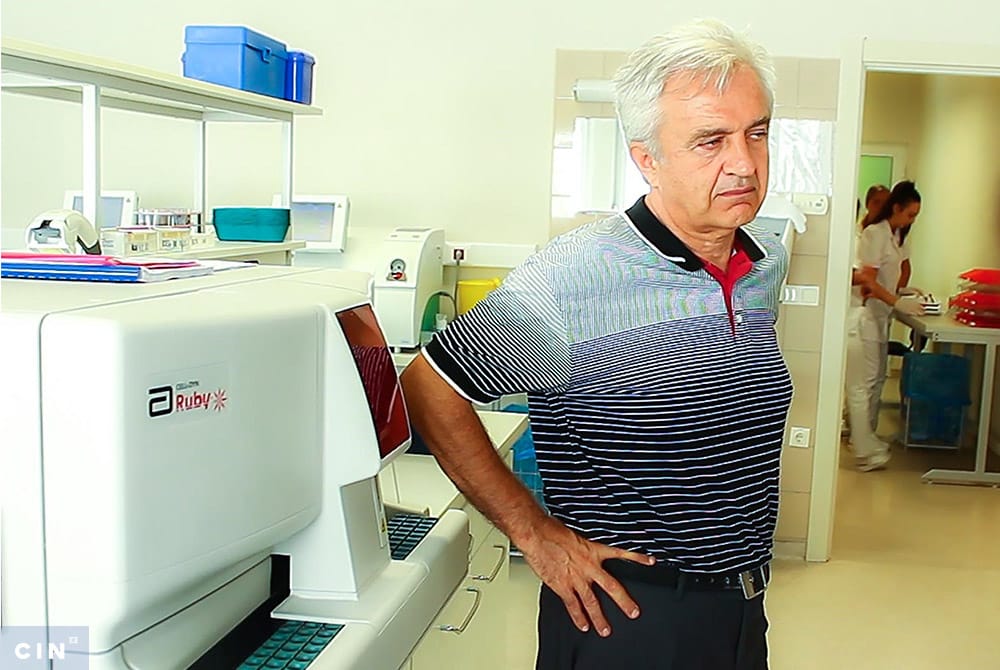 Vidojević said hospitals are not required to buy chemicals from the same maker as the equipment in which they are used. It's not a fully "enclosed system," he said. But if hospitals use a different manufacturer than the maker of the equipment – they get no guarantee that results of medical testing will be accurate.
"If you're shipping alternative chemicals you need to back those results. None of those vendors will back the results of controls and calibrations," said Medicom's representative.
The owner of the privately "BiH Medical Lab", Lejla Hasanbegović, said she has never used use the Abbott machine because chemicals are shipped in a large package. Once the seal is broken, the chemicals decay fast if not used.
Expensive chemicals, she said, were a catch when you accept donated machines: "You can buy a second-hand or any other machine for considerably smaller price, and then you'll have chemicals from a normal supplier for a normal price," said Hasanbegović.
Marković said his hospital did not have money to buy a machine. "We have no reason to be dissatisfied," he said. Marković added that the hospital had no intention of accepting some new offers for donations of similar machines that might compete with the existing one. "There is no need if we're satisfied with the quality of this one," said Marković.
Gifts with Interest
In February 2014, Gradiška Hospital received a donation from a Banjaluka firm BROMA BEL, an automated instrument worth around 40,000 KM that can be used to detect tumor markers and hormones. A French manufacturer Biomerieux makes it.
Aleksandra Pejčić, the lab's head, said that the hospital has greater needs for analysis than the instrument offers.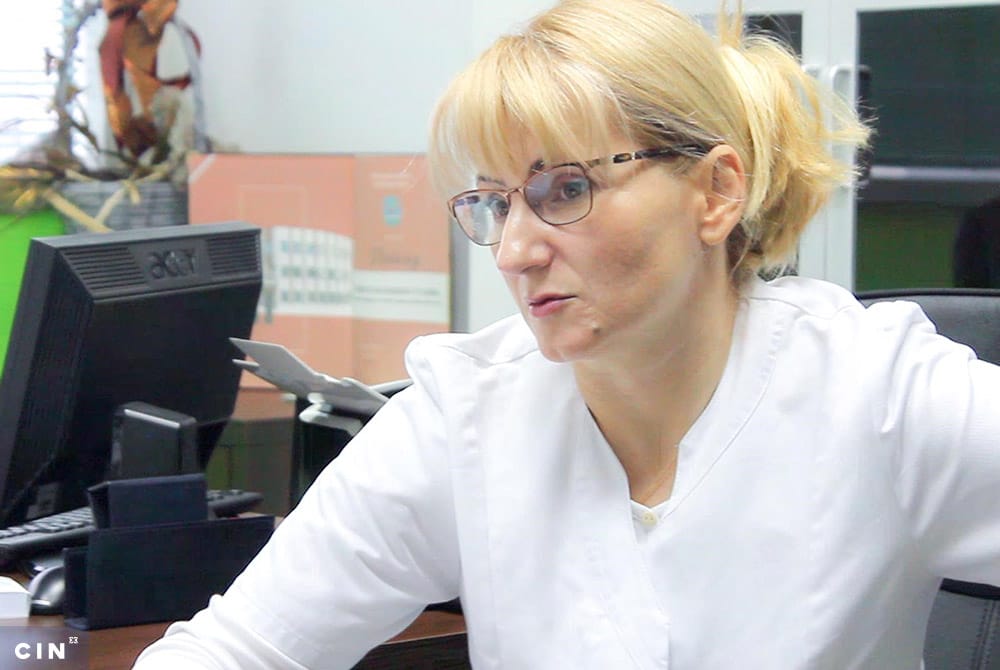 "We have not forced anyone to accept those machines," said Daliborka Javor, BROMA BEL's director. She said that the lab system was donated in recognition of cooperation with the hospital. At the time, the hospital used another machine of the same producer that it had bought from BROMA BEL 10 years before.
Javor said that the hospital was not obliged to buy chemicals from the same supplier. However, without chemicals the instrument is useless. Having received the donation, the then hospital director Vlado Marjanović signed a contract to buy supplies worth around 152,000 KM. BROMA BEL was the only bidder for supplying the materials needed.
Pejčić said that they used the chemicals for both the donated and the old machine: "Maybe I can put in another chemical, but If something gets burned or malfunctioned, no one is going to back me. The director will blame me for destroying the machine, while the serviceman won't come…because I did not play as the manufacturer instructed," said Pejčić.
Bidding records CIN has obtained show that the hospital concluded contracts for chemicals in larger amounts than it had planned: in 2015, the contracts were worth around 2,790 KM; the following year they were around 38,000 KM.
Higher costs than planned could have been the basis for voiding the procurement but that was not a solution in this case, because there is no other supplier of chemicals for the instrument in the RS. Hospital director Mirko Manojlović said that the hospital had bigger requirements for lab analysis and that it was difficult to make a good estimate of an annual spending.
Javor said that price varies for different users. She denied that the cost of machine was factored into the price of chemicals. "Of course there was business interest – if we have done business with a certain institution, why would not we donate?" she said.
Bread's Crust Worth Hundreds of Thousands KM
In some cases, firms offer a test ride of equipment to hospitals — then donate it. For example, in 2010, a Mostar firm Inel-Med leased an instrument for analysis of tumor markers and hormones to the Cantonal hospital in Travnik. The hospital used the instrument, sold by the US vendor Beckman Coulter, for five years, then Inel-Med pronounced it a donation worth 1,000 KM. Meanwhile, the hospital had been buying chemicals from the Mostar firm for the apparatus. "Through this type of a deal, they got their money's worth for the machine," said Mirsad Granov, the director of Travnik Hospital.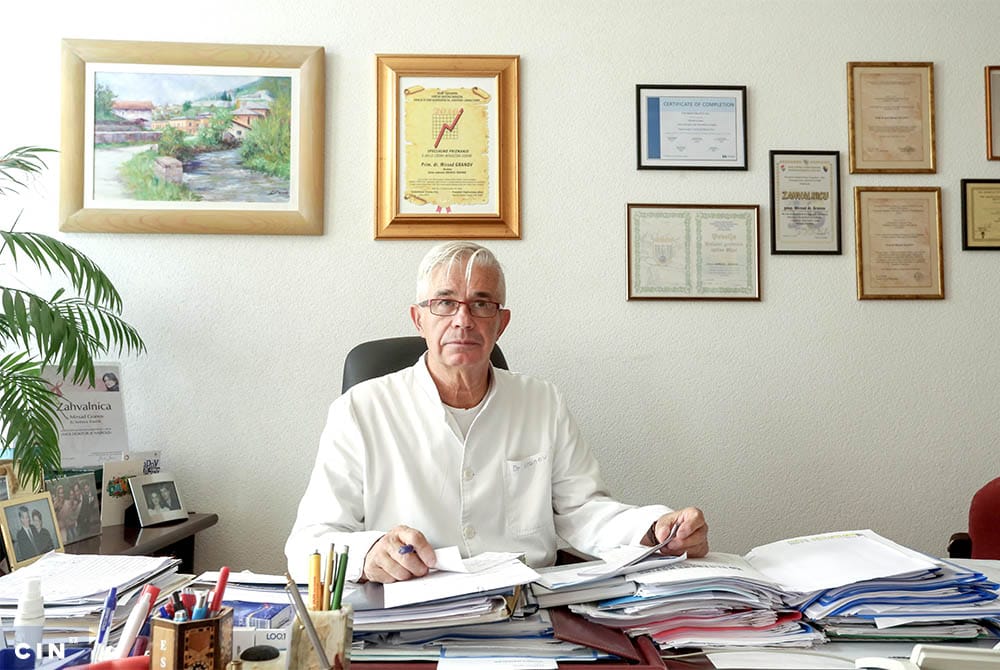 The business continued and Inel Med concluded two contracts for the sale of chemicals worth around 320,000 KM. The representative of Inel-med's management, Marko Tadić, said: "We have not violated any law. We are just fighting to earn a crust through all this."
The contracts were negotiated through several closed bids due to "exclusive rights" according to the contract. But Inel Med is not an exclusive dealership of this equipment in BiH. A Banja Luka Makler RS is another dealership, but those two have divided the territory.
"We are in charge of Republika Srpska, while Inel Med is in the Federation. It simply means that where they do business, we cannot compete," said Makler's representative Jovan Krstić.