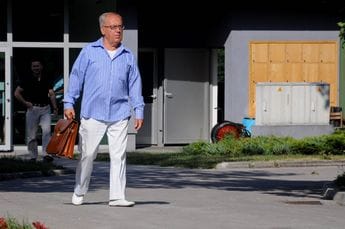 FFahrija Karkin, Zijad Turković's Attorney. Photo: CIN
Accused murder Zijad Turković's attorney Fahrija Karkin is back on the case – this time as a court-appointed attorney. Karkin voluntarily stepped aside at an earlier hearing, but now will receive payment from the court.
Karkin said that he had made the earlier decision because he was convinced that he could not defend his client.
Turković commissioned Karkin's services in the first place. After the cancellation the power-of-attorney, Turković was told that he could choose a new lawyer from the list of court-appointed lawyers.
At today's hearing Karkin turned to the panel and said that he read a decision that he was commissioned and that this decision is most likely Turković's wish. After receiving the appointment documents, he went to visit Turkovića, but the prison authorities denied him entrance saying that they did not receive the documents. Karkin said that because of this he was prevented from getting medical records that would show that Turković was absent from the last hearing because of an illness.
Judge Izo Tankić, the Panel's chair, said that the permission to enter the prison and visit the defendant should have been sent right away and that it was not the court's mistake that Karkin was prevented from visiting his client.
The Center for Investigative Reporting (CIN) in Sarajevo had already written about cases of defendants commissioning attorneys that were later paid by the court.
Zijad Turković is charged with counts of organized crime, narcotics trade, robbery, extortion, arms trade and other crimes. He is also charged with five murders, three attempted murders and 2.5 million KM worth heist at the Cargo Center of Sarajevo International Airport.
Prosecution witness Josip Biletić from Vitez testified about the circumstances under which he got to know Mario Tolić, Verner Ajdari and Midhat Mekić. Turković and his group are charged with their murder. Biletić said that he met Turković through Tolić and that at his request he once loaned 30,000 KM for Turković's bail. He got his money later back.
Biletić said that he saw Tolić last time on the first day of Spring 2010 and that he looked very uneasy. Soon after he learned that Tolić had disappeared.
After the testimonies of Biletić and forensic evidence of the chemical scientist Elmira Karahasanović, the prosecutors continued with presenting evidence. The Court was presented with evidence of financial investigations against the defendants that are mostly related to money laundering.