Republika Srpska (RS) government's property in the former industrial powerhouse "Energoinvest – Rasklopna Oprema" (E−RAOP) in East Sarajevo was sold to Electro-Engineering, a Banja Luka company run by the Keserovićs' brothers for a price six-times under its assessed value.
At the time of the sale, one of the brothers was a son-in-law of RS Minister of Industry, Energy and Mining Željko Kovačević. The other later became the son-in-law of RS Finance Minister Zoran Tegeltija. These two ministers were instrumental in the sale. Kovačević negotiated with the buyers and Tegeltija signed a contract on the sale of machines.
The Center for Investigative Reporting in Sarajevo (CIN) found that Tegeltija closed the deal without his Cabinet's approval. Three months earlier, the government ok'd that Electro-Engineering could borrow machines. However, the government's officials say that there is no decision approving the sale.
The value of the machines was assessed at 8 million KM. They were sold for 1.25 million KM. Reporters learned that the firm never actually paid for the machines it bought — then sold as scrap metal for at least 300,000 KM. That money was not fully reported to the Indirect Taxation Authority of Bosnia and Herzegovina either.
Electro-Engineering's bank accounts in UniCredit Bank should have been frozen because of its liabilities to the RS financial institutions. However, while the bank froze the firm's main account, five subsidiary accounts stayed active.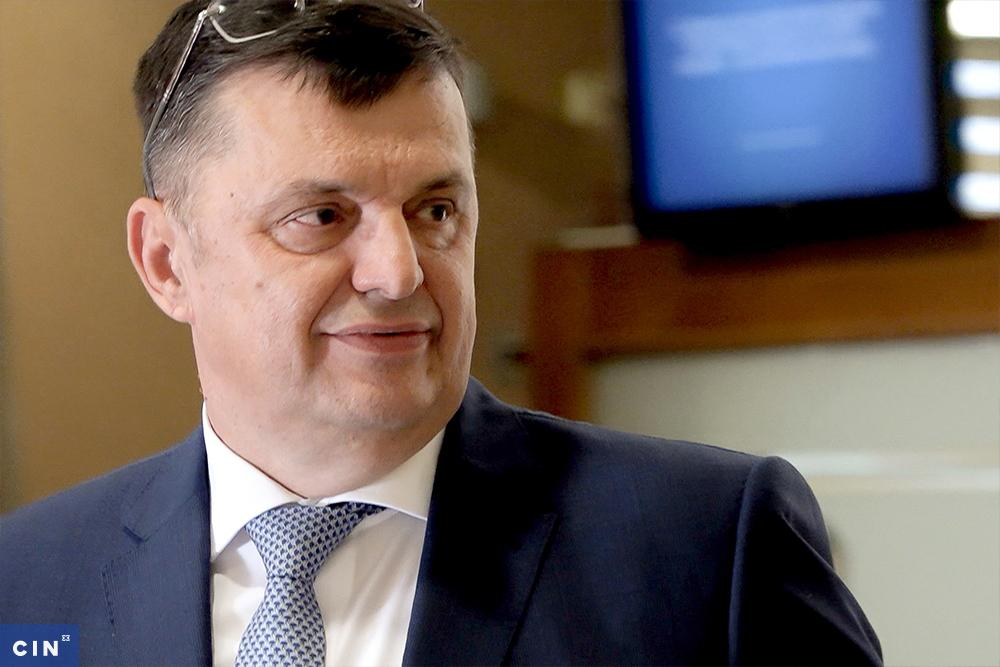 Guarantee of Success
A powerhouse in the energy sector of the old Yugoslavia, E−RAOP was privatized in 2006. "Jugotrade" from Belgrade bought two-thirds of the state shares, while a Pension Fund and the RS Restitution Fond took over 15 percent of shares. The remainder stayed in the hands of small shareholders.
Six years after privatization, the company was in shambles, with losses in the millions. After going without pay for months, workers turned to the RS government for help.
At the end of 2012, then RS president Milorad Dodik visited the company and told workers that the government was going to take over it. A saving strategy was that the RS Tax Administration was going to foreclose on E−RAOP's property because of multimillion debts which the RS government would then buy. A new company would be set up and after taking a loan it would continue operations in the same location.
"I guarantee the success," said Dodik at the time. Workers applauded him as he left.
The machines assessed at 8 million KM were sold to the RS government for 2.7 million KM.
The sale of the other property such as the plant and land was postponed at the request of then Industry Minister Kovačević. He informed the institutions that the Cabinet was negotiating with potential investors. More than 200,000 square meters of land and office space was assessed at 23 million KM.
Electro-Engineering, then a new firm, bought the property for 7.7 million KM. The Keserović brothers were running the firm − Mario was Kovacevic's son-in-law, while Milan became Tegeltija's son-in-law in 2018.
Having lost its property, E−RAOP filed for bankruptcy with 14 million KM debt and workers were sent home. Some 200 workers have not received salaries and their contributions into social funds also went unpaid so that some cannot retire.
Bankruptcy trustee Vlado Simović doesn't believe workers will ever see the money due them. "I was hoping that something would happen, that something was going to be done by the government, from one election to another, as was promised," says Simović. "Yet, nothing."
The recent RS finance minister is unaware of the problems faced by former E−RAOP workers. "I thought that everything was wrapped up," says Tegeltija. "How come these people aren't protesting?"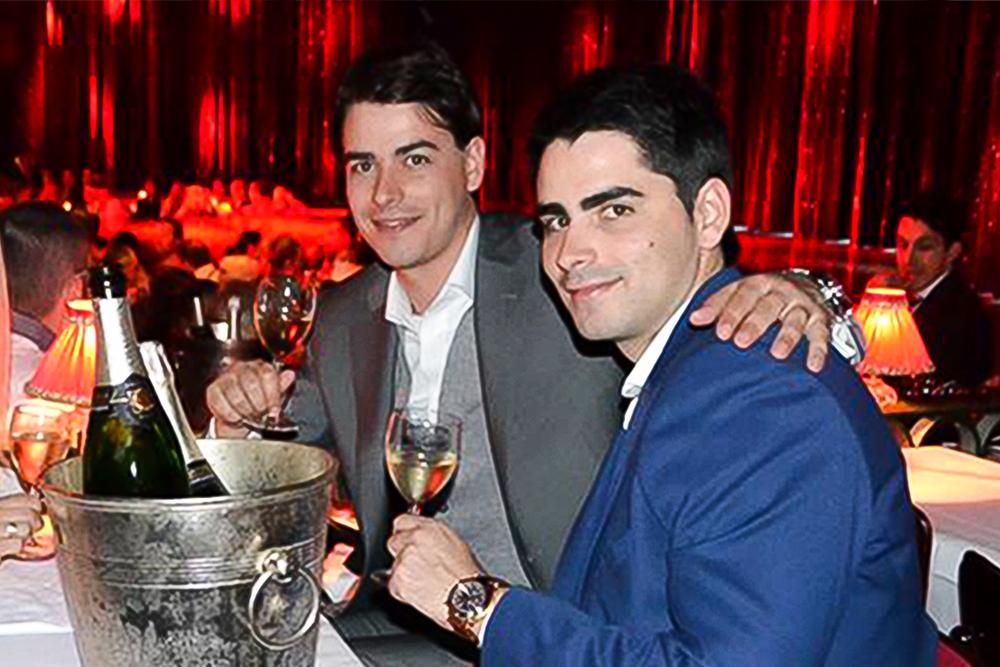 At the System's Mercy
Russian businessmen founded Electro-Engineering in the midst of the sale of E−RAOP's property. They are shareholders in more than 20 companies that annually report revenue worth millions from deals on the world energy market. They invested hoping that the RS government would help arrange contracts with public companies. They let the Keserovićs be the stewards of their capital in Electro-Engineering.
After buying buildings, Electro-Engineering went on to claim other E−RAOP's property.
At the end of 2013, the RS government let Electro-Engineering use machines and other moveable property. However, several months later, then Minister Tegeltija closed a deal with his future son-in-law on the sale worth 1.25 million KM.
RS government's officials say that there is no decision authorizing Tegeltija to sell the property. The RS minister of Energy and Mining, Petar Đokić, referred in the RS National Assembly twice about "on loan" and not "sold" E−RAOP's moveable property. Đokić's assistants say that the RS Finance Ministry under Tegeltija used these terms.
At the end of 2018, the institutions came one more time to Keserović's aid. Seven days before the new finance minister was appointed, Tegeltija's assistant Dalibor Tomaš signed an annex to the contract with Milan Keserović. According to an unsigned copy a CIN reporter was shown, the new deadline for payment of E−RAOP's machines was the end of 2018.
Republika Srpska had an opportunity to file a lien against one of the facilities as a guarantee that they will get their money.
"They didn't file a lien against me. They could've sued me and we'd go to court for who knows how many years," said Keserović. "It was my good will to insist on the annex so that I could additionally secure them because I really want to pay that."
Despite his wish, he said that he owned another 890,000 KM. The RS government did not confirm for CIN either that nearly 300,000 KM was wired to its account, or that it filed a lien against the properties.
Tegeltija said he had authorization to sell. However, two months after promising CIN reporters that he would show them proof of this, he had not. "If it reads a bill of sale, we couldn't do it based on a decision to give it for a temporary use," said Tegeltija. "Either I lost my marbles or something was done behind my back."
Electro-Engineering Manager Milan Keserović showed the bill of sale to CIN. The document does not bear the stamp of the RS Cabinet or of a notary public. It says the firm is obliged to pony up 1.25 million KM by the end of 2015 or otherwise return the machines to the Republika Srpska.
Neither happened. Tegeltija's finance ministry didn't react, while the RS government continued working to the advantage of Electro-Engineering.
In 2014, it founded in East Sarajevo "Energoinvest – Electrical-Energy Equipment (EEOP), that succeeded former E−RAOP. The Cabinet recommended its bank, the RS Investment and Development Bank (IRB), give it a 500,000 KM loan. Afterwards they also got nearly 1 million KM loan from UniCredit bank.
Despite all this, the firms faced grave financial troubles. Tegeltija put off a deadline to pay tax liabilities of nearly 400,000 KM. However, neither Electro-Engineering nor EEOP heeded the revised deadline and a year later the RS Tax Administration froze their bank accounts and filed a lien against their properties. After the companies defaulted on the IRB's loan, the bank requested freezing of their accounts.
Electro-Engineering and EEOP started skipping paychecks to Milan and Mario Keserović and nine other workers. In order to collect their unpaid salaries, they petitioned a court to sell the firm's real properties. In this way, the Keserović brothers and their closest associates in management bought nearly one-quarter of the firm's properties for 1 million KM worth of receivables. The former E−RAOP's property was sold for a second time at the price far beneath market price and it fell into the hands of the Keserović brothers and their associates.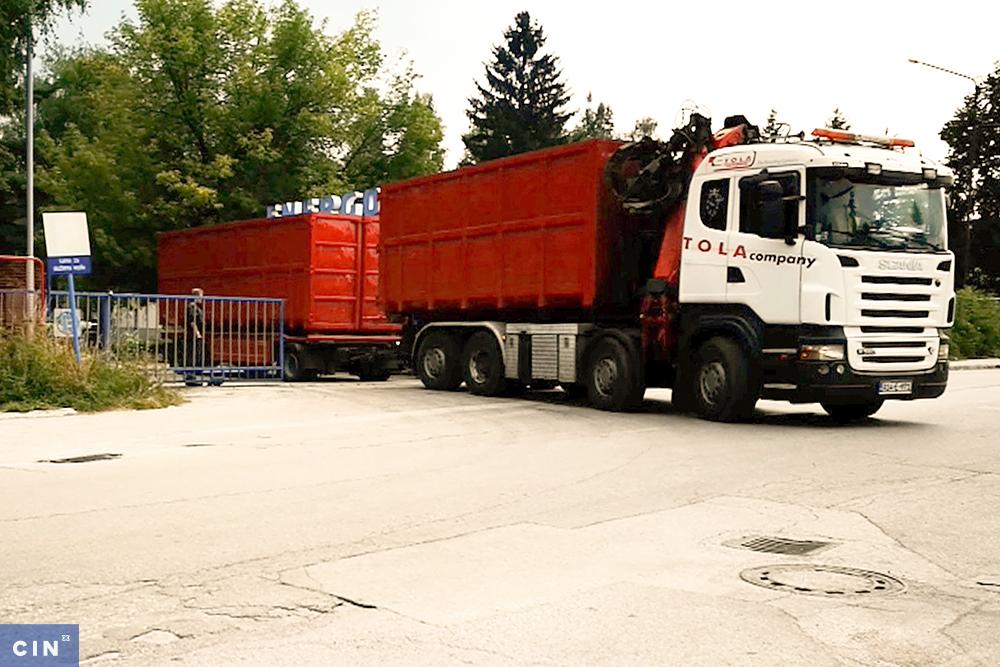 Paying off the Select Ones
After the properties were sold off, some workers still didn't get their share of salaries. In April 2019, two former managers, Miro Klepić and Slavko Pelemiš, petitioned the court to send Electro-Engineering into bankruptcy. The Court approved and a temporary trustee entered the former E−RAOP's compound and informed the court of what he had encountered: real property under lien by the RS Tax Administration and IRB was devastated, while movable property was being bled. Financial statements did not resemble the situation on the ground. The company inactive for years had its bank accounts frozen because of debts.
Meanwhile, Milan Keserović bought a 75 percent stake in the firm from Russian investors for €6, but did not pay debts to the financial organizations. Regardless, they unfroze the company's bank accounts.
The new finance minister and former director of the RS Tax Administration, Zora Vidović, approved Keserović yet another deadline for paying taxes. She shouldn't have done this because only companies that had honored deadlines in the past are allowed further tax postponement. After the IRB RS refinanced the company's debt, some grounds for bankruptcy proceedings seemed to be eliminated.
Still, Judge Jelena Božić was determined to continue with the proceedings because Electro-Engineering was using the property without the authorization of the temporary bankruptcy trustee. The court issued a decision prohibiting disposal of property. Keserović told CIN that he asked Tegeltija for help because he suspected that somebody was pressuring the judge.
"We have contacts there. They tell me 'Milan, it seems that this will not be OK not even when everything is paid, that she won't hand down a decision to dismiss (bankruptcy proceedings).'"
Tegeltija denies that. "What's wrong with him? What the heck?"
Keserović had to pay out Pelemiš and Klepić who had filed for bankruptcy. Judge Božić dismissed pre-bankruptcy proceedings but she didn't want to comment about the case. Among those who refused to talk for this story are IRB, the RS Tax Administration and Finance Ministry officials including Minister Vidović; a bankruptcy trustee; and managers-cum-creditors Pelemiš and Klepić.
Since the IRB's and Tax Administration's debts were not paid, another request was issued to freeze the companies' accounts. In September 2019, Electro-Engineering and EEOP's debt to these two institutions amounted to nearly 3 million KM. Meanwhile, former E−RAOP's movable property was beginning to disappear.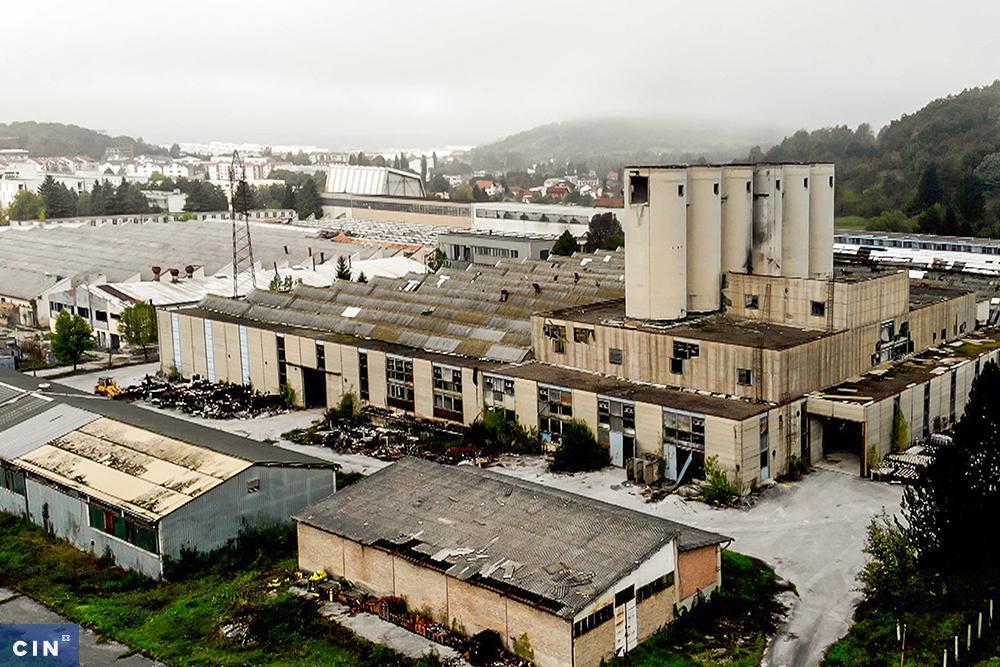 Freezing of Accounts
For years, Electro-Engineering could not be found at the Banja Luka address at which it is registered. Since 2015, it has produced nothing. Security officers guard the former E−RAOP's compound and Keserović, now the new majority owner, pays them in cash.
Machines and other movable property which Tegeltija sold to Electro-Engineering, Keserović sold as scrap metal. Even though he said he paid less than one-quarter of the amount owed to the RS government, Keserović claims that this property belongs to him.
"Do you understand that this is my private property," said Keserović. "I'm the only one who has no obligation to explain anything."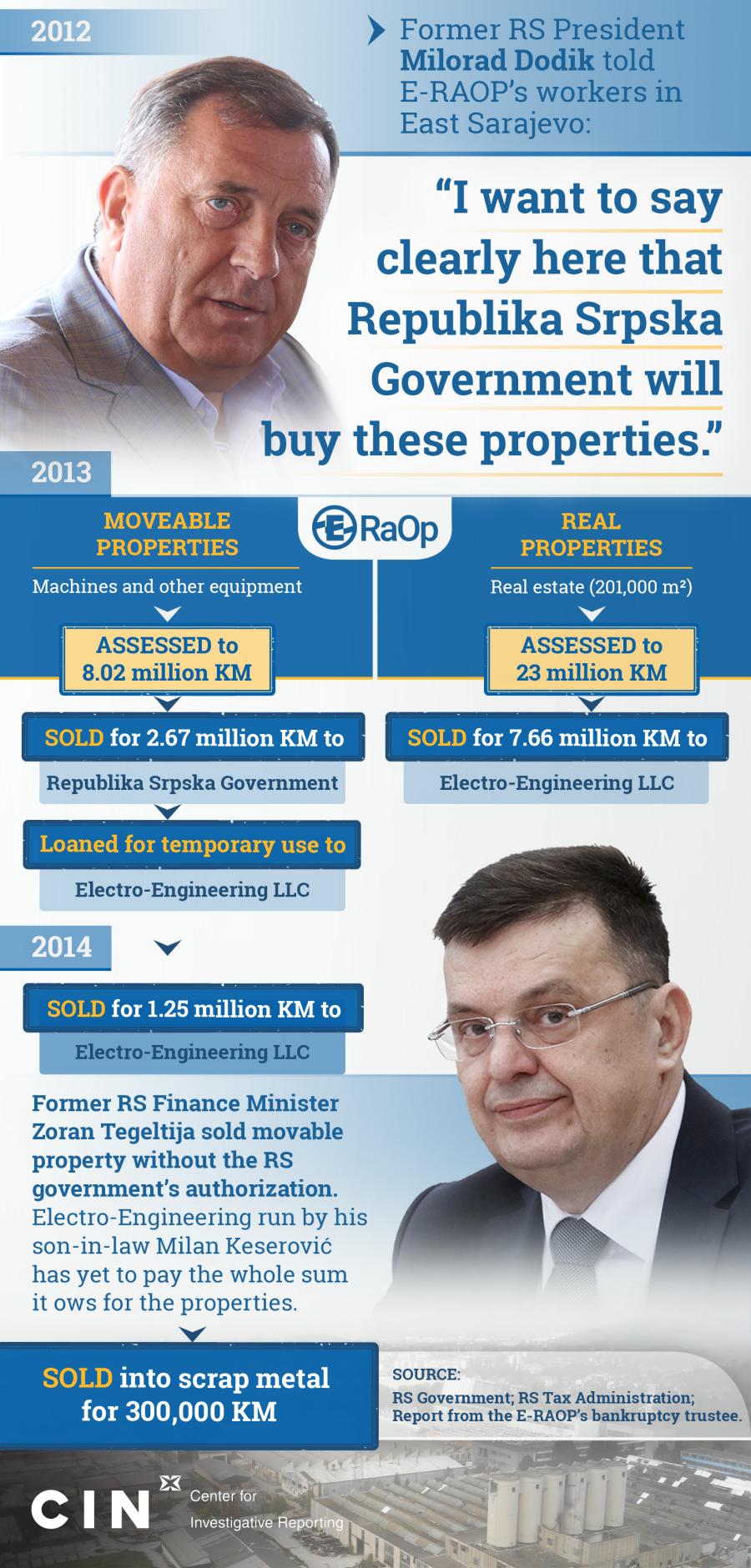 The machines ended up in scrap yard in an unusual way. Keserović partnered with his friend Dejan Maksimović whose Dori Group sold them on.
Zenica firm "Tola Company" took away most of the metal this year.
"At the end of January or in the beginning of February we signed a contract with it (Dori Group). It says somewhere in the contract that the equipment belongs to it," says Darijan Mileusnić, the Zenica firm's manager. "We bought all metal objects that were in those facilities."
Keserović's connection with Dori is beyond friendly. In 2015, his brother Mario founded it together with a Hungarian company that Milan was authorized to represent. Later on, they transferred ownership to Maksimović, their friend and close associate from Electro-Engineering. Nowadays, Maksimović is a co-owner of Dori Group. The money from the sale of scrap metal was wired to Dori's bank account while Electro-Engineering's transaction's account was frozen.
"Why would I accept money on the account if I know at this moment that these funds were up for grabs?" said Keserović.
Tola Company's manager Mileusnić said his company wired 300,000 KM to Dori Group's accounts as a payment for around 800 tons of steel. However, three months later Dori Group reported this transaction as worth 160,000 KM to the Indirect Taxation Authority.
CIN reporters uncovered that Keserović's companies, despite the RS Financial Institutions' attempts to freeze their accounts, managed to keep some of them afloat in Banja Luka UniCredit Bank. This is one of commercial banks with which the RS government does business.
"There is no way, for sure," said Nenad Baroš, the companies' lawyer. "Look, in all those years that we've been in business, we have not yet encountered a case where some accounts would have been active, while others are frozen."
Yet, CIN reporters found that five accounts belonging to Electro-Engineering and EEOP were active during the freeze. Four bank accounts were frozen. According to the law, the bank was supposed to freeze all accounts and transfer all money to the main account from which the Tax Administration, IRB and other creditors could take what they were owed.
Also, the bank did not share the same information about the companies' accounts with the BiH Central Bank and the RS Agency for Intermediary, Informatics and Financial Services as it was supposed to do.
CIN reporters visited the head of marketing in UniCredit bank in Banja Luka, Marina Stupar-Marjanović, and asked for an explanation. Several days later she said that the bank was not going to respond to CIN's questions.
"What I may tell you in this case, after checking on my side, internally, is that we have conducted everything in line with the law, absolutely," she said.
The day after reporters' visit, though, the bank froze all active accounts of Keserović's firms.