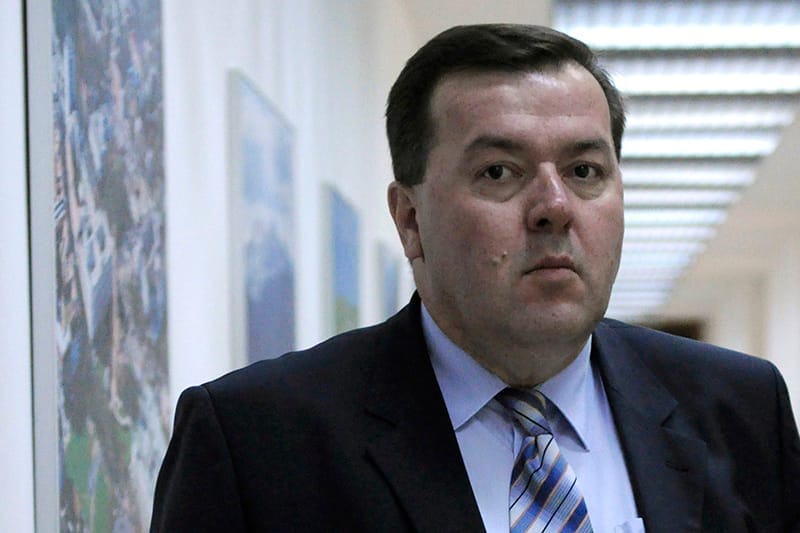 The County Court in Zagreb will decide the fate of Niko Lozančić, a former officeholder from Bosnia and Herzegovina (BiH), after it reviews the appeals to a verdict meted out by the Criminal Court in Zagreb on March 23.
The first-instance verdict found Lozančić guilty of fraud and sentenced him to one year in prison. The sentence will not be executed if he does not commit a similar offence over the next four years. The court ordered Lozančić to pay back assets worth around 157,000 KM.
The City of Zagreb Attorney General's office prosecuted Lozančić for receiving 1,354 KM in disabled veterans' benefits between 2000 and 2009. At the same time, he held a number of offices in the executive and legislative branches in BiH, and received income he never reported to the Croatian Pension Fund.
According to the records collected by the Center for Investigative Reporting in Sarajevo (CIN), Lozančić was a counselor at the Kakanj Municipality from 2000 until 2003 when he became a president of the Federation of BiH (FBiH). Later, he was a legislator with the BiH Parliament over two terms, between 2006 and 2014. During this time, he received monthly salaries worth between 1,273 KM and 4,800 KM depending on the post.
A court-appointed lawyer Neven Gotal told CIN reporters that his client became a pension beneficiary prior to 2000, and that he has never reported to the pension fund that he started receiving other income. "He was obliged to do so based on a decision that declared him disabled," said Gotal. The lawyer said that Lozančić never received this decision and that it was not clear if he knew of that clause.
"The court established that he must've known that. Because on the basis of this decision he also asked for children benefits and when denied, he appealed for an administration review," said Gotal. The court concluded that whether he had received the decision or not, Lozančić must have been acquainted with its content and his obligation to report to the fund, which he did not comply with. "So, he kept this a secret from the fund and kept the proceeds."
An indictment against Lozančić was submitted in September 2009. He never responded so an arrest warrant was issued. At the beginning of last year, a court hearing in absentia against Lozančić began before the Criminal Court in Zagreb.
The City Attorney General's Office appealed the first-instance verdict that came out more than a month ago asking for a two-year prison sentence without probation, while Gotal asked for freedom for his client. The County Court will hand down a verdict after reviewing the appeals.
Lozančić did not respond to reporters' telephone calls. According to the records CIN obtained, as a former state MP, Lozančić has benefited from severance pay worth more than 4,000 KM since last December. He will continue to receive this allowance until the end of this year unless he finds another job or retires.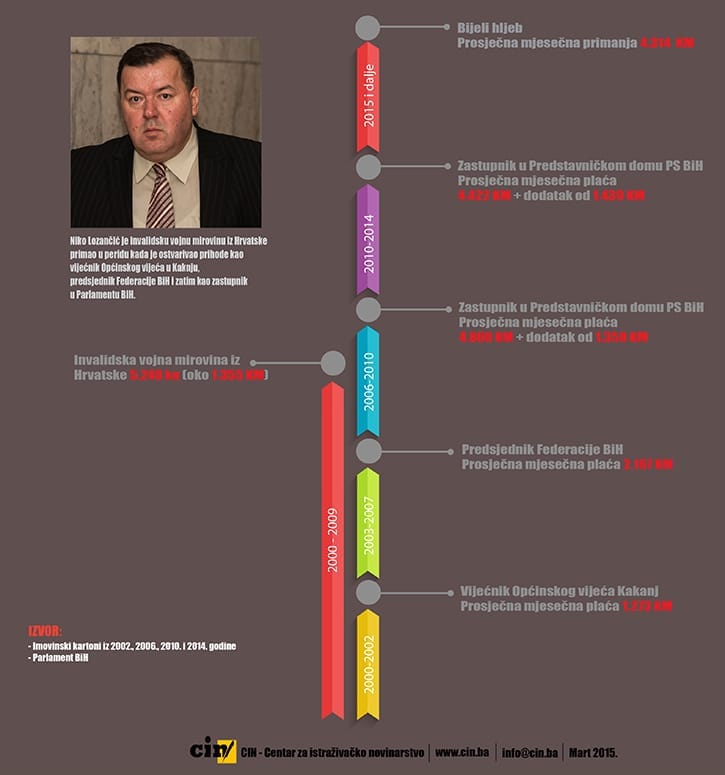 CIN also found that the former president of the Federation of BiH – Živko Budimir is entitled to a Croatian pension. He said that he's received the pension since 2000, but that he abstained from it while he was the president of FBiH between 2011 and 2014.
"The moment I took office, I froze the pension and did not find myself in a situation that I would have to break the law in any way because of income. You cannot have a job and receive a pension," Budimir told CIN.
Budimir received a rank of general in Croatian army. Since 1993, he has been a member and then the head of the Croatian Defense Counsel's HQ. After the war, between 1996 and 1999, he was the head of the FBiH army's HQ. Between 2006 and 2008 he was advisor to the prime minister of West Herzegovina Canton, and then a counselor at Mostar City Council for two years.
Budimir said that he was entitled to the Croatian pension while working as advisor and counselor because he did not have a job, but did the work on the contract. He said that he started receiving the pension again after his presidency came to an end.