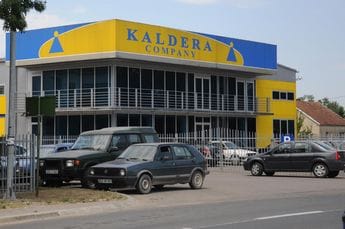 Laktaši-based Kaldera Company LLC, owned by SNSD member Milenko Čičić, is one of the firms which received export subsidies from the RS government. (Photo: CIN)
This year, Republika Srpska (RS) government will provide 20 million KM in export subsidies or around 6 million KM more than last year. The money will be given to export oriented companies that have met the RS Ministry of Industry, Energy and Minings' criteria of ongoing public call for applications.
According to the current rulebook, the following projects can be financed: introduction of the cutting edge technologies and equipment; construction of production facilities; development of new products and materials or introduction of quality systems which have been implemented since the beginning of last year or will be finished between by the end of the next year. The applicants must be incorporated in the RS, have export-oriented production or have contracts for export for this year, and should not have outstanding tax obligations and have to respect labor laws.
According to the Supreme Audit Office of Republika Srpska, the entity ministry of industry, energy and mining planned around 17 million in export subsidies last year. Eventually, it handed out around 14 million, while three millions were given to export oriented firms that suffered from natural and manmade accidents such as floods, fires or uprisings in some countries.
22 companies responded to the call for applications and contracts were signed with 11 of them. according to the auditors, grants went to Romanija from Sokolac (451.814 KM) and Interlignum from Teslić (137.244 KM), which suffered fires. "Fabrika za proizvodnju žice" from Novo Goražde (261.140 KM), and Nova Forma LLC from Doboj (75.000 KM) received grants for flood-related damages, while Banja Luka-based Granit has not signed a contract to receive 57,925 KM because it bank account was frozen. Ministry officials were skeptical about the use of this money. In April this year, the firm filed for bankruptcy.
The Cellars of Tvrdoš monastery are owned by Zahumlje and Herzegovina Diocese. (Photo: CIN)
The following companies received grants to tamper damages for export contracts that were cut short because of uprising in the countries of destination. These are Istočno Sarajevo-based Famos (500,000 KM), Rogatica-based Drvolik (500,000 KM), Banja Luka-based Euro-motor (383,229 KM), Istočno Sarajevo-based "Energoinvest rasklopna oprema" (288,568 KM), Kosmos from Banja Luka (246,869 KM) and Orao from Bijeljina (169,429 KM).
For the remaining 14 million KM applied 334 firms while contracts were signed with 215 which have met the criteria. According to the auditors, another 43 firms have also met the criteria but there was no more money.
At the list of subsidies companies (61.018 KM) is a Bijeljina-based Elvaco owned by Gavrilo Bobar, a RS MP from the Alliance of Independent Social Democrats (SNSD) to which belongs industry minister Željko Kovačević. SNSD's member Milenko Čičić's Laktaši-based Kaldera Company received 80,931 KM. A grant also went to Trebinje-based Tvrdoš Monastery Cellers (23,219 KM) owned by Patriarch Grigorije of the Zahumlje Hercegovina Diocese. The Center for Investigative Reporting in Sarajevo wrote about him last year.
Published August 14, 2012