"Do you know who I am?", recalls Mersad Džafić, a seller of second-hand household appliances, the question of Jelena Majstorović. In October 2018, she and her colleague Radenko Popović aka Pop barged in Džafić's shop in Velika Kladuša, asking the question in a threatening tone, and tossing the badge of the inspector of the Indirect Taxation Authority of Bosnia and Herzegovina (ITA BiH).
Although it has been two and a half years since Džafić still vividly remembers the encounter. When he replied that he did not know who she was, Popović stepped in saying "This is my boss, Jelena, and you have to treat her."
On that day, a two-member ITA team walked into the store to extort money from Džafić using threats and pressure. The inspector's tone and her silent scanning of the store disturbed him. His business ledger was not in order, so he agreed to play the "game". He offered them BAM 300, but they refused, so he gave them BAM 500. Inspectors hence reported not to have found any contraband with Džafić.
Although Miro Džakula, director of the ITA, will only later appoint her the head of the Group for the Prevention of Smuggling and Misdemeanors at the Banja Luka Regional Center, Majstorović was already the "Boss" for the Group's inspectors.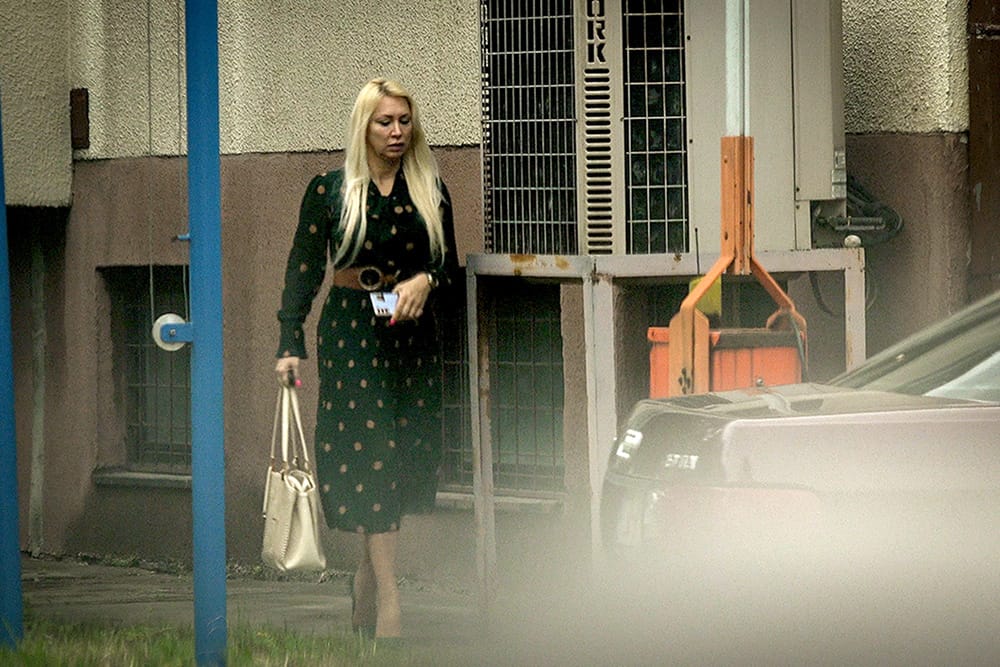 Among shopkeepers, Jelena Majstorović, Radenko Popović, Stevo Savić, and Vladimir Puzić are known as "Blackshirts" because of the color of their uniforms, but some more serious reasons lie behind the ominous nickname. This group is blackmailing the shop owners who hold surplus goods, offering them "a deal", and confiscating the goods from those who refuse to give bribes.
The State Investigation and Protection Agency (SIPA) found this group of inspectors to have used their position at least ten times during 2017 and 2018 to extort money from shopkeepers, and in at least four cases they illegally confiscated jewelry worth more than BAM 200,000.
"At the same time, they kept part of the confiscated jewelry for themselves by issuing several confiscation certificates indicating smaller than real quantities", as indicated in the SIPA report. The owners claim that almost half of the seized jewelry is missing. SIPA is investigating similar cases in Bihać, Cazin, Bosanska Krupa, Velika Kladuša, Doboj, Banja Luka and Gradiška.
The shop owners told CIN reporters about the unprofessional attitude of the ITA inspectors: upon entering the shops, they demanded that the video surveillance be turned off, they searched private premises, bags, and personal belongings without a court order. According to the shop keepers, and the SIPA report, they were seizing the items in violation of due process. The shop keepers, terrified by the threats of the officers, agreed to the ultimatums and signed the confiscation certificates not knowing what they were signing. They were giving them bribes to avoid the confiscation of goods. Mersad Džafić is among those who had to do it several times.
"By God – yes! Because otherwise, my goods are gone, son! That's the problem!"
Anonymous tips as "modus operandi"
The ITA's anti-smuggling Group is responsible for preventing, detecting, investigating, and prosecuting contraband in the field of indirect taxes. However, a group of inspectors led by Jelena Majstorović would enter the shop and, using the authority of the uniform and the institution, ask the owners for money to turn a blind eye to their wrongdoings.
In the spring of 2018, inspectors Radenko Popović and Stevo Savić entered the shop for repairs and resale of used household appliances of Mersad Džafić in Velika Kladuša. Džafić claims that the inspectors were familiar with the "weak points" of his business: "We buy it as 'faulty' goods, which we then service and sell. They know that we cannot have everything clean because it is second-hand goods."
Having found that some of the appliances have not been recorded in the business ledger, inspector Popović told him: "You are in a major breach", Džafić recalls. He threatened to confiscate all his goods, and then, contrary to his authority, ordered him to close the shop and offered him a way out.
"Can we sort it out in any other way?", Džafic asked.
"We can", Popovic replied and asked: "How much do you offer?"
Džafić offered BAM 500, but that was not enough for the inspectors.
"I sold a stove in Doboj for about EUR 500 (BAM 1000) at the time. I offered it to them. They accepted and took it", says Džafić. Popović took the money, and said that they had to confiscate several devices to justify the visit: "We'll take whatever is the least important to you." Džafić singled out seven devices for which the inspectors wrote a misdemeanor charge.
Based on an anonymous tip, they came in again in October, this time with Jelena Majstorović and Vladimir Puzić. Popović and Majstorović barged into the store. "Like commandos! She tossed the badge all proud, as if she were the boss, saying "Do you know who I am?", recounts Džafić. And then Popović told him that he had to treat his boss.
He offered them BAM 300, but again, it was not enough – the ITA inspectors asked for BAM 500, which Džafić handed over to Popović.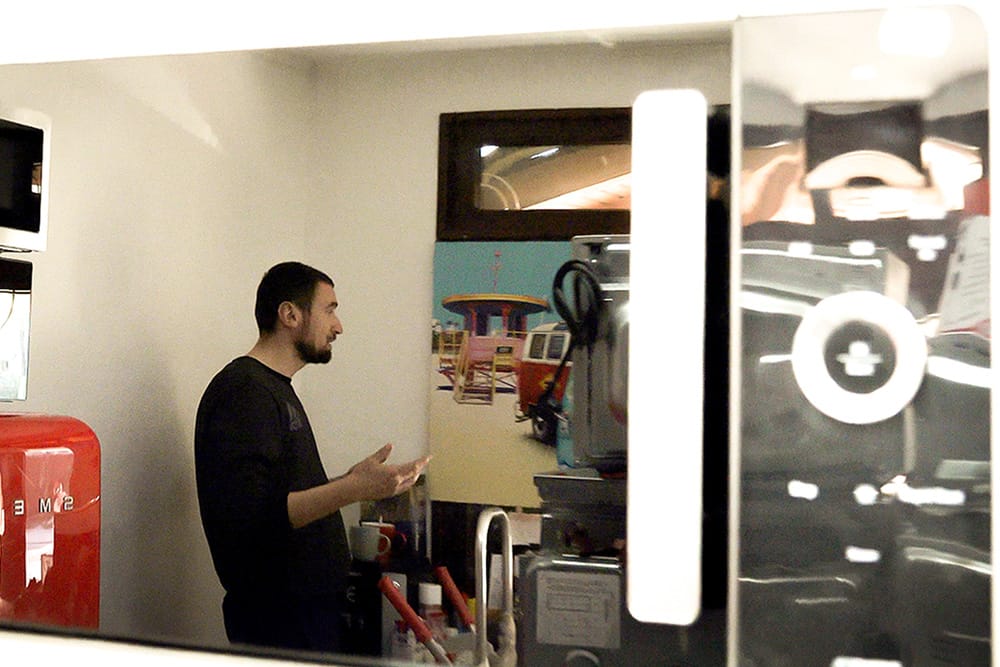 Džafić claims they have asked him about the house of his friend Alen Veladžić, and a little later the same day, the four of them entered the yard of his family house, a few kilometers away from Džafić's shop. Veladžić is an unemployed mechanic, who repairs and resells used appliances in his backyard.
"When I asked them what they were doing there, they replied that they had an anonymous report about me illegally buying and transferring second-hand goods across the border," he told SIPA inspectors. Veladžić confirmed the same story to CIN reporters but refused to stand in front of the camera because he did not want new problems with inspectors. Inspectors claimed to have had a search warrant and other documentation but did not show it to him.
Although aware that he had no contraband, Veladžić feared the sanction because he ran a non-registered workshop. In addition to the appliances, he fixes for the locals, he also held some that he bought from his friend Zlatan Jušić, which were legally imported through his company "Kum" from Velika Kladuša. He called Jušić and asked for help. He explained to the inspectors what kind of appliances it was and took them to the premises of his company to show them the import documentation.
"One or two of them were in the store, and one or two were down in the yard in front of the store. They were with Alen, standing and talking, "Jušić recalled in an interview with CIN.
Jušić presented to the inspectors the documents on origin for most of the goods from Veladžić's yard, but Veladžić was unable to explain the appliances the clients brought for repairs. Because of that, Inspector Popović told Veladžić that he was in a major breach and that they would take away all his goods.
"Should I give you BAM 500?" Veladžić finally asked.
Popovic replied that it was too little, so Veladžić doubled the offer. However, after consulting with Jelena Majstorović, Popović told him that BAM 1,800 and lunch would be enough not to take away his goods and file a charge against him. Veladžić was short of money, so he asked his friend Mersad Džafić for a loan.
"He calls me and says that she is asking for BAM 2,000 – "I don't have that much money". I said I'll give BAM 500, fu*k her. Just to get her off our back" Džafić told CIN reporters.
In addition to the extorted money, the inspectors also had lunch at someone else's expense that day. Veladžić and Jušić took them to the restaurant "Kod Abida" for lunch, which cost Veladžić BAM 132. Jušić did not witness the bribery, but he understands why his friend agreed to it.
"When they come in those black uniforms, there is no discussion, you understand? It's serious and there's no fooling around."
The inspectors and their bosses, and the ITA leaders did not want to talk to CIN reporters. ITA BIH sent only partial answers to journalists' inquiries, confirming that the Anti-smuggling Group was with Džafić and Veladžić and that no irregularities were noticed in the work of the inspectors.
Give anything, just give
In the summer of 2018, Jelena Majstorović and Radenko Popović came to the Green Market in Doboj, which is under the jurisdiction of another regional center. The owners of the textiles and footwear stands were threatened to lose their goods if they did not give money.
Kosana Malešić, a saleswoman, told CIN reporters that the inspectors asked her to "treat" them". "They said we have to sort it now, otherwise they will punish us! So, we got scared and gave [it]." They took BAM 200 from her. Malešić also told her story to SIPA inspectors and is now awaiting justice in fear of retaliation by ITA BiH inspectors.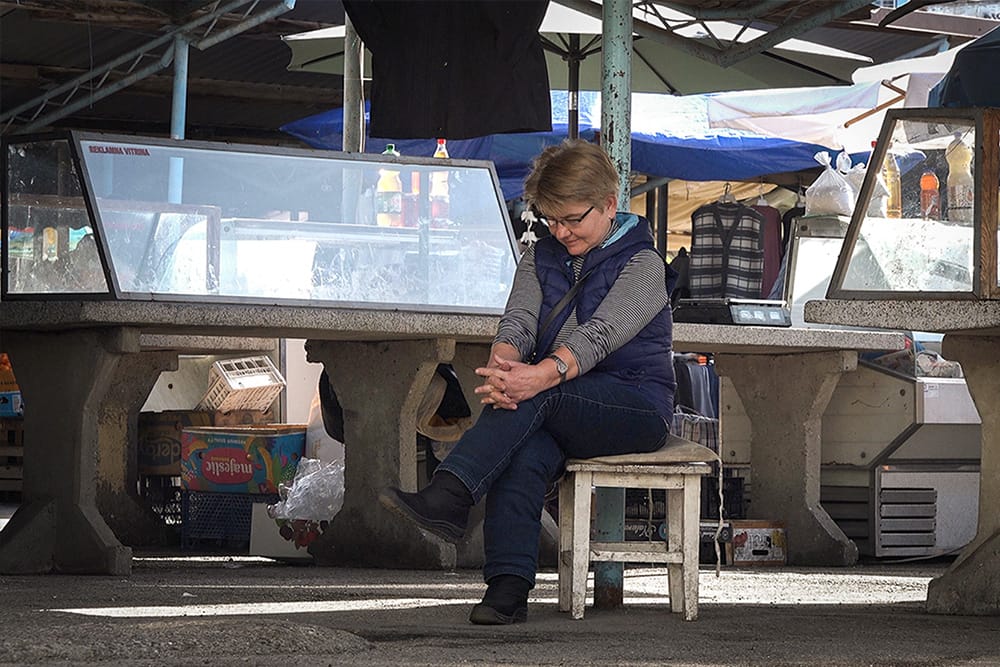 Her neighbor Mirko Vračević works legally and regularly pays all duties. However, this was not the reason why two inspectors in official uniforms paid a visit to his stand that day. They asked for money.
"He said this much! I said I don't have that much, here's what I have", Vračević recalls. He gave them BAM 200.
The whole case was revealed when one of the traders from the market reported the extortion to the Doboj police. All the victims were summoned to give statements, but, fearing retaliation, they claimed not to have given any money. Having heard the statements at the police station, Stoja Kevac, surprised by the behavior of her colleagues from the market, decided to give up the truth. "I said to those guys, they all claim not to have given anything, alright then, I did not give anything either, and we're done."
Kevac told CIN reporters what actually happened. "I offered her a tracksuit, she won't [take it]! She does not want a tracksuit, but she kept walking around me! Here, take the tracksuit, woman, I don't have money! But she wants money! She didn't want to leave until she got the money," says Kevac, claiming that it's hard for her to earn anything. " I'm sitting here all day long and I have not made a penny." Inspectors took BAM 100 from her that day.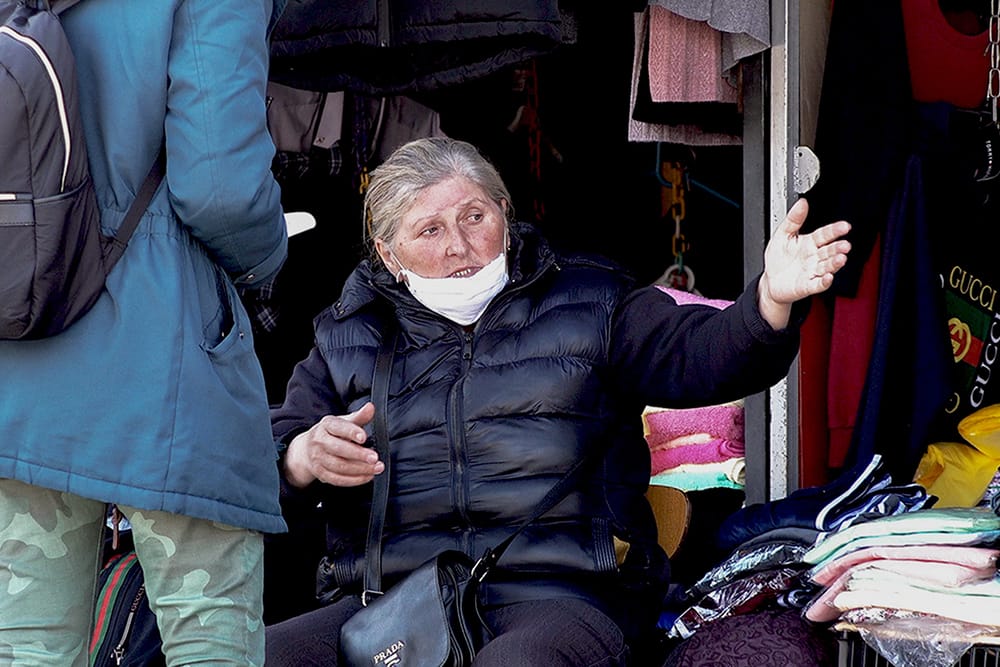 The Doboj Public Security Center and the RS Ministry of the Interior refused to provide information about the investigation to CIN reporters because they handed the case over to the BiH Prosecutor's Office and SIPA.
SIPA submitted one report on these events to the Prosecutor's Office in mid-2019, and they are still working on the other. Inspectors found Jelena Majstorović and Radenko Popović to have extorted a total of BAM 1,300 from the traders at the Green Market in Doboj.
Illegal searches and extortion
According to the regulations governing the work of the ITA BiH, inspectors of the Anti-smuggling Group can control business ledgers, but they are not allowed to search premises and things without a court order. Not only that evidence obtained without a warrant cannot be used in criminal proceedings, but the laws in this way also protect the rights of citizens from abuse of power of the official persons that could cause them harm.
According to documents obtained by CIN, the anti-smuggling inspectors at the Banja Luka Regional Center: Jelena Majstorović, Radenko Popović, Stevo Savić, and Vladimir Puzić have at least five times illegally searched the premises of shopkeepers, without a court order. The inspectors have been confiscating the goods, mostly gold and silver jewelry, weighing and recording the seized items in the records without the presence of the owner, and finally, issuing confiscation certificates, which are not valid because they were issued without a court order. Despite that, the inspectors in the certificates quoted Articles of the BiH Criminal Procedure Code as the basis for their actions, while they subsequently filed misdemeanor reports against the suspects based on the Law on Customs Misdemeanors. Investigators believe they wanted to cover up that they were gathering evidence illegally in this way.
The owners of the goods signed these papers – according to their accounts – under pressure and threats from inspectors. Omer Džaferović from Cazin told SIPA about his experience with ITA BiH.
In November 2017, he and his wife Halida were stopped on the road near Bužim. Their belongings were searched and jewelry worth around thirty thousand marks was taken from their bags.
Džaferović tried to explain that he had paid all the obligations to the state for those goods, but it was all in vain. Without a court order, the inspectors took the jewelry to the official ITA vehicle, where they weighed it without the presence of the owner, and then packed it in a plastic bag. Džaferović was asked to sign a logbook with notes about the weighed jewelry, without an official record, and thus confirm that he voluntarily handed over the jewelry. He refused to do so despite all the pressure and threats, so inspectors kept them on the road for more than ten hours.
Finally, the "Blackshirts" called for help from colleagues from the ITA BiH Investigation Department, and Džaferović told SIPA what he had heard and seen when they arrived.
"What did you do? This way, all of this goes down the drain and cannot be used as evidence", said their colleague, having realized that the inspectors did not have a court search warrant.
The "Blackshirts" tried to return the jewelry to the van, but Džaferović did not allow it, forcing them to obtain an oral search warrant. Although it was obviously not originally intended at the time when they stopped Džaferović, the inspectors have started the legal process with a delay and under pressure.
Police officers from Bužim came to the site ex officio with a court order. Džaferović told SIPA that he heard when inspectors tried to persuade one of them to return the confiscated jewelry to the van, and then to confiscate it properly.
"You did it unlawfully and now you want me to deal with the hot potato by putting back the jewelry", said the police officer who declined their proposal.
However, the data on the illegally confiscated gold is included in the certificate, which Džaferović, tired of it all, finally signed. Based on that, the ITA inspectors instituted criminal proceedings against him for contraband.
Jewelry which does not exist
SIPA suspects that ITA inspectors in other cases kept part of the jewelry for themselves, and tampered with the certificates by entering a smaller amount of confiscated goods. The owners of the seized goods confirm this, explaining that they noticed the difference only when they received misdemeanor reports from the ITA because no one had informed them about the opening or the examination of the goods before.
Majstorović, the boss, and Inspector Popović visited Husnija Kurtović at the Atlantis jewelry store in Bihać twice during 2018. In March, they found gold in the shop that was not recorded in the business ledger, so Inspector Popović told Kurtović that they could make an agreement if he turned off the video surveillance. Then Majstorović wrote him an offer in her notebook – BAM 3,000, which Kurtović refused. Inspectors asked him to show them a "Raptor" watch worth BAM 120 and a gold ring of BAM 350, which they took out of the store without paying for them. Kurtović claimed to SIPA that he did not give it to them.
However, they did not forgive him for refusing to "cooperate". Four months later, they came again and, learning that the video surveillance was not working, searched his shop and confiscated 1,733.8 grams of gold jewelry that was not recorded in the business ledger. Kurtović estimated its value at BAM 170,000. He claims that the confiscated items included about 120 grams of jewelry that the citizens brought for repair, cleaning, or polishing.
Based on their records, the inspectors have seized just over a kilogram of gold, and Kurtović claims not to have noticed this when he signed the documents. "Hold the edges – sign here, here, and here! I didn't look at what was on the record." He says he has come to terms with the loss. "Because I have not checked what I have been signing, it's over!"
The goods were confiscated from him on the grounds of a suspicion of a criminal offense, but he eventually paid fines for not having documentation on the origin of the goods, and this was the only charge mentioned in the misdemeanor report. The confiscated jewelry was never returned to him. "This is when I realized that no one can touch them, and that's it," Kurtović told CIN.
In February 2018, Majstorović and Popović entered the Senija Lipovača jewelry store in Bosanska Krupa under the pretext of having an anonymous contraband report. They came without a court order and confiscated more than a kilogram of jewelry worth about ten and a half thousand marks. Before the search, the owners claim, the inspectors demanded that the video surveillance be turned off.
"They bust in blazing! From shaking the walls, knocking, opening the cistern, touching my jacket, my bag", describes the son of the owner, Aldin Lipovača. Senija Lipovača paid a fine for a tax violation and her jewelry was confiscated. ITA BiH instituted no criminal proceedings against her either.
Former police officer Mujo Čović from Velika Kladuša also remembered the meeting with ITA inspectors in Bosanska Otoka. In May 2018, he came to the owner of the "Gumuš" jewelry store to sell him some old silver. He says that he also had some gold coins in his car, which he claims are a family heirloom that he did not plan to sell. Police stopped him in the parking lot based on an anonymous report, found gold and silver, and called the ITA inspectors.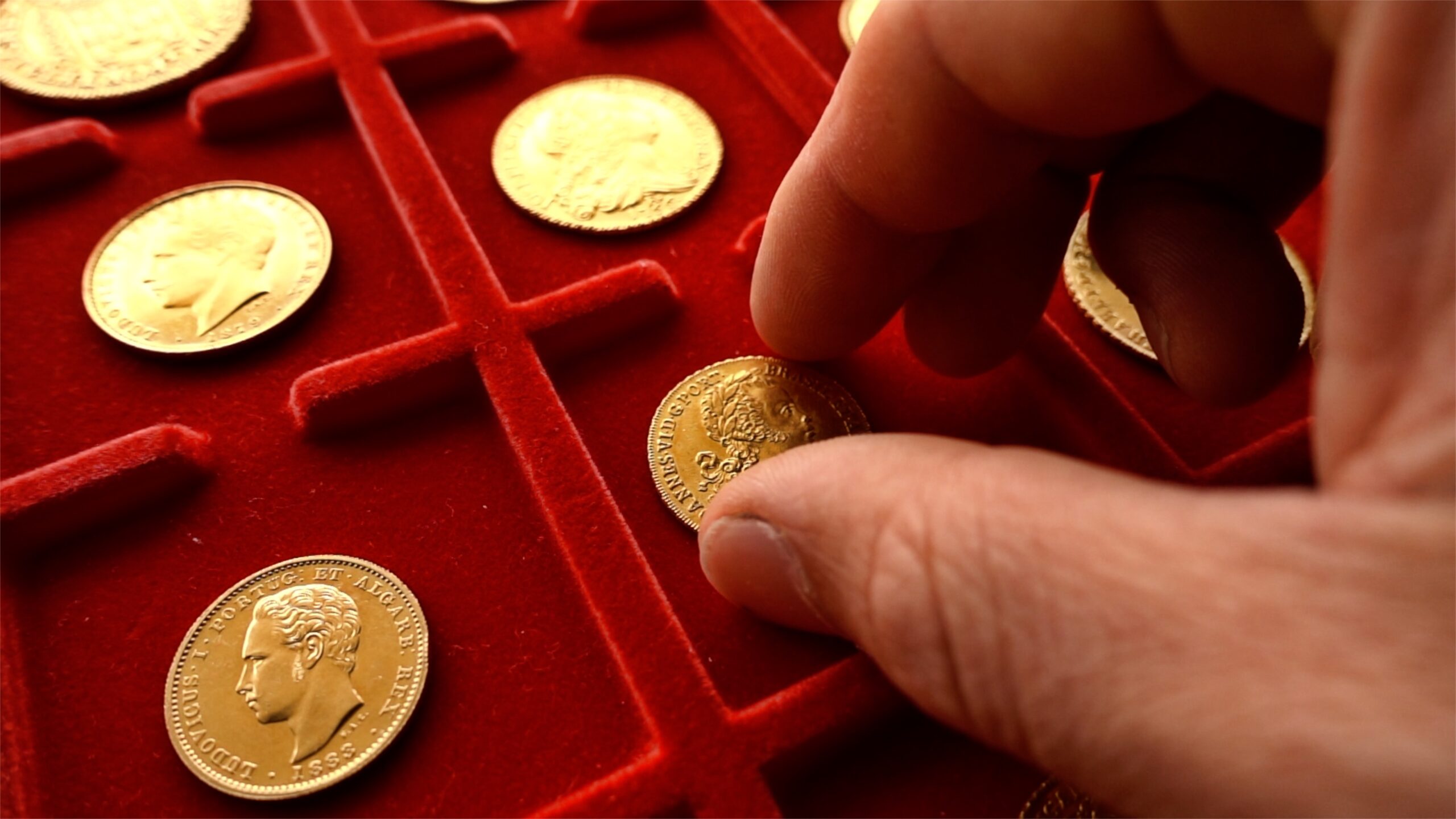 The inspectors who showed up were Stevo Savić and Vladimir Puzić, who confiscated 38 gold ducats and about four kilograms of silver from Čović, not saying anything about why and on what grounds they do it. The competent prosecutor was not present, although Čović asked for one. "I told them, people, what you are doing is illegal. You've been keeping me here for four hours! Will you inform the prosecutor, does anyone know that I am alive?", Čović recalls. Under such pressure, he signed a confiscation certificate without checking the contents.
A few days later, in the second-hand shop in Velika Kladuša, which is run by his wife, he was visited by Inspector Savić and Majstorović, the boss. Under the pretext of looking for smuggled gold, they've searched the premises and things without a court order.
"They did it arrogantly, scattering goods around," says Čović.
They found nothing. Majstorović gave her phone number to Čović and asked him to give her a call. Savić also left his phone number. Waiting for his silver and ducats, Čović called Savić a few months later to ask if he would return them, and he told him to call Majstorović: "She's the boss, she gave you the number!" Čović decided not to do that and instead waited for the court outcome in the regular procedure.
Inspectors and their bosses and ITA BiH leaders ignored CIN's calls to provide the journalists with evidence and arguments challenging the citizens' claims of extortion.
A year and a half later, in January last year, he received a misdemeanor charge from ITA for not having documentation on the origin of goods. In the report, his jewelry was estimated at BAM 3,233, and instead of 38 ducats, which he claims he had, it said 34.
"When I saw that, I felt a sharp pain in here" he recalled visibly upset. The jewelry that Savić and Puzić took away from him is estimated at around BAM 40,000.
Due to the stress of the search and several hours in the police station, he did not notice this when he signed the confiscation certificate. He says that he was forced to sign and did not look at what was written on the certificate.
"And so, the ducats are gone," Čović concludes.
Jelena Majstorović has been working at ITA BiH since February 2013. Ten years earlier, she was fired from NLB Bank in Prnjavor. The bank sued her for the crime and Majstorović was sentenced to a suspended prison sentence in 2005. She was 26 at the time. At her request, the conviction was deleted from the court records in 2016, by which time she had been working under a service contract for the ITA BiH for three years.
An employee of an institution in BiH may not be convicted of a criminal offense punishable by imprisonment of three years or more, while a civil servant may not be convicted at all.
Shortly after the verdict was deleted, in April 2018, Majstorović was hired as a civil servant in the Tax Department, and ten days later, Director Miro Džakula rendered an internal decision returning her to the Anti-smuggling and Misdemeanor Group, where she worked while she was hired on a service contract. At the end of 2018, Džakula temporarily appointed her head of the Group. She was permanently appointed to this position in 2020.