Reporter Jasna Fetahović from the Center for Investigative Reporting in Sarajevo (CIN), together with reporters from RISE Moldova, Dumitru Lazur and Olga Ceaglei, as well as the regional editor of the Organized Crime and Corruption Report (OCCRP) Miranda Patrucić, have become the recipients of the third award for investigative reporting as granted by UNDP Moldova.
A story about suspicious transactions between pharmaceutical companies from Bosnia and Herzegovina (BiH) and Moldavia was published in April 2016. Reporters put under the spotlight certain deals between a Sarajevo pharmaceutical company Bosnalijek and a Moldovan company Dita Estfarm worth nearly 5 million KM. Then Bosnalijek director Edin Arslanagić and Dita Estfarm director lurri Chirtoaca had signed cooperation agreements. Arslanagić gave bonuses and a discount to Dita Estfarm for selling Bosnalijek products and paid consulting fees to Chirtoaca. The Financial Police in Sarajevo examined the contracts and payments made by Bosnalijek to the Moldovan company and found that Bosnalijek promised to refund Dita Estfarm 10 percent of the total value of drugs sold. However, some of the money did not end up in the Moldovan company's accounts but appeared in the personal accounts of Dita Estfarms' director and his wife.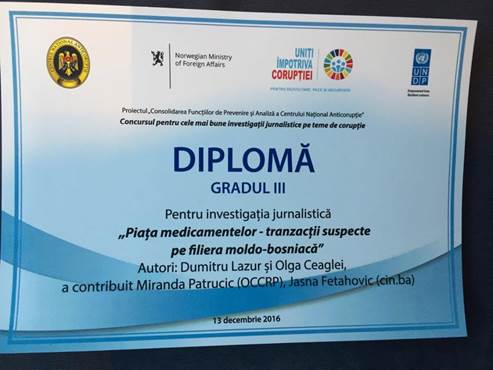 The story also took a close look of Stela Grama, the head of Bosnian pharmaceutical company's office in Moldova, who was the wife of Deputy Health Minister Octavian Grama. Moldovan anti-corruption agency CNI (Comisia Naţională de Integritate), established that Octavian Grama was in a conflict of interest because he was on a commission that had put eight Bosnalijek products on a state list of subsidized medicine.
The award was presented on December 13, 2016 during International Anti-Corruption Week. This year's call for applications featured forty-two submissions reporting on corruption, abuse of public funds and property and the lack of disclosure of assets and businesses. All submissions were published between January and October 2016.
The selection criteria looked into the complexity of investigations; the quality of records; data visualisation and whether stories were in line with professional and ethical standards.
CIN has published several stories about Bosnalijek in the past months. They reveal how Russian investors took over the biggest Bosnian pharmaceutical company, using suspicious payments and non-disclosed ownership structures and how the company piled up losses during the time Edin Arslanagić was at its head.