On a cold May day Jevrosima Simić from Kostajnica got ready to go for kidney dialysis in nearby Doboj. She could not imagine that several kilometers away, the Bosna River, which separated her village from the town, was running down the town's streets.
The river flooded the town and dialysis center where she had been going three times a week since 2010. The flood eventually reached her village which she had to leave and settle in a hospital in East Sarajevo for the following three months.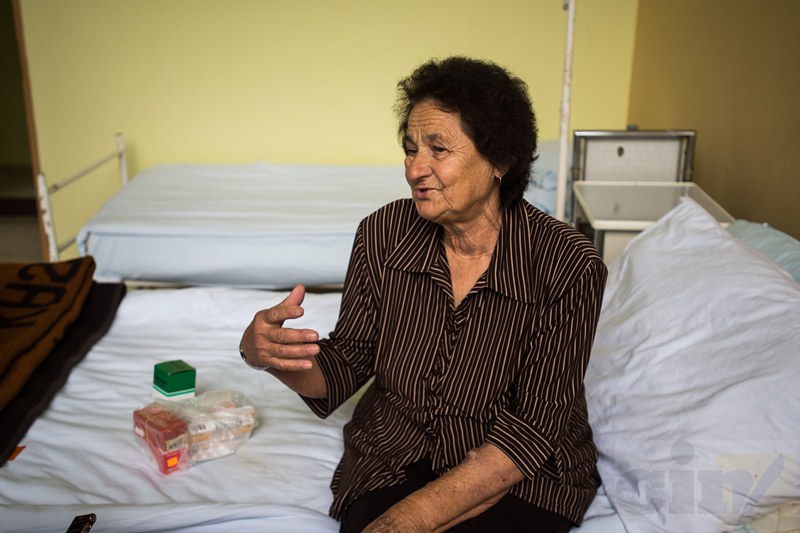 Rains that fell for days in Bosnia and Herzegovina (BiH) throughout April and May raised the water levels of the Bosna, the Drina, the Sava, the Sana, the Vrbas and others, flooding parts of at least 25 municipalities.
The flush floods and torrential rains set off thousands of landslides in nearby 90 municipalities. At least 21 persons died, while damages are assessed at about 4 billion KM.
Among the destroyed properties are four public health clinics and 34 satellite infirmaries. The landslides have caved in and cut roads toward the satellite infirmaries in highland villages.
Patients in the flooded areas cannot get all needed health services, so have gone to towns and institutions unaffected by the floods.
The damage in the Federation of BiH (FBiH) is assessed at around 4 million KM, though some cantons have only calculated damage to buildings while others have added in cars, equipment and drugs.
According to an assessment from the Ministry of Health and Social Protection of Republika Srpska (RS), the combined damage in private and public health sector in this entity amounts to between 20 and 30 million KM.
Hospital instead of House
Public health clinics and infirmaries in places hit by floods and landslides are working under emergency conditions: in dirty and destroyed facilities, without enough equipment or vehicles to transport the sick. Health workers are trying to offer basic services to the patients.
The center for dialysis in Doboj cannot accept all patients. The director of centers for dialysis in the RS-u Sanja Kozlik told the Center for Investigative Reporting (CIN) that patients from Doboj and Šamac are being accommodated in 10 municipalities in BiH and in Slavonski Brod and Osijek in neighboring Croatia.
Jevrosima Simić and three Doboj patients are in Kasindo Hospital. The 73-year-old woman recalled for reporters the moment when water began pouring into her village. An ambulance van driver called her. He was supposed to pick her up and take her to dialysis. He told her that the water level was high and that there would be no dialysis and that she should take care about her food and not drink much liquid. Police came the following day and took her to a neighboring village of Osječane. In haste she took only her pajamas and medicine.
She and five others were taken from there by helicopter to Sarajevo and then to Kasindo Hospital in East Sarajevo. "The vehicle came for us. It drove us here, and we have been here ever since," said Simić.
For 10 days she had no contact with her family, then finally called them on a borrowed phone to let them know where she was. There is no going home for good for her until the dialysis ward in Doboj is restored.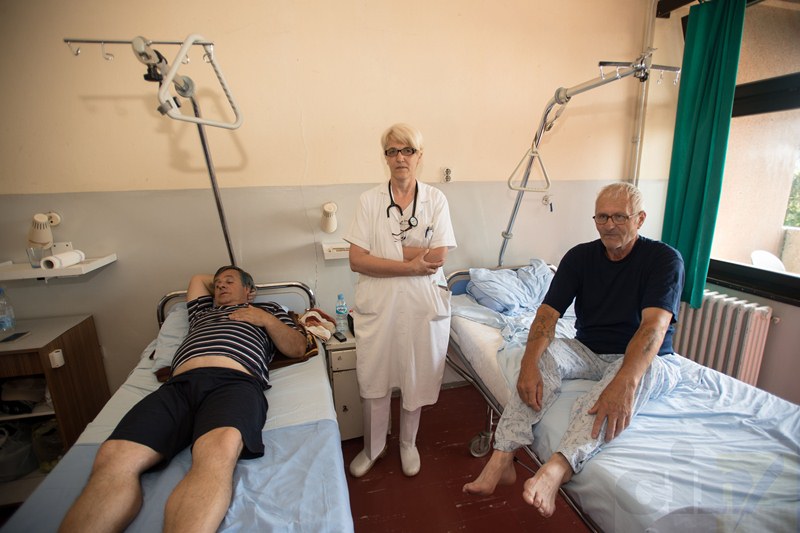 She visited her house a month after she'd been at the hospital. Even though Kostajnica suffered damage in the flooding, her house, on a hill, was not submerged.. She visits twice a month when she and other patients are picked up by an ambulance car from Doboj Public Health Clinic.
Out of all the clinic's movable property, they are left with three operating ambulances. The rest has been destroyed or damaged. The clinic's deputy director Anđa Sušić told CIN that they suffered damages worth more than 3.5 million KM.
The public clinic was submerged up to the second floor – five meters' height – and water destroyed several wards, the pharmacy, mammogram, heating boilers, patients' files, laundry etc.
Of all the health institutions in Doboj, just two private pharmacies and the General Hospital of the Apostle Saint Luke remained untouched. That regional hospital has received patients from public health clinics in Šamac, Derventa, Brod, Modriča, Teslić and Petrovo.
After flooding in Teslić, Marin Rašić was also taken to the hospital. "I had a cardiac arrest. I came here from Teslić, from Doboj immediately to Banja Luka. I had one stent inserted (into a coronary artery) and then I returned here to Doboj," said Rašić. Everything went according to plan, he said, and he had no problems waiting for a vehicle.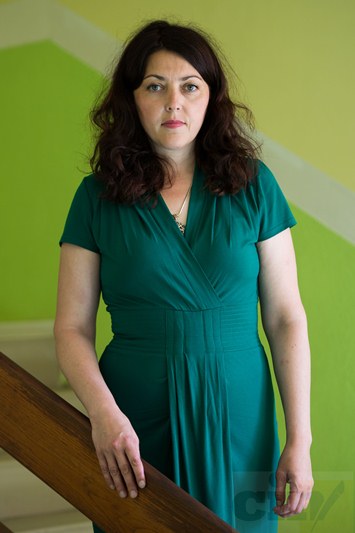 Three Vehicles per 26,000 Inhabitants
If they found themselves in the same emergency as Rašić, patients in the Maglaj area would be in a bind. In May the Bosna almost totally submerged the town, and flooding reoccurred in July.
The water destroyed a local public health clinic and did about 1.8 million KM damage. A diagnostic center, the boiler room, all apparatus and accompanying equipment, three emergency vehicles, two cars for house visits, an official car and another belongings in the hygiene and epidemiological services center were all lost. All that's left In Maglaj, which has about 26,000 inhabitants, are three ambulances more than 20 years old.
"Mostly there are traumas, cardiac arrests, brain hemorrhages…" said Maglaj Clinic's director Emira Drnda-Čičeklić. She said that transporting patients is one of the harder issues they're facing. Their vehicles are in operation 24/7 taking patients to dialyses or chemotherapy to hospitals in Tešanj and Zenica, 40 km and 60 km away.
The clinic is not coping only with a lack of vehicles and apparatus. The building itself is in a decrepit state. No doors or windows can close, a big problem with cold weather approaching.
The FBiH Health Ministry has sent a machine for blood analysis which they installed in a dirty room without doors and windows. Along with the apparatus they received only a small amount of reagents, liquids necessary for the machine to work.
The head of the lab Elvir Vehabović said that, besides reagents, they lack equipment which makes them unfit for normal work, including microscopes, dishes, and refrigerators. "Currently we have two fridges, ordinary ones, but that fridge has to keep a certain temperature for preserving reagents. So, it must be digitalized in order for it to be controlled, so that the reagents do not go bad," said Vehabović.
What they cannot do themselves, such as lab and diagnostic checks, they send to the nearest hospitals.
Without an Infirmary because of a Landslide
Unlike the nearby Topčić Polje, which has been largely destroyed in flash floods and a land slide, Zenica has not suffered much. Its health institutions function as before – yet now more patients are coming in from flooded areas. That includes patients from the Olovo neighborhood of Careva Ćuprija. The Krivaja River there took away a bridge thus cutting a road. For 20 days, the local infirmary was cut off from the Olovo public health clinic to which it belongs. Thirty-two kilometers separate the two facilities.
During the flooding, patients were taken across Zvijezda Mountain to Vareša and then to the Zenica Hospital, about 150 kilometers one way.
The clinic's Ranka Žunić said that a stroke patient was taken by that road and survived. She said that there were between 60 and 70 patients every day. The infirmary does not have its own ambulance, so around 1,700 inhabitants must find a car and a driver in case of sickness.
Villager Ejub Mujezinović, who lives with his wife and two children, said that he felt frightened during the floods. "It was an emergency situations, just like the war," said Mujezinović. He said that he had never seen the Krivaja so high. He was afraid that somebody might get sick, because under normal circumstances, his house is 40 kilometers from the Olovo clinic.
Izudin Kućanović, director of the Olovo clinic, said that the doctors from the Zavidovići and Banovići infirmary visited the one in Careva Ćuprija during the flooding. Because of the destroyed bridge, a team from Olovo health clinic spent between 2.5 and three hours in an SUV to get there.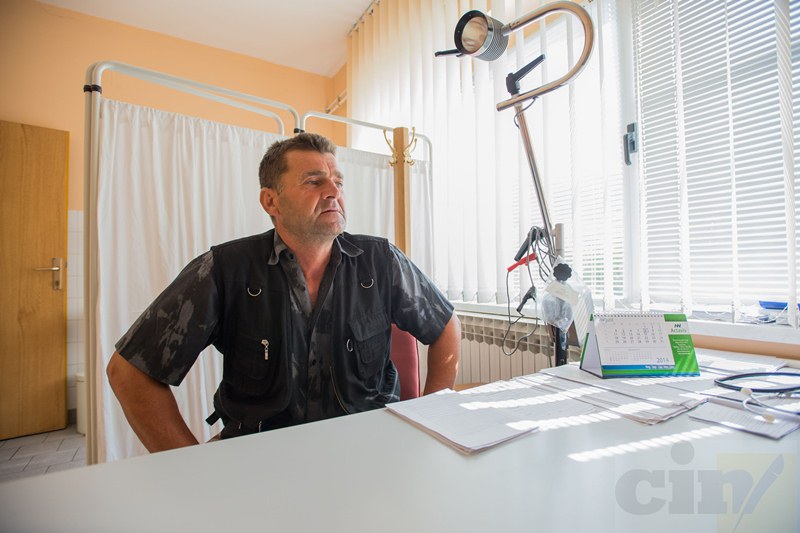 No Concrete Plans for Restoration
Public health clinics and infirmaries hit by May or July floods have still not received aid nor plans for clean-up from the relevant ministries. So far the biggest assistance has come from international organizations.
The public health clinic in Domaljevac, which suffered damage of around 200,000 KM, received a promise from UN Development Project (UNDP) for pay for construction work and it also applied for Japanese Embassy funds.
The clinic director Mario Pranjić said that the population had to be evacuated in their vehicles as well during the floods and water took out all the diagnosis equipment, which had been on the first floor. He said doctors worked until mid-August in makeshift infirmaries in elementary schools' rooms, but because a school year is about to start, they have returned to the clinic.
Health Insurance carriers will shoulder the costs of treating patients accommodated in hospitals or provided health services outside their cities, said Goran Todorović, director of Kasindo Hospital.
Todorović said that the patients from Doboj will be treated just like local people hospitalized. "The patients have not been exposed to the expenses, absolutely."