Professor of Defense and Security Studies and a Cantonal legislator, Omer Škaljo, has been in charge of the Zenica-Doboj Canton Health Care Insurance Fund for the past five months.
Škaljo was appointed the Fund's head after he cast a decisive vote for the constitution of the Cantonal government. In order to return him a favor, the new government modified the Fund's vacancy procedure so that he could become a director of the institution in charge of 190 million KM of taxpayer money.
"I think that was a political decision," said a member of the Fund's Board of Directors, Slaven Radoš, confirming that this was done in order to appoint Škaljo.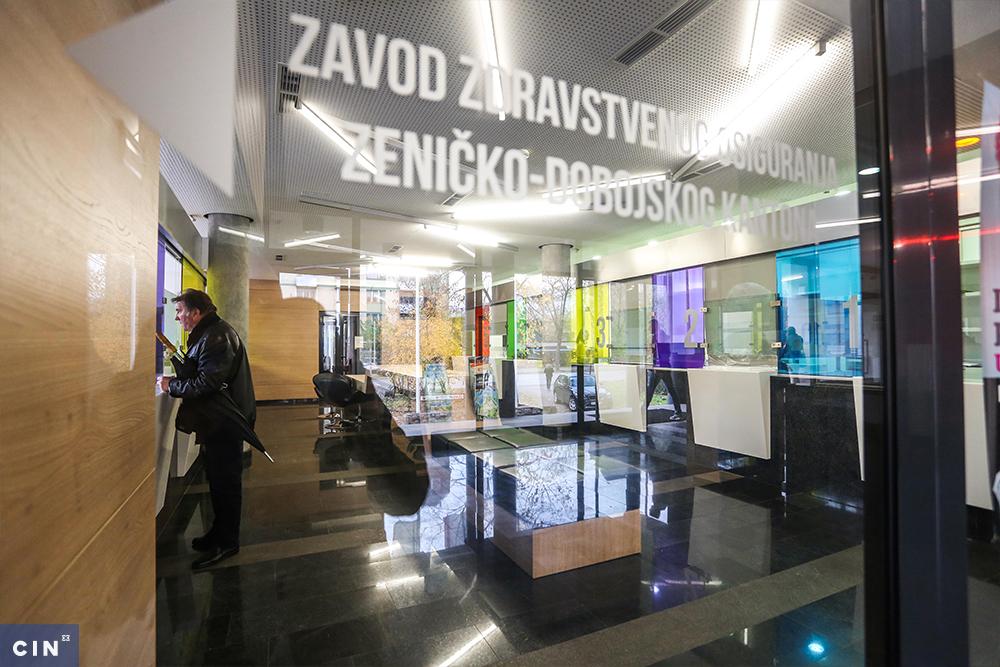 Swapping Parties and Political Trading
After the last elections in the Canton, the clock was ticking to set up a new government. Party for Democratic Action (SDA), Croatian Democratic Union of BiH (HDZ BiH), Party for BiH (SBiH) and Party of Democratic Activity (A-SDA) have formed a coalition.
However, the new coalition had 17 out of 35 legislators and they needed one more vote to constitute the new governing majority in the Assembly. Then representative of the Independent Block, Škaljo, turned out to be the best choice for negotiations.
Škaljo had been for years an SDA representative in legislative bodies. In 2010 and 2014 he was elected a legislator for the FBiH Parliament. Before the end of his 2014 term, SDA terminated his membership because he violated its rules by taking 15,000 KM in severance from the FBiH Parliament while continuing to work.
CIN reported about Škaljo also last year. Reporters uncovered that the FBiH Parliament paid for his accommodation in Sarajevo even though he owns an apartment there. He did not disclose this in order to collect accommodation, utilities and transport allowances. Over four years he thus earned around 35,000 KM of taxpayer money.
Before new elections, Škaljo quickly found a new party: he joined the Independent Block and won a term in the Zenica-Doboj Cantonal assembly. However, he was kicked out because in the beginning of 2019, he didn't consult his party before signing the document on the constitution of the government with the new coalition members. Škaljo kept his office by becoming an independent legislator.
He soon threw his lot with the A-SDA caucus, which apart from him had two other legislators in the cantonal assembly. One is Amra Jupić, the wife of the current cantonal minister of health care and A-SDA member Adnan Jupić. He turned out to be the main person behind Škaljo's appointment.
Before the Fund's bylaws were modified, eligible candidates for director were expected to have a degree in Economics or Law and at least five years of relevant work experience — three of those five years had to be spent in the managerial positions. Škaljo did not meet these terms.
In 1987, he graduated from a two-year academic course in defense studies at the School of Political Sciences in Zagreb and received a title of professor of defense and security studies. According to his official CV, for the most of his career, he worked in law enforcement and intelligence agencies.
Political Terminations
Around two months before Škaljo's appointment, the Fund's bylaws regulating the appointment of director were modified. The vacancy published at the end of this June read that a prospective candidate should have an associate degree in humanities and five years of relevant work experience.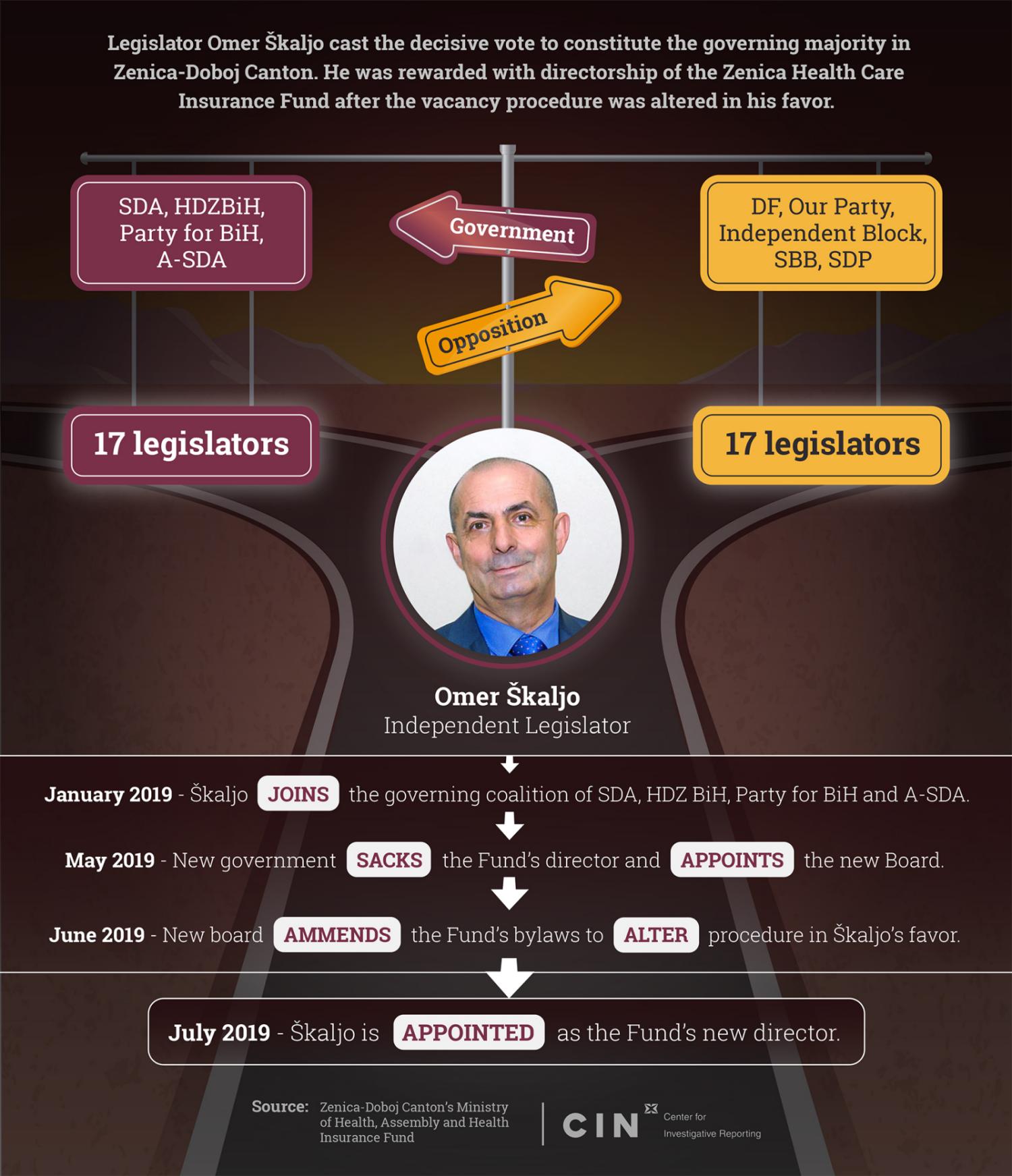 The modification of bylaws was preceded with the sacking of the Fund's Board. Then the Government appointed a new one for the period of no longer than three months which terminated the Fund's director Mirzeta Subašić, who is a member of the Alliance for Better Future in BiH (SBB BiH).
Former president of the Board, Nermina Krzić, told CIN that this was a political termination.
The first thing those in power do is to look into job classification explains Krzić. "In politics, regardless of how they performed, there is no accountability," says Krzić. "There's no accountability, whether they worked positively or negatively".
The Cantonal government soon appointed the Fund's long-term employee Haša Begić as an acting director.
Soon after she took office, Begić proposed the Board to modify the charter's eligibility criteria. The Board did that with the approval of the health care minister who was Škaljo's party colleague. None of them accepted to be interviewed for this story.
Board member and SBB councilor Jasmin Hodžić said that the Board was informed that the previous charter was discriminatory because only lawyers and economists were eligible.
"Now when you look at it, all those in Bosnia and Herzegovina, all appointments unfortunately have some political component to them," said Hodžić.
Begić declined to elaborate why the charter was modified. "I worked in line with the law," said Begić.
Apart from Škaljo, only the former director Subašić applied for the job, but she was refused on account of incomplete paperwork. She did not want to speak in more details, because she's appealing.
Škaljo was appointed the Fund's director on July 25, 2019. A-SDA legislator Jupić said that chapters were modified in the past, but they were not so open. "Now we have a wide range of people who are sufficiently professionally competent to apply…for this post."
SDP BiH legislator Rifat Delić said that the charter was modified so that Škaljo would be eligible to apply for directorship.
"That's more than obvious that he's in that majority to get appointed," said Delić. "That's clear."