Government health care systems in the Federation of BiH (FBiH) and the Republika Srpska (RS) spent nearly 1 billion KM last year, much of it coming from employee taxes that went to 13 different health funds in the two entities and the Brčko District.
Much of the money promised to health care institutions by insurance funds and governments never arrived. Hospitals and clinics were left to survive on their own.
Meanwhile, insured patients have paid millions more in unrecorded bribes and tips desperate to guarantee themselves a minimum standard of care in an increasingly dysfunctional system.
Doctors, patients, nurses, hospital directors, and prosecutors all see a different health care system through their own eyes. But all of them seem to agree that the system has become unmanageable, scandalously wasteful and ultimately dangerous to patients.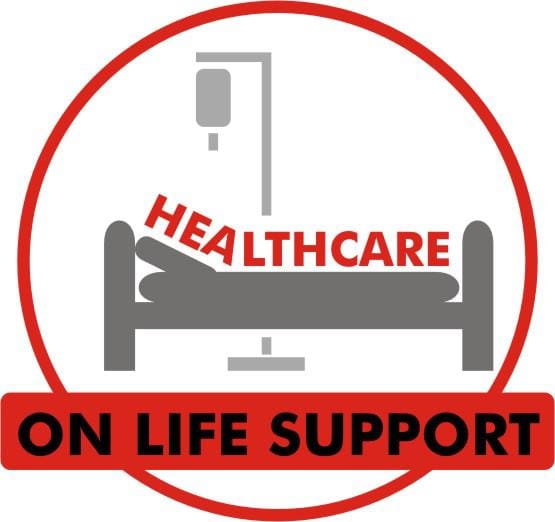 For one month a team of nine reporters from the Center for Investigative Reporting in Sarajevo (CIN) visited hospitals and clinics and talked with the people who work and are treated there.
The CIN team project is really their story.
Last August, Dragana Vuleta was back in Prijedor Hospital for her second operation. The nurse was preparing the 27-year-old Vuleta for the gynecological procedure when the doctor came in to the room and said he had no surgical thread.
He said he would need 150 KM for the operation, Vuleta later alleged to police. Vuleta said she pleaded with him to go ahead with the operation and she would get the money the next day, but he refused.
In desperation, Vuleta's husband went to his boss to borrow the money so the operation could go ahead the next morning. The boss agreed but only if they also called the police, Vuleta said in an interview. The money was allegedly paid the next morning and the operation went ahead. But police had marked the bills, said Prijedor prosecutor Vukašin Kondić.
The night before, when her husband saw his wife's face swollen from crying, he was angry. The couple, who are from the village of Srednja Marićka close to Prijedor, have a seven-year-old child. Dragana Vuleta was unemployed (she got insurance through the unemployment agency) and her husband had a small contract job with the army. For the young couple, 150 KM was a lot of money for health care that was supposed to be paid for with insurance.
Since the operation, Vuleta said she avoided the hospital even after she became pregnant with her second child. She has simply lost faith in the health system.
'I was lucky not to have any complication in my pregnancy, but if I had I wouldn't have gone to Prijedor Hospital' Vuleta said.
When the police burst into his office that morning, Dr. Mladen Stojnić, chief of surgery at the hospital, said he was resting on his couch after a particularly difficult operation. A moment before, he said Vuleta's husband had put the bills on his desk and left before Stojnić could get up and make him take them back. Then police came through the door.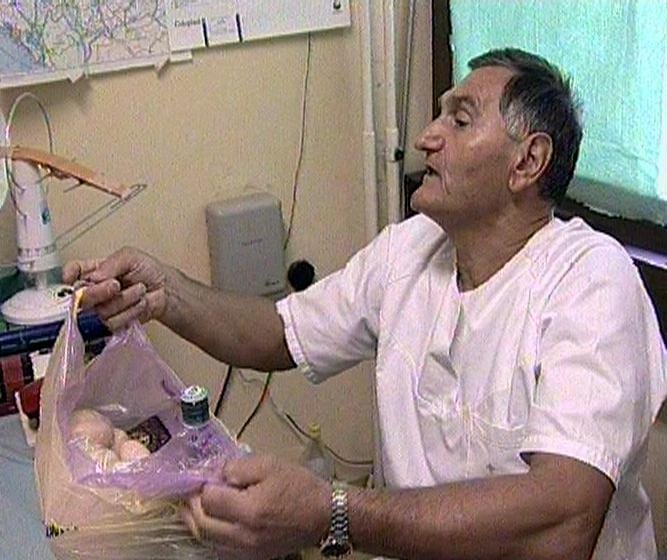 Stojnić, who adamantly denies the charges that he solicited or took money, now faces the possibility of becoming the first doctor to be convicted of accepting a bribe since the war, according to prosecutors. His trial is set to begin soon.
The 60-year-old surgeon, who farms his family's land in his spare time, has a 580 KM monthly salary, which increases to 1,100 KM with his on-call duty.
His colleagues have told Stojnić that they think he was set up by his patient and police, Stojnić said.
'There are colleagues who do take (money)' Stojnić said in an interview with the CIN team. 'In Banja Luka they take 2,500 KM for a surgery. I have never charged anybody, but if someone offers me something on their own, I take it.'
His son is a urologist, and his daughter is a graduate of pharmacy school. Stojnić said he was disappointed with younger colleagues who are tempted by bribes because they are concentrating on money rather than health care.
'Nowadays, doctors would like to have everything right at the moment – an apartment, a good car, etc' Stojnić said. 'I have a young colleague who recently bought a new (luxury car). That seems a bit greedy to me, although the traditional wisdom has it that the doctors should be given money.'
Stojnić is like many other doctors who have said that taking money from a thankful patient, before or after they get help, is not a bribe, which they deplore. According to doctors who hold this view, accepting gifts is a tradition and not one they need to stop if patients continue to offer.
But the law and the code of medical ethics both clearly make it, respectively, a crime, and a reason for a doctor to lose his license, if he demands anything beyond his salary and the satisfaction of doing his job.
That gives the Prijedor prosecutor only one way to see the allegations in the Stojnić case. The charge that an operation was delayed for a payoff is more serious than a matter of custom or tradition to prosecutor Vukašin Kondić.
A patient's life could be at risk, said Kondić, who as a prosecutor and a judge for 19 years, has dealt with at least 10,000 legal cases.
Kondić, who is married with one child, said his family has never been faced with a demand for a bribe. But even Kondić has been touched by tradition. After a minor surgery, Kondić said, he bought the doctor a drink.
Prosecutors may have the luxury of viewing health care ethics with the clarity of the law. But medical administrators do not.
Clinic and hospital directors see the health care system from many sides, although they are often doctors themselves.
Dr. Alija Strika, director of Zenica Hospital, is a well-known radiologist who has traded his X-ray machine for the headaches that now come across his desk.
The most recent problem on that desk came from the gynecology department, when an anonymous patient accused a doctor of soliciting a 300 KM bribe. Strika, who has been at the hospital for 14 years, is adamant that his staff will follow a high standard of medical ethics.
But on one side, the Zenica-born 43-year-old Strika has to confront colleagues that consider ethically-questionable habits and customs as tradition. On the other side, he has to deal with patients who are afraid to take action against their doctor.
Before Strika could forward the anonymous patient's letter to the police, the patient signed a statement rescinding the bribery charge against the gynecologist. Strika then made the complaint on his own to the Prosecutor's Office of Zenica-Doboj Canton, and gave them the patient's name. Police are now investigating the case, according to chief prosecutor Muris Hadžiselimović.
When Strika took over as director, however, medical ethics were not his biggest problem. Like administrators at every level of the health system who were interviewed by the CIN team, there was hardly enough cash to keep the doors open. The hospital was 2 million KM in debt, Strika said.
But one year and a half after he took over as director, he has cut the debt in half, Strika said.
The health systems in the FBiH and the RS have not done so well. The insurance funds in the Federation and the RS are owed millions by the public and private companies that are supposed to deduct insurance payments from employee paychecks, according to the funds' 2003 financial reports.
Auditors' reports complain that no one really knows how much is owed and a lot of the spending is not properly accounted for.
Strika and other institution directors in both entities are left with the deficits. The red ink flows down the chain of bureaucracy from the unpaid insurance payments, to the insurance funds and government budgets that do not provide promised funding, and finally to the clinics and hospitals, which cannot pay their bills.
Somehow administrators like Strika find a way to make progress. Along the way he demoted 12 department chiefs and increased the budget by five times for food served to patients.
Some of the medical staff who have gotten used to 'loose practices' are not happy with the changes, Strika added.
But Strika is committed to the hospital's future.
'I am an offspring of this hospital' said Strika, who has spent his whole 14-year career at the Zenica institution.
Željka Milanković has been watching the health care system from patient bedsides for 27 years. The 46-year-old head nurse at the cardio-surgery ward of Sarajevo Hospital remembers when the closest thing to a payoff to nurses was the patients' donation of fruits and baked goods they had not finished during their hospital stay.
The idea of a bribe is a new thing in this country, Milanković said. And in keeping with the times, Milanković added, it is common now for patients to secretly give expensive coffees and candies to the nurses.
Many patients have to see the public health care system from the outside, where a tip or a bribe, if they had the money, would do no good.
Ljerka Gavez is sick.
She is an 88-year-old retired professor of comparative literature, born in Zagreb but living in Sarajevo for more than 50 years, and lives on her own.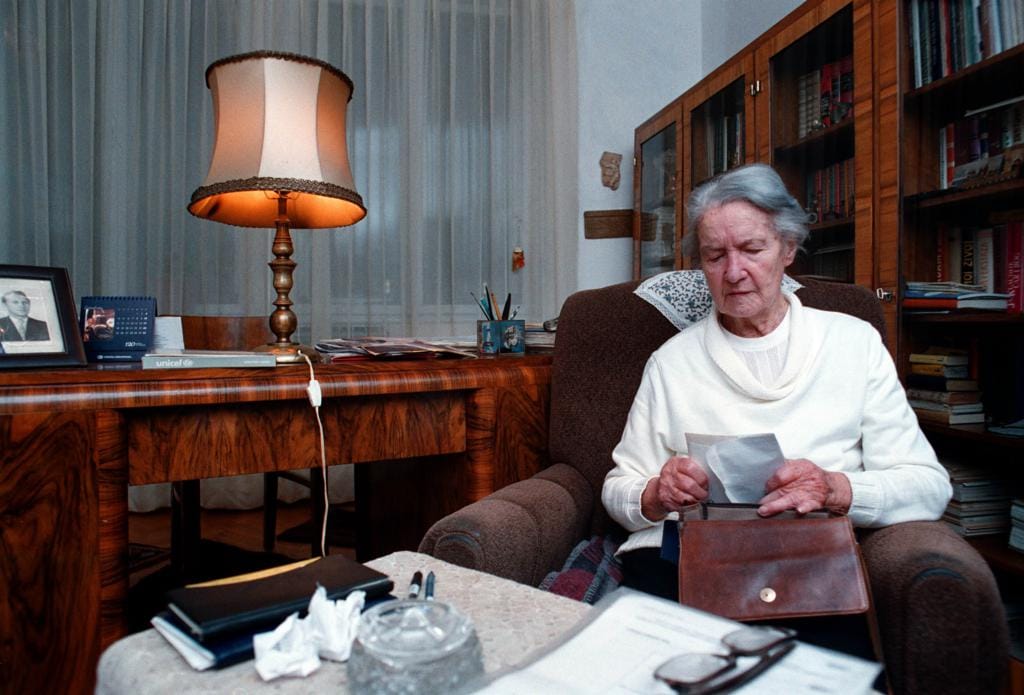 But over the past 10 years, as she grew older, she has had some serious health problems. She broke her right hip and knee, and suffered nerve damage that forced her not to leave her home for a year.
Before the war, Gavez said, she had everything, even health care. Now, old and uninsured, the most the health care system can give her is a right to free drugs, and even some of these she must still pay for. Without insurance she must also pay for a private doctor.
Gavez hires a woman to help her with her meals and to clean the house and pays her half of her 400 KM monthly pension.
She does not own her large apartment in the center city, with fine things from another time, so it cannot be sold for income.
While the health care systems in BiH were spending 987 million KM last year, Gavez was selling off the only things she has left, her possessions. The encyclopedias, art works and other items went to pay for health care.
Bosnia's health care system is slowly emptying her rooms of everything.
'At the most difficult moments I say to myself – you have bread every day and you are not cold!' Gavez said quietly.
First published on December 9, 2004