Workers from Sarajevo Canton Water and Sewerage Company disconnected water to the luxury hotels and spa resort complex in Ilidža, near Sarajevo, owned by politician and businessman Alija Budnjo.
Since 2018, these facilities have used fresh water from wells drilled on the hotel complex's compound without authorization. At the same time, they were also connected to the public water service. Because of this "double dip" they did not pay for, Budnjo's firms' debts rose to 640,000 convertible marks (KM).
The water utility first disconnected the water supply to the hotels and spa resort in December 2019. However, the Municipal Court upheld the businessman's complaint and ordered the water supply to be restored.
Following the utility company's appeal, the Cantonal Court in Sarajevo ruled that the water should be cut off after all.
Accompanied with security personnel, Budnjo tried to stop the utility company's workers from reaching the main valve. He cursed reporters and threatened to smash their camera if they were to continue recording the disconnection.
"There is no double dipping here, there is either the water supply system or the system we drilled," Budnjo told CIN reporters. "Let them bring me just one bill that shows my debts and I will pay it all right away."
Government Gets Nothing, while Budnjo Gets Millions
Prior to the disconnections, the public authority's CEO Enver Hadžiahmetović invited Budnjo to enter a payment plan. Hadžiahmetović asked the businessman to let the utility's workers check whether there is "double dip" after Budnjo prohibited his workers from entering the hotels and spa's compound.
Hadžiahmetović also announced that the meters which Budnjo's firms have used without authorization will have to be sealed to guard against possible misuse of public water.
However, the utility company's representatives and Budnjo's lawyers could not find common ground and the water was disconnected.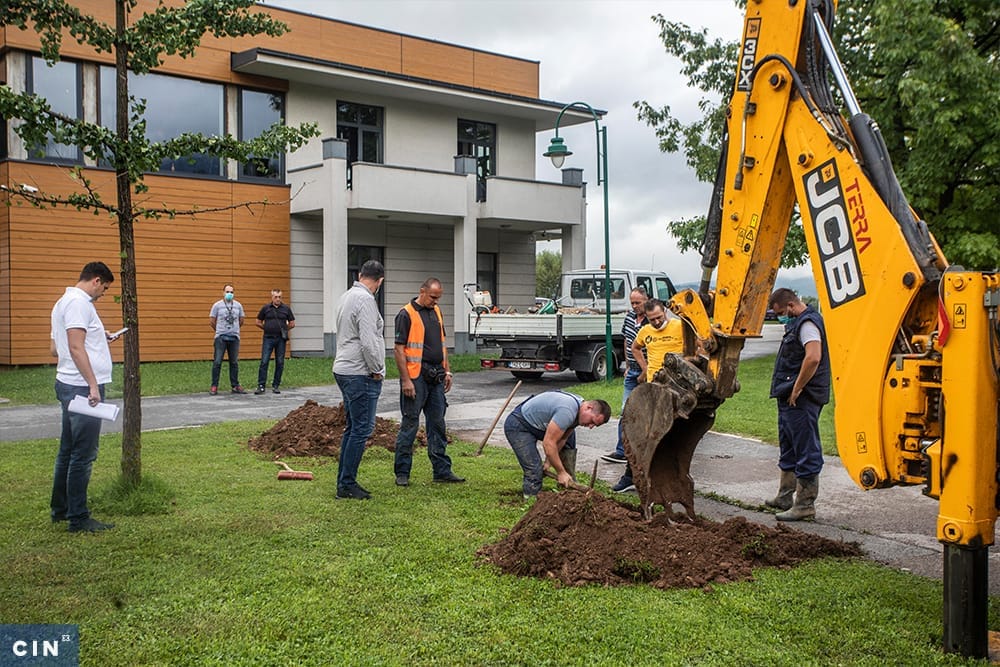 Budnjo maintains that he did not use the water without authorization and that he's a victim of a political game. Until recently, he was Vice-President of the Party for Democratic Action's Cantonal Board. Until now, the Water Company had not pressured the businessman to pay his debts.
"The water authority was always under political influence. When a party would seize power it would appoint its CEO and board. They even have their engineers and those in charge of disconnecting," says Hadžiahmetović. "'Budnjo? Don't touch Budnjo". It's not done as per the regulations but completely legal ad hoc. And it's been like this the whole time."
This March, the Center for Investigative Reporting (CIN) in Sarajevo wrote about illegal water extraction because Budnjo failed to obtain a concession contract and a water permit. Thus, he paid no fees to the government.
Apart from freshwater extraction, reporters uncovered that Budnjo has been extracting over the past 16 years thermal spring water from two natural reservoirs to heat five hotels and a spa resort for which he paid no concession or other related fees.
During that time, his party peers, who headed the ministries and Sarajevo Cantonal government, enacted laws and decisions which were contradictory, thus creating legal chaos that Budnjo used to avoid paying dues.
At the same time, Cantonal and FBiH institutions did business with Hotel Ilidža and Spa Terme: they made contracts worth 9 million KM over 16 years.
Budnjo told CIN reporters that he owes nothing to the state and that he spent his own money to secure the geothermal springs and that people normally get rewarded for that.
"I will pay everything that I owe to the state. I was the first person to defend this state. I love this state. In fact, in my mind, the state comes first", said Budnjo.