Bosnia and Herzegovina (BiH) and the Sarajevo Canton must pay Boris Farkić BAM 274,400 as compensation for the damage caused by Judge Lejla Fazlagić by deeding his mother's property, said the first-instance ruling of the Court of BiH.
Boris Farkić, a doctor from Loznica, filed a lawsuit in 2019 claiming indemnification for damage caused to him by illegally deeding the house and land in Sarajevo that belonged to his late mother Sara Šarika Farhi.
The then judge of the Sarajevo Municipal Court, Lejla Fazlagić filed a lawsuit against Sara Šarika Farhi in 2013, signing it with the maiden name of her mother, who died in 1988. After a fake court dispute in which forged documents were used, Fazlagić ruled in favor of her mother, who is registered as the owner of Sara Farhi's property in the Alifakovac neighborhood.
To keep the house in her mother's name was too risky for Fazlagić, so the judge came up with new litigation. Soon, Arif Ibrahimović, Fazlagić's plumber and painter, filed a fictitious lawsuit against her mother, claiming that the property belonged to him. In mid-2015, Judge Milena Rajić awarded Boris Farkić's inheritance to Ibrahimović, explaining that Fazlagić's mother approved the lawsuit. In 2016, Ibrahimović sold the house to a Sarajevo businessman Almir Hamamdžić for BAM 180,000, who built a hotel in that place.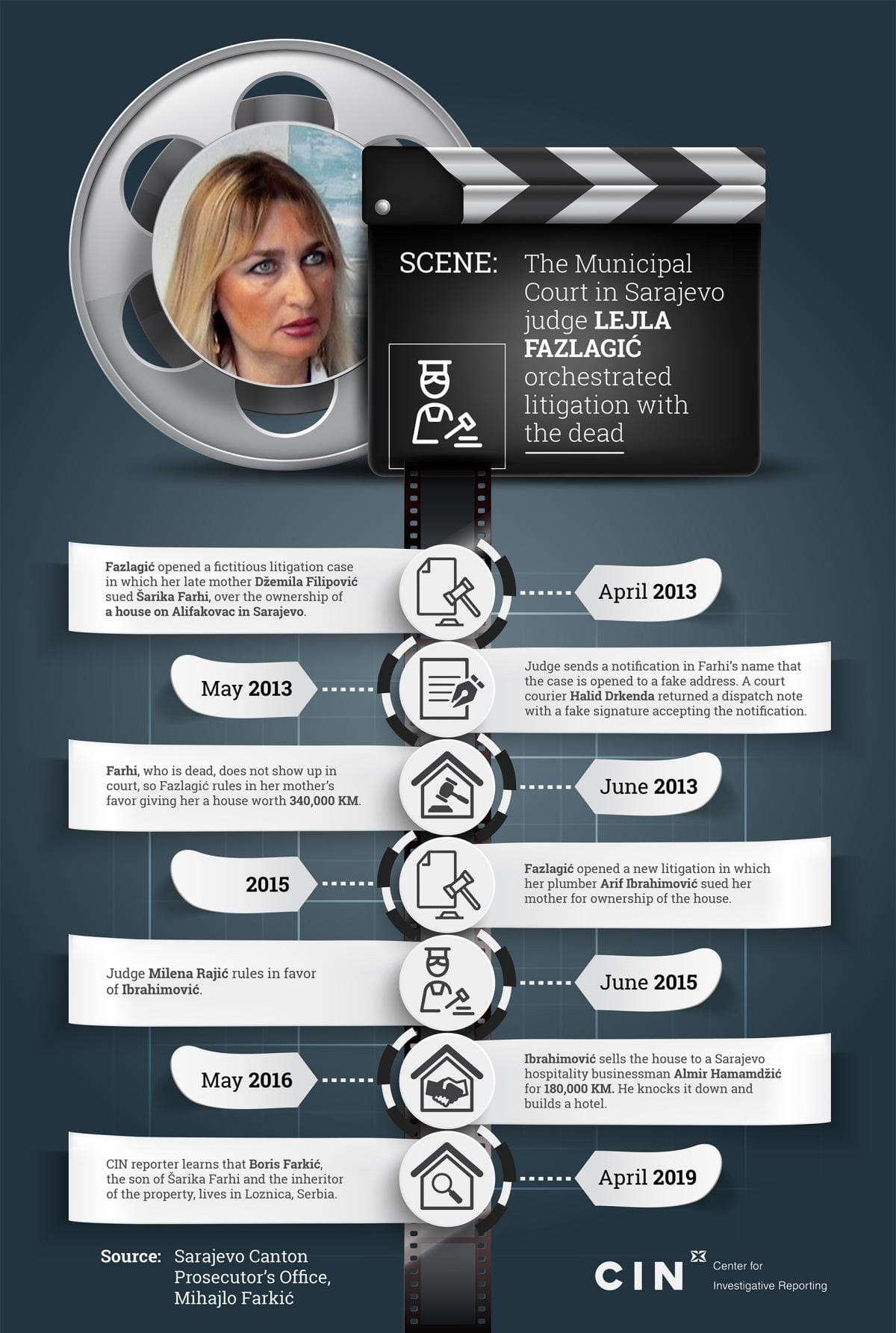 Although the Sarajevo Canton Prosecutor's Office initially estimated this property at BAM 340,000, Boris Farkić demanded indemnification of BAM 274,400, as appraised by the court expert witness from December last year. In his lawsuit, he referred to the principles of the rule of law, according to which he can seek compensation for the illegal and improper work of judges.
In April 2019, the Center for Investigative Reporting (CIN) wrote about the wrongdoings of former judge Lejla Fazlagić, who is currently in Croatia. The Sarajevo Canton Prosecutor's Office filed an indictment against Fazlagić at the beginning of 2018 for illegally deeding dozens of real property owners in Sarajevo in the period from 2011 to 2016. It was the property of the killed Sarajevo Jews, other dead Sarajevans, and some firms. As a result of the rulings rendered by Judge Fazlagić,19 properties worth nearly BAM 8 million were illegally deeded, said the indictment. She herself appropriated two properties in downtown Sarajevo. Her plan to sell the apartments was foiled by the Sarajevo Canton Prosecutor's Office blocking her assets.
"For me, this whole case is a show trial and I will prove that. I will return to my Sarajevo. I will become a judge again", said Fazlagić.