Proud of the success of their national diabetic futsal team, Bosnians and Herzegovinians affectionately called them the sweetest national team. However, the time has shown that the success of these sports heroes was not the result of a fair play and that their victories were not sugary enough for the glory.
By smuggling players who do not have diabetes, the national team won the title of DiaEURO Championship three times from 2016 to 2019, some team members explain to CIN journalists.
The national team thus violated the fundamental rule that only diabetics can play at the diabetic championships.
Former futsal selector Saša Vitković and player Zijad Karčić claim that it was the founder of the team and the club Dr. Midhat Mujić who allowed the fake diabetics to enter the national team.  He is a pediatric diabetologist at the Sarajevo University Clinical Center (KCUS) who issued medical certificates to healthy adult players and gave instructions on how to fake the disease.
Mujić was sending the championship organizers medical certificates informing them about the diagnosis of the players, the accuracy of which was guaranteed by KCUS. He certified the documents with his own and the seal of the Pediatric Clinic. The CIN journalists found several medical certificates that confirm these allegations. However, the Pediatric Clinic officials do not support these medical findings and claim their employee was not allowed to use the seal of the Clinic for private purposes.
CIN journalists waited for several weeks for an interview Mujić promised them, but ultimately, he just briefly said that all members of the national team are diabetics – as confirmed by medical findings of other diabetologists – but that some players did not want to accept it.  "I'm telling you, they all hide having diabetes."
However, in the medical documentation of four members of the national team that the journalists had access to, apart from Mujić's medical certificates and one medical finding, they did not find any other medical findings.
Although he promised to provide the medical findings of other doctors that corroborate his claims, Mujić did not do so.  The CIN journalist spent a month intensively trying to arrange an interview with him, and on two occasions he met him in front of the Pediatric Clinic. Each time, he promised to explain the details of the issued medical certificates, but he never did. In short conversations, he gave contradictory information. Initially he confirmed to have used the seal of the Pediatric Clinic on his medical certificates, but later denied doing so.  During this period, Mujić was hospitalized, and he even accused the CIN journalist of causing him the health problems.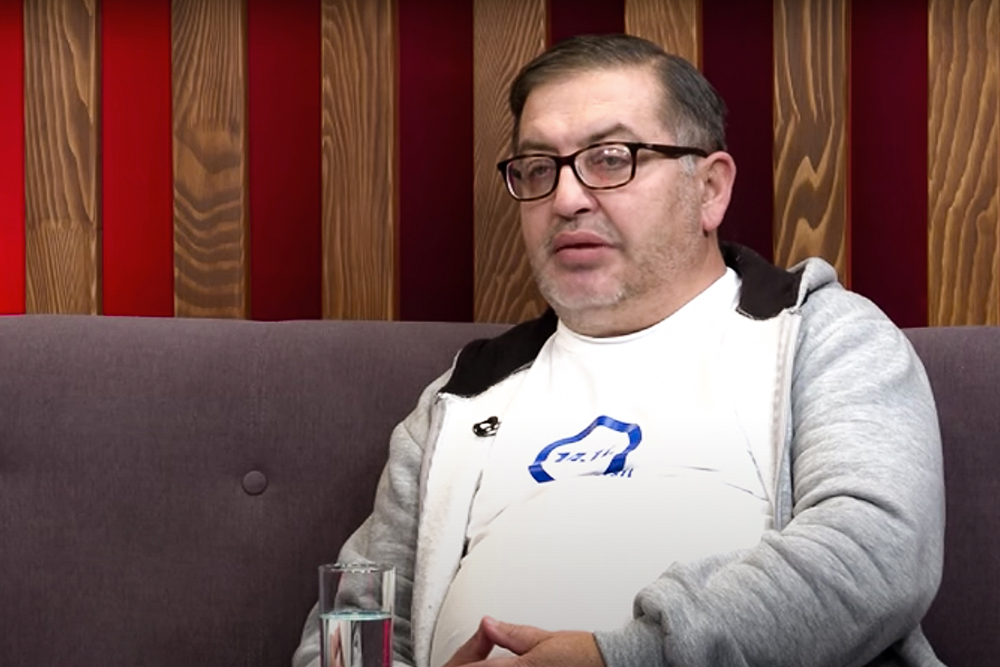 Disease Existing On Paper Only
Former futsal coach Saša Vitković says that the team – to which initially only diabetics were invited – played the first European Championship in Cluj, Romania in 2015, where they won the fourth place. Things changed already next year at the championship in Sarajevo.
The BiH team won their first European champion title at home in 2016, and Sedin Mulaosmanović Kenedi made his debut on the team. Two former players of the national futsal team claim that this player of the first league futsal club Željeznica from Trnovo is not a diabetic.
The chronic disease section of his electronic health record contains no information on diabetes, while medical certificates and findings signed by Dr. Mujić abound in contradictory information.
According to the medical certificates, Mulaosmanović first developed a more severe form of diabetes – type 1, and then a milder one – type 2.
According to Sarajevo diabetologist Mirza Osmanagić this is almost impossible. Type 1 diabetes results from the destruction of certain pancreatic cells thus leaving the pancreas unable to regulate sugar, which is why the patients must take insulin, while type 2 diabetics usually regulate their blood sugar level with medicine.
"It is quite difficult for us doctors to imagine that Type 1 could change to Type 2", says Osmanagić, adding that there is always the possibility of misdiagnosis.
According to former national team selector Vitković, there was no mistake, but medicine was not in the foreground anyways.  He says that Mulaosmanović was his neighbor from Trnovo and that he had brought him to the national team knowing that he was not a diabetic.
"We were one player short and I brought  (…) Mulaosmanović. I brought him in because I was told that we needed a player, one player. But he was not a diabetic. However, the paperwork was completed as if he was a diabetic", says Vitković who confirmed that the papers were produced and certified by Mujić.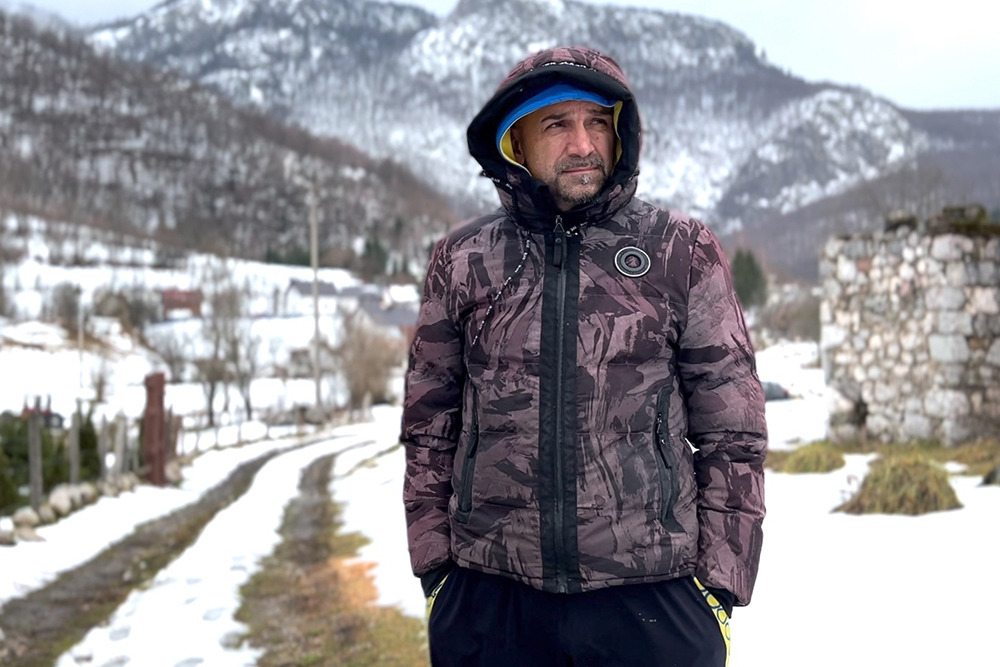 Mulaosmanović was upset over questions about his health. At first, he agreed to talk to CIN journalists, but later changed his mind and told us to contact Dr. Mujić. In a short conversation, he said that he was a diabetic, but he refused to present the medical findings to corroborate this claim: "Of course that I am [a diabetic]. I was diagnosed 3-4 years ago. I am a type 2 diabetic. Why do you investigate me now?
His medical record provides contradictory information about the time of his diagnosis, but none of the documents confirms what Mulaosmanović said.
Acting And Lying
After the championship in Sarajevo, Sedin Mulaosmanović missed the 2017 Championship in Bucharest, but Zijad Karčić and goalkeeper Amer Šarić stepped in to reinforce the team.
Both of them received medical certificates just before the match. Karčić does not hide that his medical certificate was false. He says that he came to the national team at the behest of his teammates from the Sarajevo futsal club DiaBiH, a co-founder of which is Dr. Mujić.
Karčić says that he had agreed to take a fake health certificate because he had a great desire to play for the national team and wear the crest of BiH: "It is true that we falsified that paper. We went to Bucharest, we played. The paper said that I have type 1 diabetes, and that's it."
Dr. Mujić also gave him a blood sugar monitor kit with strips, which he had to carry during the championship. He explained to him how to behave if the championship organizers decided to run a blood test.
"If anyone had asked, I would say 'yes, I am a Type 1 diabetic' and I would show them the paper confirming it", Karčić explains, adding that there were no controls.
He played the role of a diabetic during the gatherings of the national teams and joint lunches. He faked taking insulin by putting an insulin pen against the skin without removing an inner cap.
He claims that Dr. Mujić suggested that he should not talk to CIN reporters about this.
"He is now calling and asking us to lie in his name. He told me not to say anything on camera and to say that I have a Type 1 [diabetes] and that you could not check it anyway", says Karčić.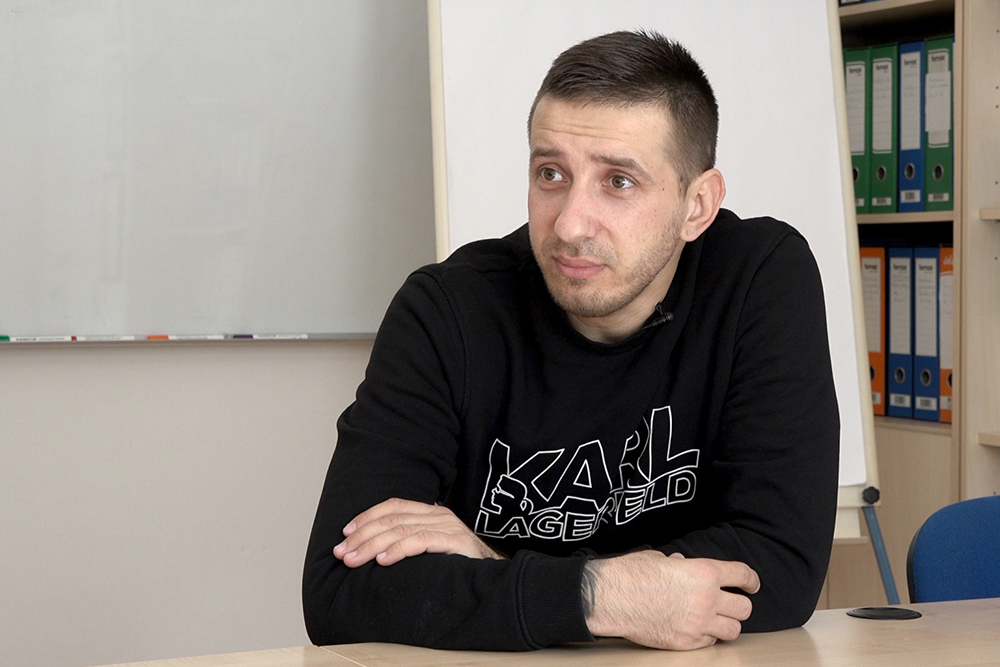 Unlike him, national team goalkeeper Amer Šarić still claims to have type 2 diabetes but offers unconvincing explanations about the disease.
He claims he did not report his condition to the Sarajevo Canton Institute for Sports Medicine, the body competent for issuing health certificates for players in league competitions. He still plays in the Konjic Futsal Club, which will play in the State Premier League this year.
According to the director of the Institute Adnan Hadžimuratović athletes must undergo examinations and laboratory tests, and high blood sugar would be a signal for examination by a diabetologist.
"They must have a normal blood count", he concludes.
While diabetologist Mirza Osmanagić claims that every diabetic should see his diabetologist at least twice a year, Šarić says that he does not have one and he does not check his blood sugar. He was in therapy a year ago, and he did blood tests three years ago as a member of the national team.
"That thing that is secreted in the blood … the normal value is, say, a thousand or so, and I had six thousand at that time. Five times the value", Šarić tried to explain.
After Bucharest, he also competed at the 2018 European Championships in Bratislava, where BiH won its second championship title.
Former coach Vitković says that three members of the five-player national team at the time were healthy players.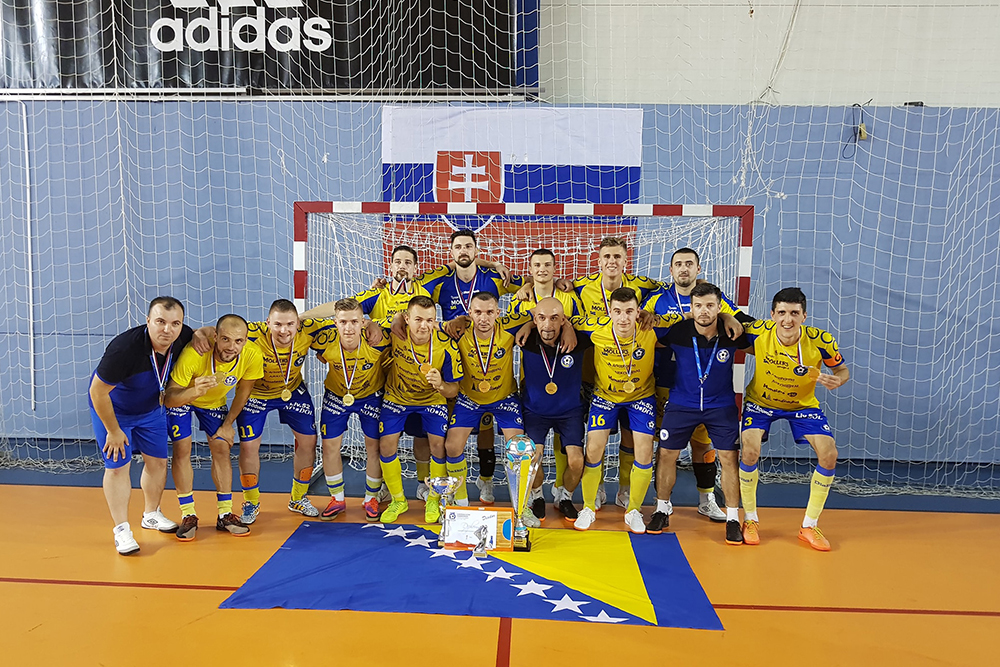 In this championship, the BiH national team was reinforced by Ibrahim Hršumović, one of the best futsal players in BiH, who now plays for the A selection. Along with him, Sedin Mulaosmanović also returned to the team.
The two of them take the most credit for the 5-0 victory in the finals against Croatia. Hršumović scored one and Mulaosmanović two goals. Coach Vitković and player Karčić claim that Hršumović is not a diabetic either.
He attends the Police Academy in Sarajevo. His last year's medical certificate issued by the Zenica Institute for Occupational and Sports Medicine does not mention diabetes. The Institute claims that this would certainly be mentioned in the health record if a person suffered from this chronic disease.
Hršumović claims to occasionally take Siofor, while the medical certificate Dr. Mujić issued him for the championship in Bratislava says that he takes Januvia. Siofor is usually used as the initial therapy for a milder form of diabetes, while Januvia is used when Siofor is ineffective in regulating sugar.
Hršumović claims to have never seen the certificate nor has he ever been registered as a patient:
"No one questioned me in detail about that. I was offered to play for money, to earn something because I was a student at the time.  I did it, I played my part, and that's it."
At the 2019 European Championship in Ukraine, BiH won the third championship title. Hršumović and Mulaosmanović were again among the most deserving players, scoring all the goals for the 4: 1 victory in the semi-finals against Croatia.
The national team was led by Vitković's successor Nijaz Mulahmetović, who claims that all players were presented to him as diabetics and that Dr. Mujić confirmed to him that they all underwent quarterly checkups and tests in Ukraine and that everything was normal.
CIN reporters contacted seven other players, most of whom claimed to know nothing about the health of their teammates, while a few claimed that everyone on the team was a diabetic.
Foreigners Suspicious of BiH Futsal Players
According to the coach of the Croatian national team, Mario Žitnik, in the championships, there were some suspicions about BiH players not being diabetics, but there were no appropriate medical checkups in place.
"It simply started as a rumor. What I am saying is, that if a diabetic is health-conscious about his diabetes he should be checking his blood sugar levels before the meal, after the meal, at the half-time, and during the match. Well, whether or not someone noticed that someone else does not take insulin, or that someone feels no need to check things out … I cannot tell when the rumor started", says Žitnik.
Former coach Vitković also remembers that the controls were inadequate and rare and that foreigners noticed that some BiH futsal players play at a high pace, without losing strength or falling into hypoglycemia like diabetics would do: "To tell you the truth, I had problems with foreigners because people noticed that the lads were healthy."
Erol Kovačević, a professor at the Faculty of Sports and Physical Education in Sarajevo, says that it is much harder for athletes with diabetes to do high-level sports activities.
"One has to be much more dedicated to achieving the sports results compared to a person of the same physical qualities who is not a diabetic. And in that sense, it is not okay. Above all, it is a question of morality."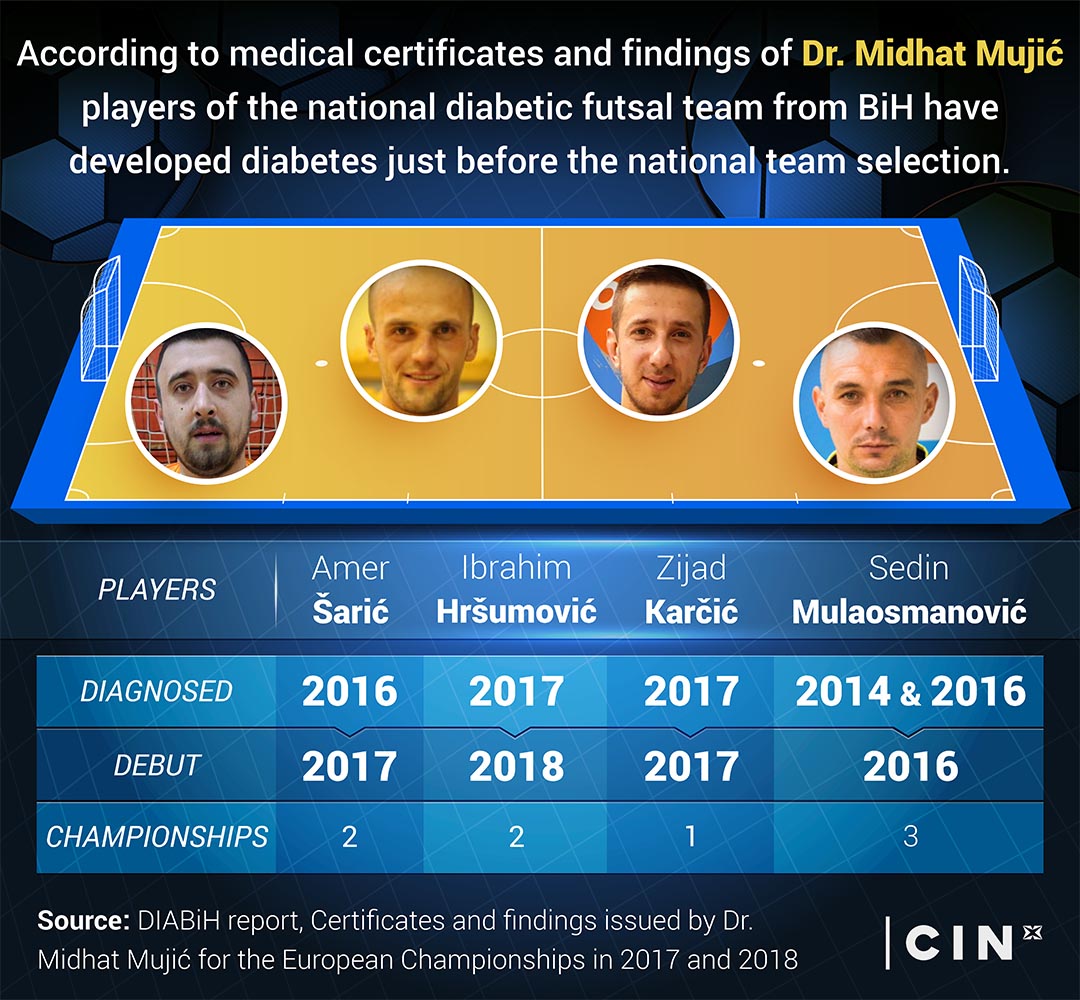 Double Accommodation And Transport Costs
In four years, at least 200 thousand BAM was spent for the participation of the national team of diabetics in the championships abroad and the organization of the championship in Sarajevo. Donor institutions and companies in BiH paid the money to the accounts of associations that were obliged to justify the costs.
The analysis of part of the documentation shows that the Sports Association of People with Diabetes (DiaBiH) and the Diabetes Association of the Federation of BiH (DUF) reported double transport costs for the same championships or double expenditures for accommodation in hotels that were not intended to accommodate sports teams. Dr. Midhat Mujić is the founder and one of the leaders of these associations.
According to the DUF report, the cost of transporting players to the championship in Bucharest in 2017 was BAM 5,500, while DiaBiH reported an expenditure of  BAM 4,500. The 14-member national team traveled to this championship in 2 vans, one of which was donated for free use. Despite that, the report states that they traveled to Bucharest by bus. They also presented the costs of accommodation differently. According to the DiaBiH report, accommodation costs for the team were BAM 6,141, and they also presented proof of payment, which was attached to the report.  At the same time, DUF reported the accommodation cost of BAM 6,700.
DiaBiH was required to account for a BAM 6,000 donation for the 2018 Championship in Bratislava to the Ministry of Culture and Sports of the Sarajevo Canton. According to their report, the largest part of the donation was spent on accommodation in the Plus hotel, while the official website of the Championship says that all participants were guests of student dormitories – Student Housing Družba.