Before he became minister of industry for Bosnia-Podrinje Canton (BPK), Esed Radeljaš tried his hand at property developing. During three years he made two deals worth a combined 11 million KM – with a former minister and a foreign businessman. His partners fronted him more than half the money needed for these deals, but Radeljaš built nothing. Now the partners are in civil court trying to recover their 5.8 million KM.
Ministerial Agreement
In April 2009, Radeljaš signed a contract with Alija Delimustafić, a former interior minister of Bosnia and Herzegovina (BiH) to build condominiums with office space worth more than eight million KM in the Sarajevo neighborhood of Nedžarići. At the time, Radeljaš was a councilman in the Novi Grad borough Nedžarići belongs to.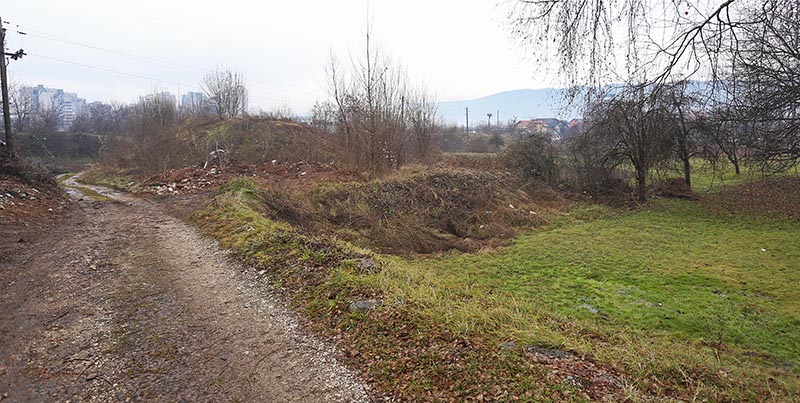 He was bound by the contract to obtain a construction permit from the borough and to begin building by the end of 2009. According to the contract Delimustafić was bankrolling the project and had advanced Radeljaš 5.3 million KM by the time they signed the contract.
However, records the Center for Investigative Reporting in Sarajevo (CIN) has obtained show that Radeljaš knew all along that he could not honor the deal.
CIN has already written about how Radeljaš obtained five land parcels from the borough totaling 1,500 square meters at the end of 2006.
These and two other parcels he bought earlier made a unit on which the condos were supposed to be built. However, Radeljaš did not tell Delimustafić that he had already resold his land to a Sarajevo firm Zeuz, and thus had given up rights to build. Zeus is owned by a Slovenian entrepreneur Marjan Pišljar with whom Radeljaš concluded a similar deal in mid-2006.
Pišljar bought two parcels from Radeljaš in Nedžarići next to municipal land and paid him 250,000 KM. Together they have drawn the blueprint in the business plans and Radeljaš had already started construction without permits. They agreed that Radeljaš would buy or rent the municipal land; and knock down or legalize the building. Pišljar advanced him 1.21 million KM for the job.
"He's done nothing about it," said Pišljar.
After the money landed in his bank account, Radeljaš kept some and forwarded the remainder into the accounts of eight other people, including 1 million KM into his brother Asim's. The State Investigation and Protection Agency of BiH (SIPA) launched an investigation alleging money laundering, and the Court of BiH froze the accounts of all involved.
Pišljar told CIN that there was no money laundering. He and Radeljaš parted ways in March 2009, and agreed that Radeljaš would pay him back in full. Pišljar has kept the plots, while Radeljaš owes him around half million KM.
A month later Radeljaš began his collaboration with Delimustafić, but he kept mum about losing ownership of his two parcels. Without them it was impossible to start building because together with the municipal land the parcels made up a unit.
According to the contract, Delimustafić gave him 5.3 million KM in cash for construction and instead of the remaining 2.7 million KM Radeljaš was given ownership of Ingra, a construction company. Delimustafić also pledged to pay him an additional 6.6 million KM, without specifying whether in money or some type of property.
Ingra officials say that the price matched the value of 22,000 square meters of land in Nedžarići, which the firm bought from a Sarajevo family Moravac in mid-2007. It was paid 1.5 million KM at the time, but Delimustafić reassessed the land's value up nearly four and a half times when he concluded the deal with Radeljaš two years later.
Radeljaš was supposed to pay back nearly 4 million KM by mid- 2012, but he did not.
In July 2009, the court approved Radeljaš's takeover of Ingra, and 13 days later he gave away the 22,000 square meters of land to Rasim Smajić, his Bosnian Party (BOSS) pal. According to the contract, Smajić accepted the gift "with gratitude."
Unlike Delimustafić, who has increased the land's value compared to the price paid for it, Radeljaš has devalued it 15 times – the gift contract put the value at just 100,000 KM.
Four months later, Radeljaš returned the firm without the land to Delimustafić, andIngra sued Smajić in 2013 demanding that the contract be declared void. Smajić, a legislator with the Sarajevo Canton Assembly, did not want to talk to CIN reporters about the gift because the case was ongoing.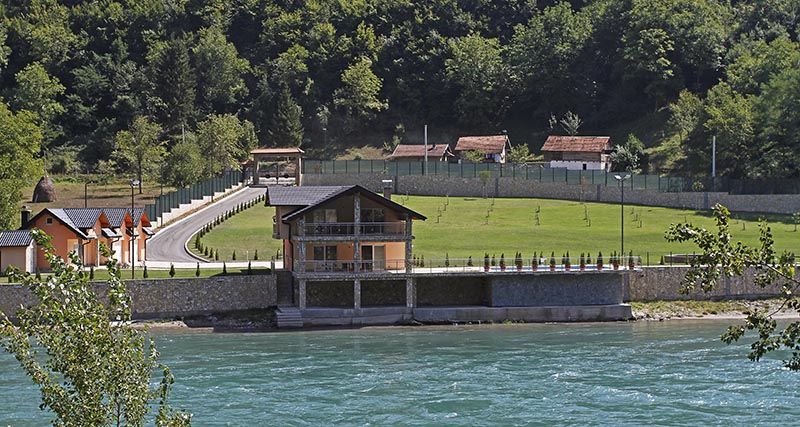 The same year, Delimustafić sued Radeljaš in the Municipal Court in Sarajevo for breach of the construction contract demanding that Radeljaš pay him back 5.3 million KM. In order to secure a potential compensation, the Court levied a restraining order prohibiting Radeljaš from selling, renting or transferring ownership of his real properties: a house in Nedžarići, a summer house in Blažuj and land in Foča.
Delimustafić is not in BiH. Trough his lawyers he said that he could not speak about an ongoing case.
Radeljaš has not returned CIN calls for months. In a court deposition, Radeljaš is quoted saying that Delimustafić owed him money.
"This is what he claims," says Delimustafić's lawyer Vlado Adamović. "When I was at that hearing, the most interesting thing of all was that he said that he was going to put this on the Parliament's agenda. I told him that he could not use the Parliamentary benches to pressure court and he shut up."
Unreturned Loan
Radeljaš continued defrauding people with false promises even when he became a politician. In April 2013, he borrowed 200,000 KM from Sarajevo entrepreneur Meho Mušić. At the time, he was a legislator with the Sarajevo Canton Assembly, a legislator with the FBiH Parliament and the president of the Board of Directors of the Sarajevo Canton Health Insurance Bureau.
The loan was sealed on a promissory note that said that Radeljaš was to return the money by the end of the year. He did not. Mušić sued him in mid-2015 in the Municipal Court in Sarajevo. In his reply to the lawsuit, Radeljaš said that he did not take money and that he could not say with certainty that his signature was on the promissory note or how it came to be on the document.
Radeljaš signed the promissory note as Esad, even though his real name is Esed. Such a typo had helped him earlier to avoid a prison sentence. The Supreme Court of the Federation of Bosnia and Herzegovina (FBiH) sentenced Radeljaš to a year in prison in 2005. But, he never went behind bars because his name was misspelled as Esad. That rendered the judgement unenforceable. It took four years to correct the typo, and by then the execution's deadline for enforcement had expired.
"When I read about it: it's the same case. This is when he said Esed – Esad, the same! The same!" Mušić told CIN reporters whom he phoned after reading a CIN story about Radeljaš.
Mušić has lived in Vienna since 1992. In BiH he owns Bosnamed, a firm that trades in medical equipment. He said he met Radeljaš by accident when he took his car to be cleaned in Radeljaš's car wash.
"A man approached me saying: 'Do you live in Vienna?'. I said yes. He says: 'Welcome, this is mine. He brought two coffees from a coffee machine and we chatted while they washed," recalls Mušić. He stopped by the car wash on several more occasions, and then one day Radeljaš invited him for breakfast.
"I remember well, we ate polenta and yogurt. I asked him how the business was going."
Radeljaš replied that he was in a bind. "He said: 'I am in a money crunch. Would you lend me some money?'"
Mušić said that he gave him 5,000 KM which Radeljaš returned in ten days as promised. He loaned Radeljaš smaller amounts on several other occasions.
"He takes your money and then returns it," recalls Mušić. "He liked to joke, have fun, he simply knew how to create atmosphere – he's easy going."
In April 2013, Radeljaš asked Mušić for a bigger loan. He told him that he was building a house in Goražde on the banks of the Drina River after having lost everything during the war. Radeljaš told Mušić that he had a lot of land but he could not mortgage it until he got everything sorted out in the register of deeds.
"I said: 'Esad, how much money do you need?' He said: '300,000 KM'. For god's sake Esad, that's a lot of money. 'Meho, I swear on my father's grave that I'll pay you back," Mušić recalled.
According to the promissory note they signed, Radeljaš took 200,000 KM. Mušić said that he asked him several times about the money during 2014. Their last meeting ended in argument. Then, Mušić sued him.
"Someone's gotta stop him," said Mušić.
The house Radeljaš told Mušić about is a manor with a big courtyard and a swimming pool on the banks of the Drina.