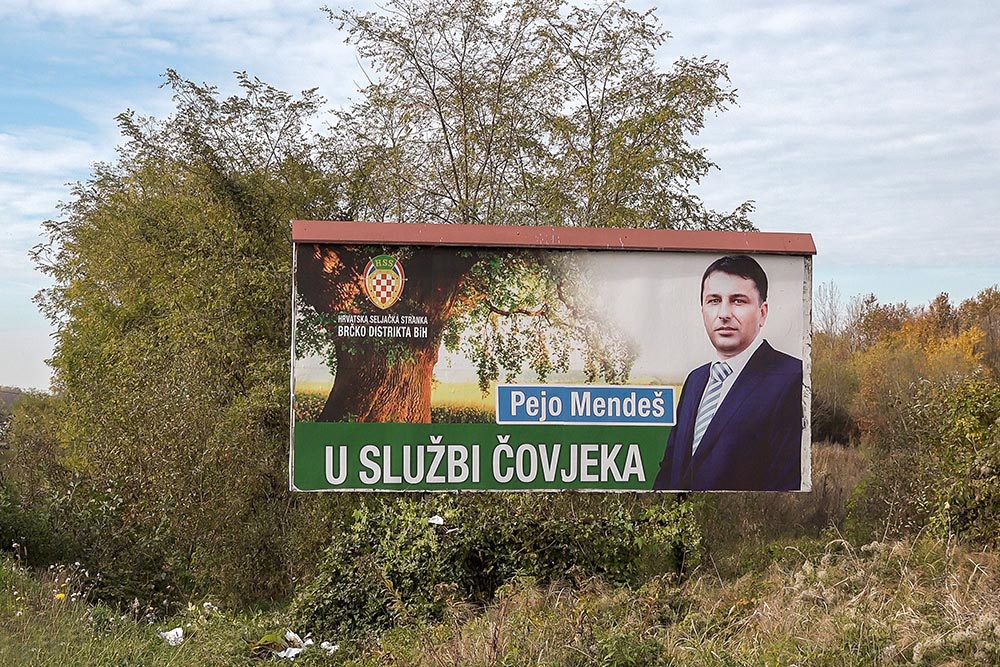 The Brčko District Basic Court sentenced the former representative of the Croat Peasant Party (HSS), Pejo Mendeš, to six months in prison for plotting an election fraud ahead of the 2020 Local Elections.
His assistants Jasmin Ravkić and Mato Gluhaković were also sentenced to four and two months in prison, respectively.
CIN journalists previously wrote about how these three used personal documents of citizens to fraudulently vote on their behalf for Mendeš.
Gluhaković and Mendeš photographed the documents and without the knowledge of those persons submitted them to the Central Election Commission of Bosnia and Herzegovina (CIKBIH) as an application form for absentee voting.
During the investigation, CIN journalists found that Mendeš tried to secure votes for himself also through fellow citizen Jasmin Ravkić. In mid-2020, Ravkić was sentenced to three months in prison for illegal logging, and Mendeš promised to commute his prison sentence to community service, just as he had previously done for his cousin Raif Ravkić. The deal was that Jasmin should obtain ID data from his neighbors and immediate family members which Mendeš could abuse in the upcoming elections for voting outside of BiH. His party would register fake voters to vote by mail from Serbia and Croatia in order to receive ballots, but the ballots would never reach the registered addresses abroad, but the party's headquarters.
During the investigation, Ravkić, Mendeš, and Gluhaković were detained, and their neighbors and friends from the village of Rašljani near Brčko told the story of how Ravkić cheated on them.
"I was present there with him and Pejo Mendeš when they talked about it. He said to Pejo: "Try to help, and I will collect you 50 ID cards for the vote. Do you understand?" said Raif Ravkić, a relative of the accused Jasmin Ravkić.
Three months before the local elections, Jasmin Ravkić fraudulently obtained the ID card numbers of at least 20 neighbors, including his own parents. He told them that he needed their ID data because he was collecting signatures for a petition that would turn his prison sentence into community service. To help him, they gladly did what he asked of them, not knowing that their data will end up on the voter lists for absentee voting.
Two Prison Sentences And Ongoing Proceedings
The Basic Court in Brčko District recently convicted Radoslav Bogićević and Nenad Kojić, former members of the People's Democratic Movement (NDP) in the Brčko District Assembly sentencing them to four months in prison for plotting an election fraud in the run-up to the 2020 General Elections.
Bogićević and Kojić entered into a plea agreement with the Brčko Prosecutor's Office. As CIN wrote earlier, the verdict states that the two of them, with the help of other people, obtained personal documents of fellow citizens, registering them to vote from abroad with the intention of taking those citizens' votes for themselves and the NDP.
Journalists found that Bogićević and Kojić and their party colleague Stojan Bavarčić have misused 114 personal documents of their fellow citizens, neighbors, and family members to appropriate their votes for themselves. They collected documents through third parties, promising them jobs in return.
Elvir Saletović and Sanel Pengić are currently standing trial before the Basic Court for the same criminal offense. Posing as party activists, the CIN reporters organized a meeting between the then-candidate of the Narod i Pravda (NIP) [People and Justice] Abdulah Iljazović and vote sellers Elvir Saletović and Sanel Pengić.
Saletović told Iljazović that he would ensure him 130 votes for BAM 6,500, and bring him a list of people ready to vote for him by the next meeting. A few days later, accompanied by a CIN reporter, Iljazović handed Saletović a hundred and thirty 10 BAM banknotes as an advance payment for the purchased votes. Iljazović was expected to pay the remaining BAM 5.200 after the job is done.
The plan was for each voter to receive BAM 10. Pengić wrote down the serial numbers of the banknotes in front of the candidate of the NIP and CIN reporter. Each voter was supposed to take a photo with their mobile phone of the filled ballot with the received banknote next to it. That photo would have been proof of the job done, and in return, Saletović and Pengić would pay the voters the rest of the money.
The reporters informed the Police and the Prosecutor's Office of the Brčko District, and on the day of the handover of the remaining money, Saletović and Pengić were arrested and remanded in custody.
In April 2021, the Brčko District Prosecutor's Office filed an indictment against Saletović and Pengić, alleging that they and their aides violated voters' freedom of choice and committed a crime punishable by a fine or imprisonment of up to three years.