More than 65 percent of people polled in Bosnia and Herzegovina (BiH) think corruption hasn't improved one bit, or has even worsened over the past year.
A basic definition of corruption is the use of public office for private gain.
The May 2008 telephone poll of 478 residents over the age of 18 was commissioned by the Center for Investigative Reporting in Sarajevo (CIN) through Prism Research, and it showed that nearly 42 percent of residents believe that there is more corruption in the country than last year. More than 26 percent said it was about the same, and nearly 14 percent believed there is less corruption. The poll's margin of error was 5 percent.
The poll also found that almost 82 percent of residents believe that corruption is 'very serious.' That opinion was held across both entities within 3 percentage points. Across both entities, less than a half-percent of poll respondents characterized corruption as 'not a serious problem at all.'
They found government agencies the most corrupt and non-governmental organizations the least corrupt. On a scale of 1 to 4, with 4 being the highest level of corruption, respondents ranked non-governmental and citizens' groups at 2.7. They gave the BiH government a score of 3.6.
More than 54 percent of the polled citizens believe that the government of the Federation of BiH is very corrupt and nearly 48 percent of them believe that the Republika Srpska government is corrupt. More than 50 percent of the citizens believe that the BiH Council of Ministers is very corrupt, while more than 30 percent believe the government of the Brčko District is very corrupt.
The citizens believe that prosecutor's offices are more corrupt than the police and that state companies are more corrupt than private ones. Half of the polled citizens believe that the health sector is very corrupt. More than 33 percent of the polled believe the international organizations, including Office of the High Representative in BiH (OHR), European Union Police Mission in BiH (EUPM) and Organization for Security and Co-operation in Europe (OSCE) are very corrupt. Twenty-three percent of the citizens believe the army is very corrupt.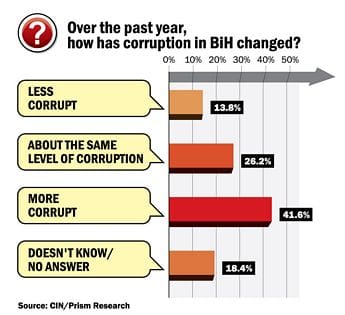 The poll shows that all the citizens found the problem of corruption very serious, regardless of age.
'It is widespread in all areas of life' said TI BiH spokesperson Srđan Blagovčanin. 'The young and the old alike have to deal with it.'
Momir Dejanović, president of the Doboj non-governmental organization, Center for Humane Politics, said that poll findings clearly indicate that corruption is to a great extent present and that no efforts are made to curb it.
'Corruption is the most serious issue in BiH' said Dejanović. He said corruption pervades BiH society because politicians and the judiciary ignore the problem.
'The ruling political elites are not interested in taking on corruption because they are a part of the problem' he said.
Dejanović said he believes citizens perceive BiH society to be corrupt because some of them have had close encounters with government agencies where they had to bribe someone in order to claim their rights, or they had heard about similar cases from their friends.
'It is easier to claim your rights by bribing someone than by using legal means' Blagovčanin said.
TI BiH found in 2007 that BiH is one of the most corrupt countries in Europe and has shown no signs of improvement. According to Blagovčanin, it is estimated that some 1.5 billion KM is embezzled in the country every year.
Dejanović said he believes that the only solution is to fight crime and corruption within the system. An independent judiciary has to be established, as the current judiciary has not proven efficient in tackling this problem, he said. Other institutions that would confront the criminal political structures are also needed, he said.
Blagovčanin encouraged all citizens to actively join the fight against corruption. 'Every case of corruption should be reported to the relevant authorities' he said.