Prosecutor Džemal Karić comes to the Cantonal Court in Sarajevo for a hearing in a court case code-named "Justice". But, instead of being behind a prosecutor's bench, he will sit alongside the other defendants. He is charged with abuse of office and organized crime.
He is accused of working on behest of Alija Delimustafić, a businessman and wartime minister of internal affairs of the Republic of Bosnia and Herzegovina (BiH), in court cases against Delimustafić's brothers Enver, Mirsad and Hajrudin.
In one case, Karić unlawfully gave legal advice to the opposing defendants' attorney, while in two other criminal cases he helped Delimustafić's brothers avoid long-term prison sentences, while their firms kept illegal gain worth millions of KM, according to documents acquired by the Center for Investigative Reporting in Sarajevo (CIN).
Together with attorney Emir Karača and expert witness Abid Hodžić, Karić helped usher a retrial of the convicted Delimustafić brothers, only to later drop the prosecution resulting in dismissal of those cases.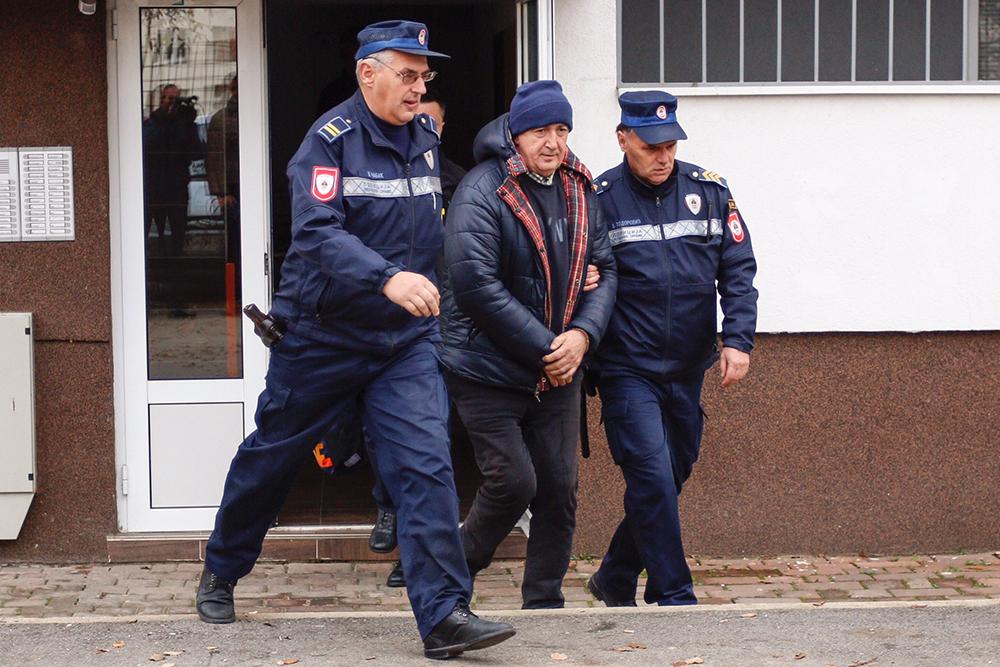 During the investigation, Karić said that Delimustafić paid him 5,000 KM for his services.
One for the Road in "Yugo 45"
In 2004, Mirsad and Enver Delimustafić were convicted of abuse of office. Mirsad received nine, while Enver got off with 3.5 years of prison because as co-owners and directors of "BH banka" and "Cenex" firm they allegedly damaged the bank's clients for around 500,000 KM. The financial expert witness Hodžić established damages on behalf of the bank's clients and his report led to the defendants' convictions.
Despite the final and binding convictions, the Delimustafić brothers have never served time. Their lawyers, including Karača, led a legal campaign for a retrial. This remedy is available in case new facts have emerged that could affect the outcome of the court proceedings.
Since Mirsad was tried in absence, the Cantonal Court approved the retrial of his case in 2010, faster than in Enver's case. The delay in Enver's case was caused by the time it took for the Sarajevo Cantonal Prosecutor's Office to weigh in on the matter. The cantonal prosecutor Karić was assigned the case, and soon afterwards he met Alija Delimustafić.
In his testimony during the "Justice" investigation, Karić said that Delimustafić asked him for help and promised to return "the favor" if he went along with it.
While prosecutor Džemal Karić worked on cases regarding Delimustafić brothers, other cases languished in his drawer. Between April 2005 and 2015, he did no work on 15 of his assigned cases. Later on the investigations in these cases were dropped or dismissed. For this reason, in September 2017, the Disciplinary Commission of the High Judicial and Prosecutorial Council (HJPC) disciplined Karić with a 20 percent reduction in pay over one year.
"I told him that I will review the case and if I found some elements for a retrial, then I was going to give my approval," Karić told investigators. "And that was it".
In September 2011, the Court approved the motion for a retrial with an explanation that the evidence points against Enver's responsibility for a crime. After that, the court issued a ruling and the case against Mirsad and Enver started from square one. Karić kept Delimustafić in the loop.
"Alija told me he was pleased and said 'you have earned this' as he handed me 2,000 KM stashed in a piece of paper," Karić admitted to the investigators. He added that he didn't promise Delimustafić that a retrial could result in a positive outcome for his brothers.
Nevertheless, this is what followed. In September 2012, Karić dropped the criminal pursuit of Enver, and in March 2013, also the criminal prosecution against Mirsad Delimustafić. He told the Court that he came to this conclusion based on the evidence heretofore presented and the defendants' testimonies.
During the retrial, the financial expert witness Hodžić testified again, this time claiming that the clients of "BH banka" were not damaged. Based on Karić's decision, the court closed the proceedings and the Delimustafić brothers avoided prison.
Some of the damaged clients demanded their money back from "BH banka" which meanwhile had filed for bankruptcy. It is unclear if they will ever get paid, because the money's gone, while the ownership of the bank's assets has not been established.
After the proceedings were dismissed, Delimustafić invited Karić to meet again.
"Maybe we were even sitting in his car; it could've been his "Yugo 45" of orange or red color," Karić told investigators as he described the meeting which took place near his Sarajevo condo.
He said that Delimustafić was visibly pleased. "I made a point that this was all the result of the evidence in the case, and that I didn't resort to anything illegal," said Karić. "Then Alija gave me 3,000 KM to 'treat myself with a coffee.'"
Karić gave this testimony during an investigation in an operation code-named "Justice" that targeted Delimustafić and other persons including judges, lawyers, notaries and civil servants who orchestrated a scheme to rob owners of real property through fraudulent probate proceedings.
Karić had flown under the radar until investigators surreptitiously recorded his telephone conversation with Delimustafić. At the end of 2016 he was arrested and spent four months in custody. The following year the prosecutor's office filed an indictment against Karic as well.
Karić is on a pretrial release subject to prohibiting measures, and he is also suspended from his job as a prosecutor. Karić, the Delimustafić brothers, and Karača refused to talk to CIN reporters.
When Everything Falls into Place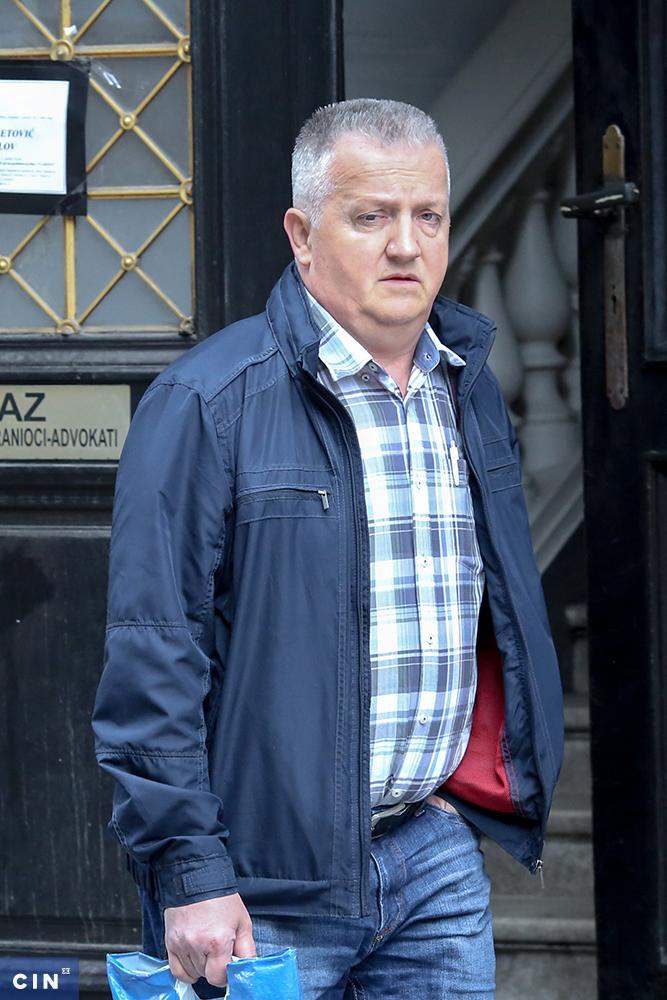 Court documents show that a case that was adjudicated in December 2005 had a similar epilogue. Back then, the Supreme Court of the Federation of BiH sentenced Enver and Hajrudin Delimustafić to 35 months in prison on a fraud conviction.
As owners of firms "Cenex" and "Centralexport", the pair took around a 1 million KM in loans from "Hipotekarna banka" based on fake paperwork. They have never paid back those loans to the bank they co-owned. In that case as well they were acquitted on the strength of Hodžić's expert witness testimony.
Just like in the previous case, attorney Karača motioned for a retrial, while Hodžić issued a new opinion in response to the defense's motion. In his opinion, the expert witness stated that the brothers did not lead the bank astray and had returned the money by investing into the bank's equity.
A retrial motion with the new expert opinion was sent to the Cantonal Court in Sarajevo in 2009. The court asked the prosecutor's office for an opinion. Karić was assigned the case.
He told the police investigators that he didn't know Alija Delimustafić at that time. He said that his late friend Kemo Čolak, the owner of "Čolak tex" construction firm, asked him to look at the case in order to speed up the collection of payment from Delimustafić with whom Čolak had done some business.
In April 2009, Karić gave a go ahead for the restart of the criminal proceedings, which the panel of judges at the Cantonal Court approved. The hearing for a retrial was set, but it never happened because Karić informed the court in a memo that he decided to drop the criminal case against the brothers. His explanation was that the statute of limitations in the case had expired. However, the Karić indictment reveals that the statute of limitations would only expire the following year.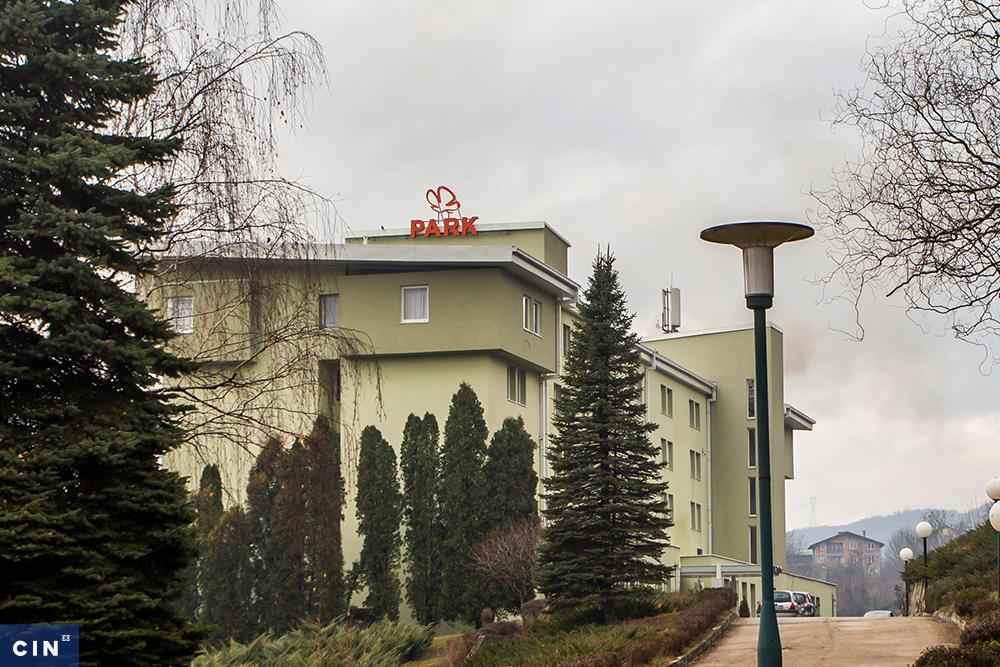 Igor Todorović, the judge who was assigned the case, told CIN that he didn't even lay his eyes on defendants Hajrudin and Enver, and that he dismissed the proceedings based on Karić's memo. "The court has no recourse to continue the proceeding on its own," said judge Todorović.
Quid Pro Quo
During the 1992-1995 war in BiH, Alija Delimustafić was the Republic of BiH interior minister. Delimustafić was sentenced to four years in prison in 2003 for organizing the kidnapping of Kasem Bjelavac in Munich in 1996. He served around three years. In July 2005, then FBiH President, Niko Lozančić, pardoned him from the rest of his prison sentence. His successor, Živko Budimir, expunged this conviction from his criminal record.
Together with his brothers, Delimustafić co-owned or co-owns at least seven firms: Cenex Group, Ex Line Group, Centralexport, Cenex Inženjering, Cenex, Exline, and MinasCo. The Cantonal Court in Sarajevo issued a decision to ban these firms from operating because of the criminal case "Justice". The Prosecutor's Office was instrumental in initiating the ban with an explanation that these were fake legal entities used to commit criminal offences.
It can be seen from Karić's testimony given to the detectives that he continued to be chummy with Delimustafić even after these cases were resolved. When in 2013 Karić's wife fell from a plum tree at the family estate in Višegrad and hurt her spine, Delimustafić was the first person Karić turned to. Karić asked Delimustafić if he could be of help in organizing his wife's transport to an emergency medical facility.
Karić also called Delimustafić later during his wife's medical treatment.
"I didn't know who to turn to and I decided to turn to Alija Delimustafić to see if he had someone who could help me out," said Karić. In mid-2016, Delimustafić allegedly managed to fanagle a doctor's appointment on his behalf. Fifteen days later, Delimustafić asked him to return the favor.
Delimustafić asked Karić to take a look at court documents in an old criminal case involving his brother Enver that has been pending since 2001. In this case, Enver was accused of various abuses in connection with taking loans from "BH banka" and importing sugar via firms "Cenex" and "Frutex".
The prosecutor reviewed the documents and then hatched a plan with the lawyer Karača and Delimustafić on what the defense should focus on, and what additional witnesses should be called to the bench. Karić also prepared questions which he would ask Hodžić who also was going to give his expert opinion in this case.
"Alija said that we needed to put this down on paper and that there was a deadline by which these questions must be delivered to the court," said Karić. "I immediately went to an internet center and Alija gave me a USB on which I typed up and saved all the questions which I did at the center. Then I gave him back the USB stick and we parted our ways there."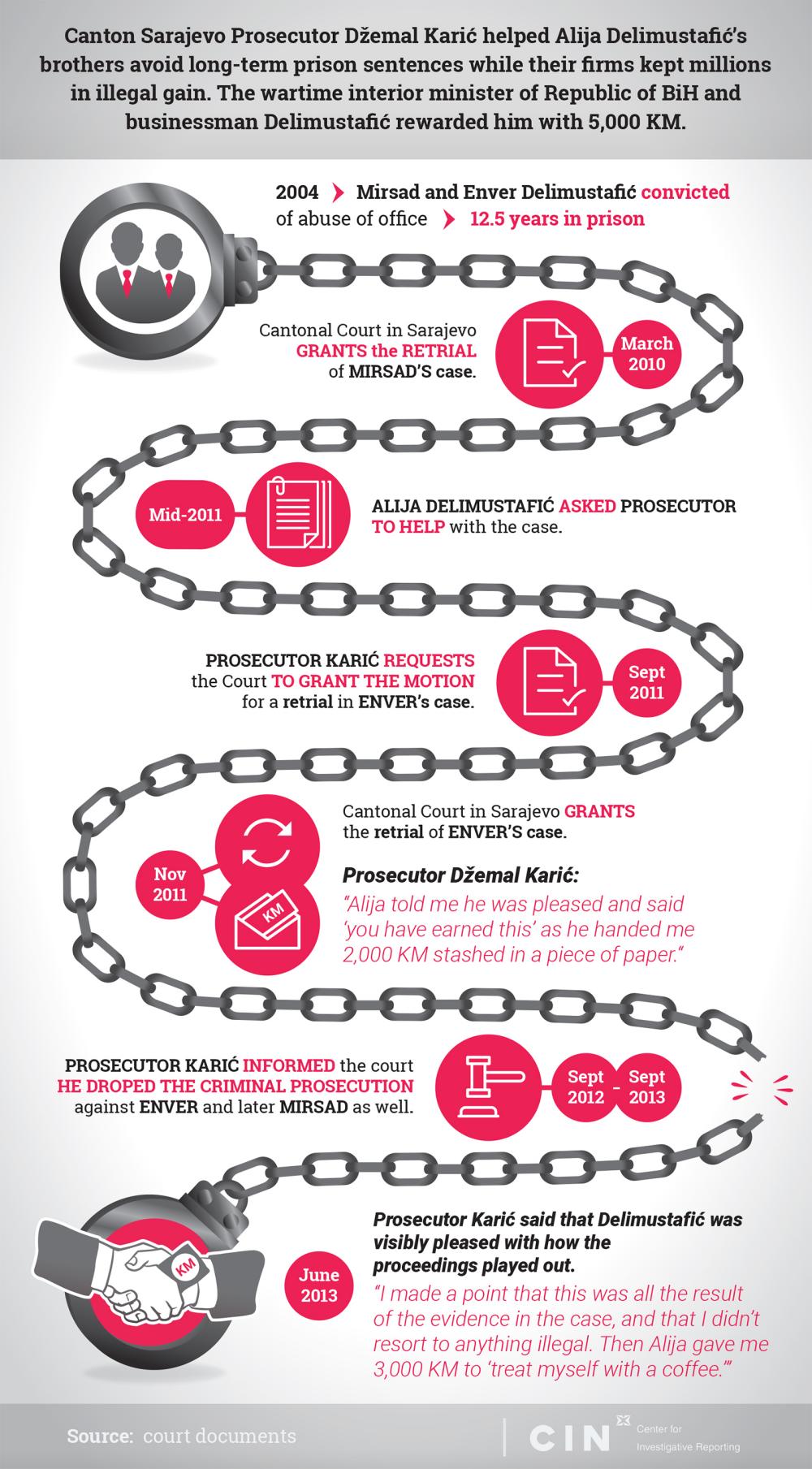 Delimustafić forwarded the questions to Karača who also testified about it during the investigation. "At that moment, I was already aware – I suspect that Alija or Džemal Karić, the prosecutor, had already got in touch with expert witness Abid Hodžić," Karača told investigators.
According to Hodžić's testimony, Delimustafić and Karača brought the paper with questions and met him in the vicinity of his condo. "Alija rolled down his window, said hello, gave me a piece of paper and told me – here are the questions that lawyers will ask you during the hearing. I took that piece of paper."
He explained that the piece of paper also had answers to which he was supposed to stick to during his testimony. Hodžić said that on that occasion he took no money for his services, but that about a month before he was going to testify before the court, Delimustafić "brought a basket filled with fruit and vegetables and gave me €500, for my wife, as he knew that she was sick, so that I can pay for her medicine.
In a CIN interview, Hodžić said that his testimony before investigators was false and blamed a prosecutor for it saying that he gave it under pressure. He said that he never had to answer any incriminating questions during the court proceedings: "I tore it and threw it away," said Hodžić. He maintains that he only knows Delimustafić from media reports.
Delimustafić, Hodžić, Karača and Karić were arrested at the end of 2016 and in mid-2017 in the police operation, "Justice".
Indictments were filed against them and 45 other persons and firms. Six have been handed down verdicts after reaching plea agreements while others are awaiting trial.
During the investigation, Karić claimed that the 350,000 KM in cash found in his raided safe were family savings. When investigators asked him if some of Delimustafić's money was there too, he replied: "I leave it as a possibility that I had put some of this money into the safe, and some I have spent on my living needs. And maybe I gave some to my mother and sister who lived by themselves in Bistrik (neighborhood). I also tried to hide from my wife that I gave money away or in any other way helped my sister and mother."