After years of waiting for judicial representatives to make their asset declarations public, the Center for Investigative Reporting in Sarajevo (CIN) has set up a database which contains biographies and records on income, real properties, vehicles, savings, loans, shares and court proceedings of 29 judges and prosecutors.
The database contains records related to the president of the High Judicial and Prosecutorial Council (HJPC) Milan Tegeltija, vice-presidents Ružica Jukić and Jadranka Lokmić-Misirača, president of the Court of Bosnia and Herzegovina (BiH) Ranko Debevec and other veteran judges and prosecutors.
Apart from judicial officials that HJPC selects and appoints, the database also contains records about four constitutional judges selected by various parliaments.
CIN plans to soon update the database with records of other senior heads and members of judiciary.
Judges, prosecutors and members of their families now in the database own 94 properties and nearly 330,000 square meters of land in BiH and the region. Fourteen have vehicles with a value they estimated at more than 300,000 KM and 10 have savings of around 730,000 KM.
These records are corroborated with more than 120 official documents.
A dozen judges and prosecutors refused to give reporters records about their property, while institutions ignored CIN's requests for their bios and income. Thus, some profiles in the database are incomplete at the moment.
"The president of the Basic Court in Brčko District receives numerous requests for interviews from persons who present themselves as reporters of news websites, of associations, of (media) "outlets" of dubious credibility and professionalism," Brčko District's Judiciary Commission replied to an interview request with Jadranko Grčević.
Grčević has headed the Basic Court in Brčko since its inception 18 years ago. He owns or has a construction permit for nine properties in town, including an office and residential building, two houses, and two offices.
The president of the Court of BiH, Ranko Debevec, didn't want to speak about his assets either.
CIN reporters have investigated the property of some judges and prosecutors who are the subjects of ongoing criminal proceedings. One is a Sarajevo Cantonal prosecutor Džemal Karić. He owns a three-room apartment in the BiH capital. In a raid of his bank vault, police seized 340,000 KM in cash.
Sarajevo judge Adisa Zahiragić and her family also own significant assets. The Zahiragićis have five apartments in Sarajevo and one in Neum. They also own a summer house, three garages and an apartment on Bjelašnica Mountain.
"My husband's and my incomes have been high for years," Zahiragić told CIN.
Among the more affluent members of judiciary is the Republika Srpska public prosecutor Dragica Glušac. She owns two apartments and an office in Banja Luka and an apartment in Herceg Novi, Montenegro. Her son and daughter have three more properties in Banja Luka and a condo in Novi Sad, Serbia. Glušac said that she bought most of her properties at the time when she was an attorney and she said that she has nothing to hide.
"This is not a secret. When we buy something, we even brag about it, because we have very big salaries," she told CIN.
Arbitrary Decisions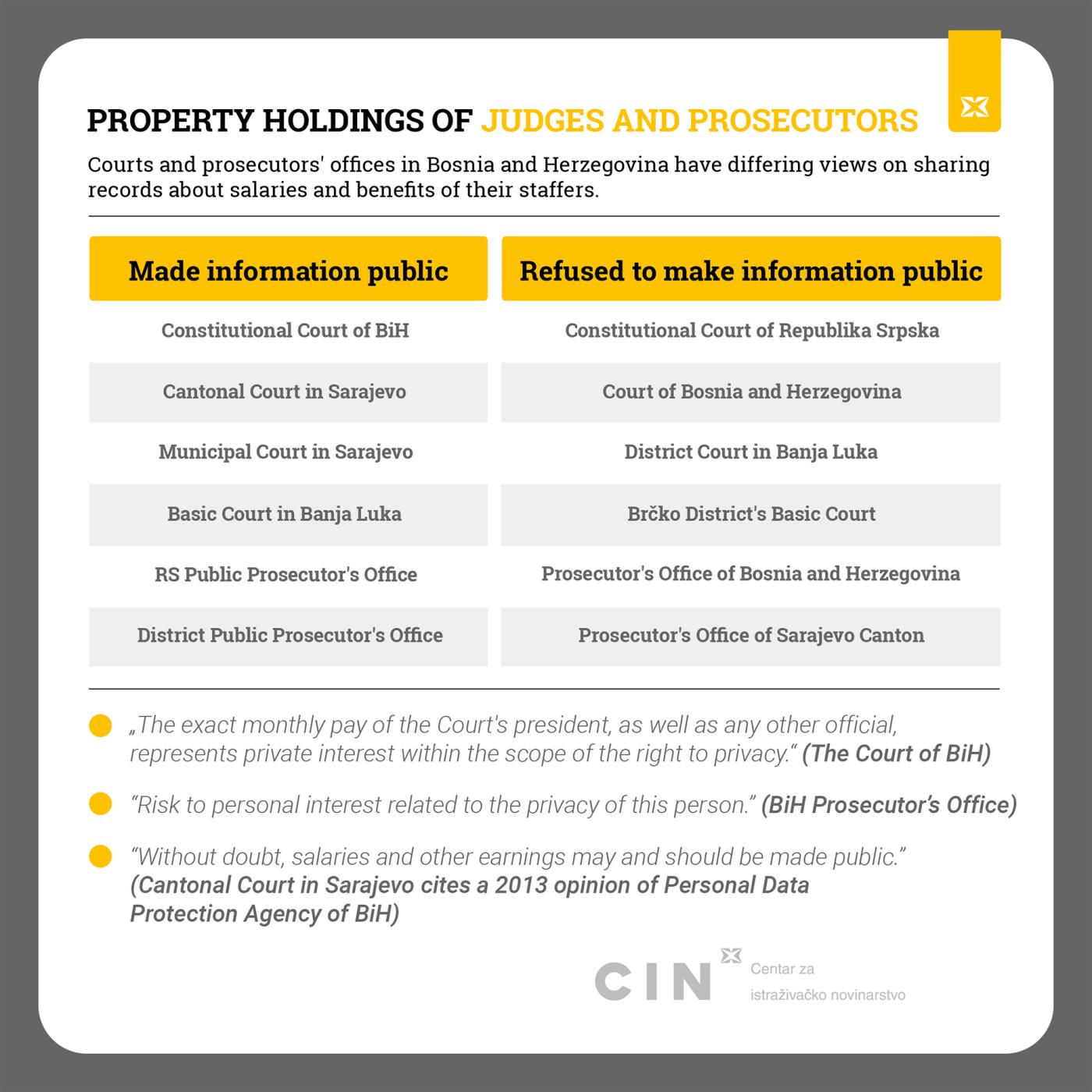 According to the Law on HJPC, judges and prosecutor are obliged to file asset declarations with the Council every year in which they report what they did during the year and how much money they received for it. These disclosures include information about their spouses and children who are part of their household.
The public has never had access to these records.
In 2015, CIN filed requests under the Freedom of Information Act for asset disclosures of judges and prosecutors. However, HJPC refused the request saying that would mean the breach of privacy and could cause damage.
At the time, the Personal Data Protection Agency of BiH called this refusal an abuse of the right to privacy and said that institutions are arbitrarily citing the protection of personal data. Instead, they should factor in the public interest.
Officials from Ombudsmen for Human Rights in BiH agree. They said that asset declarations of judges and prosecutors in a democratic society where they are public figures should not be classified information.
"An institution should be allowed a discretion to deny free access to information only in cases when the exemption meets conditions, and should not be used as a pretext for hiding information in the interest of a person or a group," stated the 2015 recommendation.
At the end of September 2018, in accordance with European Commission's recommendations, HJPC decided to disclose asset declarations. HJPC adopted a Rulebook on how to submit, review and process financial disclosures of judges and prosecutors by comparing them against other databases.
This was a major improvement, said the Council's officials, because up to then asset declarations were filled out arbitrarily and with no checks.
However, in January 2019, the Association of the Court of BiH Judges complained to the Personal Data Protection Agency that the Rulebook "paves the way for abuse of financial records of judiciary officials and puts their security in jeopardy across BiH." The Association of RS Judges and the Association of BiH Judges backed this complaint.
In the wake of these pushbacks the Agency forbade HJPC to process these records stating that access to bank records of judges and prosecutors is acceptable only in cases when there's an ongoing investigation. The Agency also found it questionable that the Rulebook gave greater power to HJPC than has been foreseen by the Law on HJPC.
"The Agency established that the Council has adopted a Rulebook which has mandated obligations and meddles in the privacy of judges, prosecutors and their kin," said the Agency officials.
HJPC has decided to file a court case against the Agency, but put on hold public disclosure of assets of judges and prosecutors.
Alberto Cammarata, a coordinator for enlargement negotiations with BiH at the European Commission, said at an HJPC session that this has sent a disappointing message to the public and the EU and that it was "sad that it came from those who should be role models of transparency and accountability."
Matters of Principle
For years, judges and prosecutors have said that they have nothing against disclosure of their assets. However, the CIN investigation into their properties reveals that many greatly resist the idea.
Even though they have never found anything wrong with CIN's database of officeholders' assets that CIN has hosted for the past 10 years, some judges and prosecutors threatened lawsuits when they were asked to provide similar records. Some agreed to interviews, but without sharing their asset declaration.
"You don't trust me, is that it?" said Goran Salihović, the state prosecutor who was the president of the Municipal Court in Sarajevo for eight years and the chief state prosecutor for three years.
"It's a bit tricky that everyone can see what we have and where we have it. People are different; not everyone is honest or well-meaning," said Vladimir Špoljarić, the acting president of the Cantonal Court in Sarajevo. "On the other hand, I don't know why to hide it."
The HJPC's president Tegeltija also did not want to share his asset disclosure "as a matter of principle" saying that he wanted to stay true to earlier decisions that called for refusal of such requests.
Among those who readily disclosed their assets to the public is Tomislav Ljubić, chief prosecutor of Tuzla Canton.
"When it comes to public officials, the main rule is that everything should be transparent," he said.
However, many of his colleagues and judiciary institutions that CIN has approached to ask about individual salaries do not agree. Prosecutor's offices and courts often have different standards of dealing with this issue.
The Basic Court in Banja Luka disclosed the records on its judges' income, while the officials from the town's District Court said that these records were personal. The Prosecutor's Office of Tuzla Canton had no qualms about disclosing the chief prosecutor's salary, but the public relations department of the Prosecutor's Office in Sarajevo withheld what they called personal data.
The BiH Prosecutor's Office went furthest when it would not even disclose names of prosecutors from earlier time periods. Along with privacy concerns, it stated that it "did not keep separate records."
Even though years ago officials from the Personal Data Protection Agency took a position that salaries and other budget allowances should be made public, the institutions are refusing to abide.
"In this specific case, we are of the opinion that there is no public interest in providing these records," wrote Brčko Judicial Committee said when asked about court President Grčević.