During the panel discussion "How we can protect truth in the age of misinformation" held today in Sarajevo, it was concluded that Bosnia and Herzegovina (BiH) is fertile soil for misinformation because most media are influenced by politics and serve political interests.
Panelists Denis Džidić, Director of the Balkan Investigative Reporting Network of Bosnia and Herzegovina (BIRNBiH), Leila Bičakić, Director of the Center for Investigative Reporting (CIN), Aleksandar Trifunović, Editor-in-Chief of BUKA, Swedish Ambassador to BiH Johanna Strömquist and Zarfa Hrnjić Kuduzović, Professor of the Tuzla University all agreed that the main problem is that politicians have a great influence on both private and public media.
"Frequent sources of misinformation in BiH are political leaders who provide information that suits their interests, and the public trusts them. We must find a way to sanction the leaders for their half-truths," Bičakčić pointed out.
Swedish Ambassador to BiH Johanna Strömquist said that misinformation is a serious and growing problem worldwide, and it is often used to create tensions: "We must have free and independent media. It is the best way to fight misinformation."
Before the discussion, the participants and the audience had the opportunity to see a joint exhibition "30 years of research, without the support of the judiciary", comprised of short formats of extremely important research that provoked no necessary reaction from judicial institutions.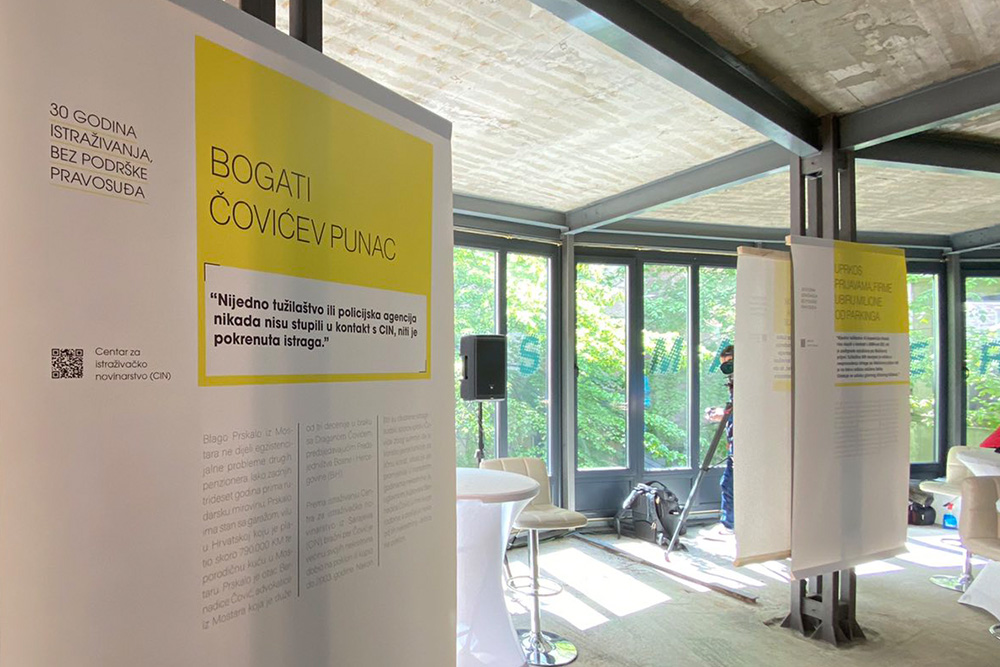 It includes 22 stories proving various violations of regulations, corruption, abuse, forgery, embezzlement, and conflicts of interest to which the judicial authorities did not react at all or rendered decisions not to conduct investigations, suspend them or acquit the accused. The authorities did not react to any of the stories.
"In our system, the media does the work of the institutions", said BIRN director Džidić.
An interactive panel discussion on misinformation and an exhibition of stories were held to mark World Press Freedom Day, organized by the Swedish Embassy in BiH and BIRNBiH, in cooperation with CIN and Buka magazine.
The exhibition presents CIN research: the story about how the BiH Presidency Member Milorad Dodik acquired a villa worth millions in Belgrade – "Three Times Higher Installments than Salary"; the story about the million-dollar property of the president of the Croat Democratic Union (HDZ) Dragan Čović – "Čović's Rich Father-in-law"; story about abuse of position or authority by former Prime Ministers of the Federation of BiH (FBiH) Edhem Bičakčić and Nedžad Branković in the case of buying an apartment in Sarajevo – "A lucky real estate deal" and research on the undeclared assets of politicians to the BiH Central Election Commission (CEC).